Stand-up comedian turned late-night talk show host Trevor Noah gained mainstream fame in 2015 when he replaced Jon Stewart on The Daily Show. Along with that fame came fans, and many of them wonder if the South African media personality is gay or straight.
Trevor Noah is not gay. While he openly supports LGBTQI+ rights, he has not expressed anything publicly about being gay or bi. His dating history consists of relationships with women.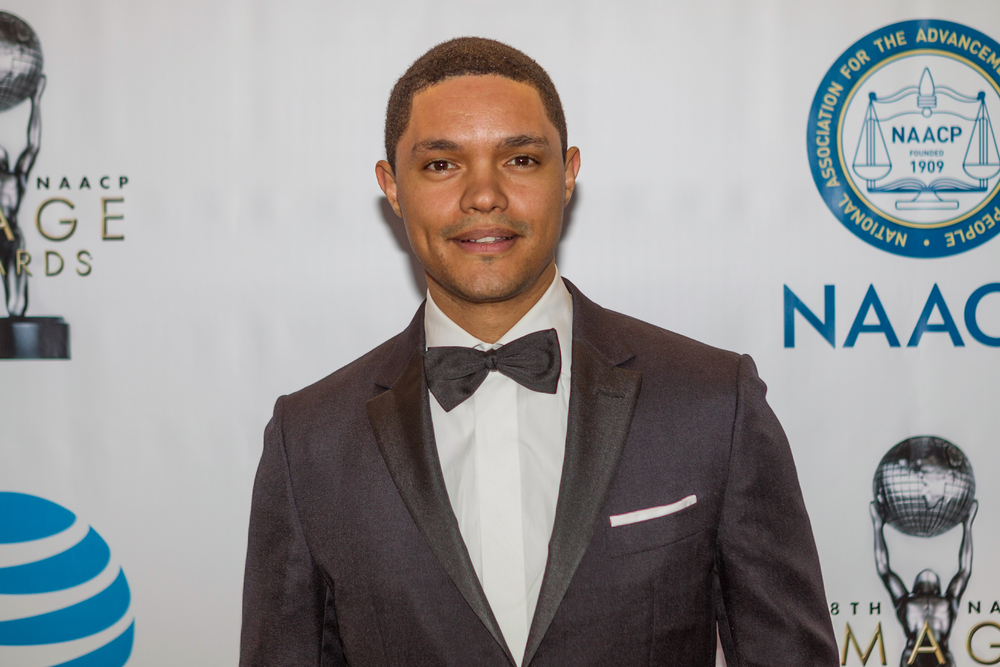 Although he once tweeted in 2013 that he was glad to come out, he hasn't followed it up with an actual "coming out" statement.
Who is Trevor Noah?
Trevor Noah is a South African media personality who came to worldwide renown for hosting The Daily Show on Comedy Central. He succeeded Jon Stewart as the host of the late-night show in 2015 and announced his retirement from the job in 2022. Noah joined the show as a Senior International Correspondent in 2014.    
He was born in Johannesburg, South Africa on February 20, 1984, to interracial parents Patricia and Robert Noah. His mother is black and his father is of Swiss and German descent, which was not a legal union during the time of Trevor's birth.
Trevor's career in entertainment and media started in 2002 when he was 18 years old. He did radio hosting gigs with the South African Broadcasting Corporation and then moved on to hosting local TV shows and live events. While gaining popularity from hosting, he was honing his craft in stand-up comedy as well.
Why is Trevor Noah famous?
Thanks to his extensive work experience hosting radio shows and TV programs, Trevor Noah rose to mainstream fame and eventually was hailed as "the most successful comedian in Africa." By the late 2000s, he was already working with established international comedians like Gabriel Iglesias and Russell Peters.
Trevor didn't pass up the chance to further his career as a performer and moved to the United States in 2011. In the two years that followed, he made history by appearing on The Tonight Show and Late Show with David Letterman as the first South African comedian to ever do it.
His comedy specials gained attention for his take on racial, cultural, and political issues – which are very touchy subjects in the US – and his ability in presenting them with inoffensive humor.
Aside from hosting late-night TV and stand-up comedy, Noah has written and published his autobiography, Born a Crime: Stories from a South African Childhood, where he sheds a light on how it was for him growing up in apartheid Africa. The book was an instant bestseller and was nominated for two NAACP Image Awards.
Is Trevor Noah married?
Trevor Noah is not married, and a number of different sources seem to agree. He has been linked to a few women over the last few years, which Parade listed down quite nicely. As of 2022, Trevor Noah is neither gay nor married.
On the subject of marriage (though not his own), Noah has been vocal with his opinions, especially around legalizing gay and interracial marriages. In July 2022, via The Daily Show, he expressed his support when the US House passed a bill protecting same-sex and interracial marriage, alluding also that it has been a long time coming.
Who is Trevor Noah's girlfriend?
While he never shies away from sharing his opinions on a variety of local and international issues, Trevor Noah seems to be reserved when it comes to his personal life. In an interview with Howard Stern, he shared that although he is not opposed to the idea of marriage, he prefers to enjoy the here and the now and that he's not a fan of cohabitation.
Trevor Noah hasn't made any announcements as to who he is dating, so it's a bit tricky to answer if he has an official girlfriend and who. But in September 2022, he was spotted out on a date with singer Dua Lipa in New York City. (Dua Lipa dated Anwar Hadid, brother of models Bella Hadid and Gigi Hadid).
Also in 2022, around April, Trevor was spotted with actress Minka Kelly, whom he was rumored to be dating in 2020 during quarantine. The rumors were never confirmed and people assumed they had broken up when Noah showed up at the Grammys without a date.
They were, however, seen together again a few months after the Grammys in 2021. People reported that they did break up for a few months due to work commitment conflicts, but reconciled. They were "Instagram official" through January 2022, when they spent the holidays together in South Africa.