90's Hollywood royalty Winona Ryder rose to fame through her roles in movies such as Beetlejuice, Little Women, Reality Bites, and Bram Stoker's Dracula, among many others. Her personal life was as high-profile as her movies, having dated fellow A-listers Johnny Depp and Matt Damon. But is she married now?
All throughout her career which spans almost 4 decades, Winona Ryder has been involved in a number of relationships but not to the extent of tying the knot. She is in a relationship with Scott Mackinlay Hahn, whom she had been with since 2011.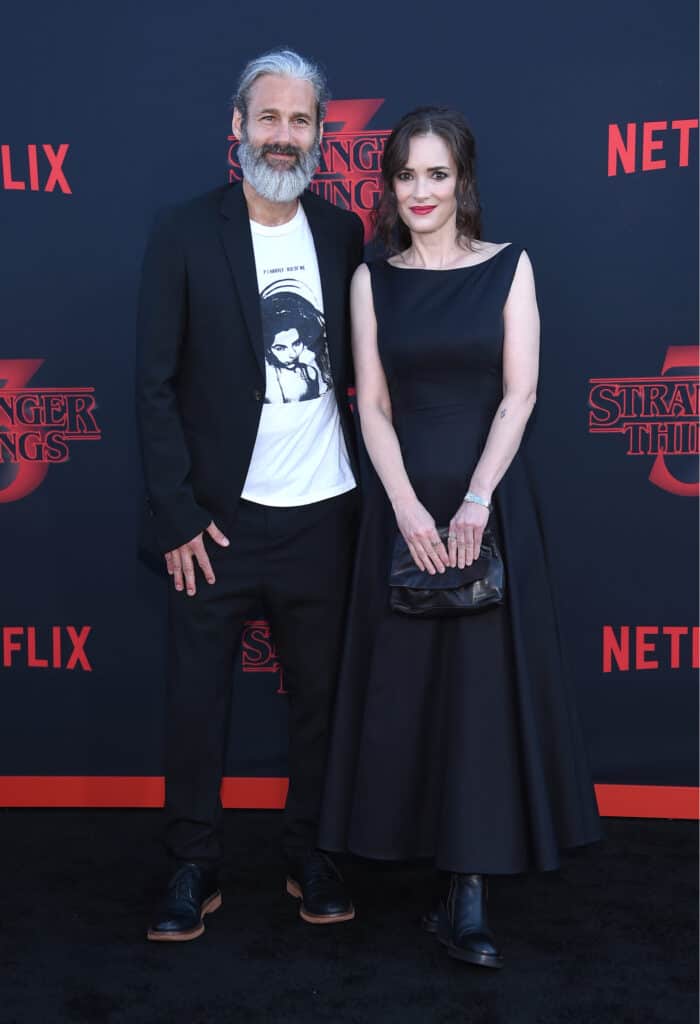 Let's explore Winona's love life further as we delve into her very publicized romances with some of Tinseltown's biggest celebs.
Johnny Depp
At 17, she met fellow actor, Johnny Depp, at the premier of Great Balls of Fire! held around June 1989. They almost instantly fell in love and started dating two months later. They even got engaged in July 1990.
Their engagement lasted for just three years and both decided to not go through with the union. The couple called it quits but later on stayed as friends. According to close friends of the ex-lovers, both were deeply heartbroken by the breakup and found moving on to be very difficult.
Dave Pirmer
In 1993, Winona dated Soul Asylum lead vocalist and frontman, Dave Pirmer, whom she met while taping MTV Unplugged.
Later that year, she stars as a political assassin in the band's music video for their song, Without A Trace. The band would have sold-out concerts mainly due to the crowd's curiosity over Ryder's relationship with Pirmer. Their high-profile romance was always under scrutiny by fans and came to an end in 1996.
Matt Damon
Two years after, she will find another love in Matt Damon. They were introduced by her then bestie, Gwyneth Paltrow, who was dating Ben Affleck, Matt's best friend.
The two A-listers were successful in keeping their romance under wraps. Sadly, after the spring of 2000, the couple went into splitsville amid rumors of Damon dating his sultry Latina co-star in the movie All The Pretty Horses, Penelope Cruz.
The reason for the Winona-Matt split wasn't divulged and the former couple had nothing but good words and well wishes for each other even years after their breakup.
Winona after the 90s
The turn of the 21st century also was a turning point for Winona's career. Her 4-year career hiatus was highlighted by her guest appearance as Rachel's (Jennifer Aniston) sorority sister in the NBC sitcom, Friends. She also did a cameo role in Ben Stiller's Zoolander around the same time.
However, at that time, Ryder was also arrested for shoplifting in Saks Fifth Avenue, Beverly Hills. She was accused of stealing over $5,000 worth of designer clothes and accessories.
Her legal counsel, Mark Geragos, failed to produce a plea bargain by the summer of 2002 and so Ryder was convicted of grand theft, shoplifting, and vandalism.
As part of her sentence, she was given three years of probation, over 400 hours of community service, nearly $4,000 in fines, and $6,355 in restitution to Saks. She was also ordered to attend drug and psychological counseling.
In June 2004, Judge Elden Fox reviewed Ryder's probationary report in which she was able to comply with the 480-hour community service. Later on, her felony charges were decreased to a misdemeanor. Her probation ended in December 2005.
Career comeback
Winona's career comeback propelled her to even more highly-acclaimed roles. She was cast in a number of independent films and had non-stop projects from 2006 to 2015. Right smack in the middle of this resurgence period, she found a new love in Scott Mackinlay Hahn.
He's a surfer, fashion CEO, and a supportive boyfriend. What else could Winona ask for? He devotes his time to managing Loomstate, a fashion company that supports sustainable clothing. They take pride in the creation of "the OG of organic cotton shirts."
Loomstate products are Tencel-based. These are environmentally friendly fibers sourced from sustainable materials like Eucalyptus, Beech, Birch, and Spruce trees. According to Hahn, its main focus as a brand is to cultivate communities, bring out the best in everyone, and help them to succeed.
Loomstate has addressed and improved a lot of the ills of the fashion industry, but still takes pride in producing great clothes. Talk about a man with a heart!
All is well in Winona-verse
Winona Ryder has always fascinated us with her romances and acting prowess. Though she might have gone through a dark phase, Winona still managed to come out strong. You can catch her most recent work, an HBO Limited series titled, The Plot Against America, which aired back in 2020. All is well for this great American ingenue.