While Kate has been on the royal scene a lot longer than Meghan, the latter made a big name for herself across Hollywood before tying the knot with the Duke of Sussex. So, who is really more popular?
According to YouGov, Kate is ranked as the 2nd most popular royal family member, and the 9th most famous. Meghan is ranked 9th most popular, but 7th most famous. This suggests that Kate is more popular, but Meghan has more widespread recognition due to a large amount of press surrounding her life with Harry and family controversies.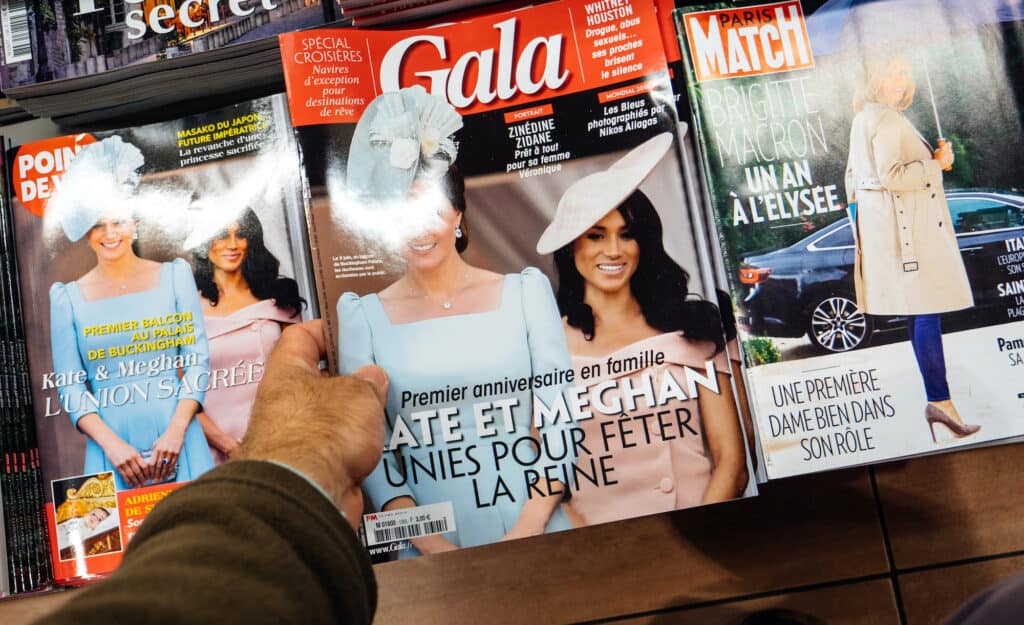 What else can we find out about the popularity between these two royal figures? Read on to find out more about who is more popular.
Popular or Famous? Let's Look at Public Opinion
A poll done by Express in 2019 revealed that Kate is 25% more popular than Meghan, scoring 31% compared Meghan's 6%. For the record, the Queen came out on top as most popular with 40% of the vote.
Another poll conducted by Opinium around the same time was met with a similar response. Kate had an approval rating of over 62%, while Meghan's came in at around 37%.
In March 2020, a Canadian poll by Research Co found that Markle's popularity rating had dipped by 4 points to 56% compared to the previous year. Middleton, on the other hand, remained steady at 64%.
Now, if you take a look at public feedback on YouGov, things again don't stray too far from the rest. Kate only has a negative opinion rate of 9%, compared to Meghan's higher rate of 35%.
Meghan's Backlash
The media has never been shy about reporting on the royals. We saw it back when Princess Diana entered the scene, and now we're especially seeing it with the new Duchess of Sussex who was engaged to Prince Harry in 2017.
She was never short of backlash and criticism, whether that was from her own family, rumors of her demeanor, or her decision to not pose with her new-born son at the front of the hospital – a longstanding tradition.
While the ex-actress had been getting mixed reviews from the media, things started to really change when she and Harry decided to move away from Kensington Palace after getting married in May 2018.
This created a snowball effect of problems, like some disagreements between brothers Harry and William, the resigning of several royal aids, a supposed feud between Kate and Meghan, and a constant battle between the Sussexes and the press.
A Huge Shock Announcement
What's more, Harry and Meghan made an announcement in early 2020 that caused shock waves across the nation: They would be taking a step back from royal duties to spend half their time in North America and half their time in the UK.
On their official Instagram, they shared a post with a lengthy description detailing their plans:
"After many months of reflection and internal discussions, we have chosen to make a transition this year in starting to carve out a progressive new role within this institution. We intend to step back as 'senior' members of the Royal Family and work to become financially independent, while continuing to fully support Her Majesty The Queen."
The statement added, "This geographic balance will enable us to raise our son with an appreciation for the royal tradition into which he was born, while also providing our family with the space to focus on the next chapter, including the launch of our new charitable entity."
Harry also addressed the news, explaining their reasoning behind the choice:
The rest of Buckingham Palace was also quite shocked by the news, suggesting that they had been blindsided by the decision.
Why is Kate More Popular Than Meghan?
Based on the onslaught of events surrounding Meghan, paired with major criticism, her ranking as more "famous" than Kate makes sense. Through constantly making the front page news, Meghan garnered a higher level of attention than her counterpart over 2018, 2019, and 2020.
That doesn't necessarily mean she is more popular or well-liked than Kate in some people's eyes, as she started receiving more negative attention in mid-2020 after she and Harry moved to Los Angeles to "free" themselves of their royal lives.
Middleton's popularity seems to outshine Markle's due to her continuous positive media attention, lack of controversies, and also the fact that she's been linked to the royals since the early '00s.