There was an Italian tenor singer who was blind and known as The Blind Tenor. Was Luciano Pavarotti that tenor?
Luciano Pavarotti was not blind. The Blind Tenor was Andrea Bocelli. Pavarotti was one of the most famous operatic tenors in the world before he died in 2007. His cause of death was pancreatic cancer.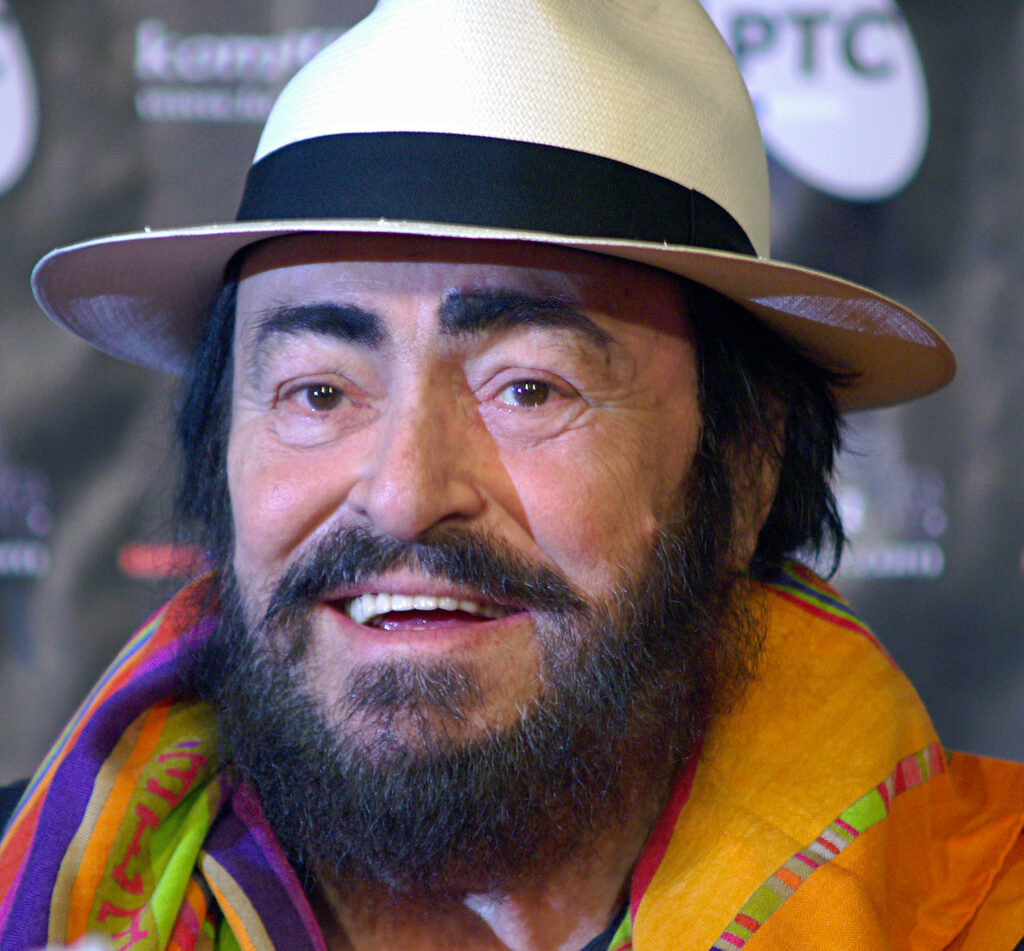 Scroll down to learn more about Luciano Pavarotti's career and his friendship with the blind tenor.
Luciano Pavarotti's Career
Luciano Pavarotti is likely the most famous operatic tenor in the world because he took his career from the niche of opera and melded it with pop culture. He was one of three tenors to have their recording become the best-selling classical album of all time.
Pavarotti was born in Modena, Italy in 1935 to a baker and a cigar factory worker. His father was an amateur tenor but never considered a career in singing. When WWII hit their small town in Northern Italy, the family was forced to move and rent a room from a farmer in the countryside.
He started studying singing from a young age and pursued it seriously when the famous Italian singer Arrigo Pola offered to teach him for free. However, he never learned how to read music.
Although never blind, Pavarotti developed a nodule on his throat during the first six years of his career. The pain it caused led him to have a disaster concert in Ferrara that made him decide to quit. Miraculously, the stress-relief he felt made the nodule disappear and he was able to pursue singing once again, now better than before.
Lucian Pavarotti had his international debut at the Vienna State Opera in 1963. His debut was as Rodolfo and Duca di Mantova in the classic opera by Giuseppe Verdi called Rigoletto. Through the 1960s and 1970s, Pavarotti was dedicated to his serious opera roles and earned the nickname "King of High 's" by his peers.
Then in the 1980s, he decided to branch out of the Italian opera and start to cater towards younger generations and bring opera into the mainstream. He started the Three Tenors Project along with Plácido Domingo and José Carreras.
They initially performed at the FIFA World Cup but then branched out to do concerts. The project was so popular and successful that the Three Tenors have the highest-selling classical record of all time.
Pavarotti also started the Pavarotti and Friends Foundation that ran charity concerts. Throughout his career, he had the opportunity to work with many people and he even dueted with the Blind Tenor, Andrea Bocelli.
You can watch Luciano Pavarotti and Andrea Bocelli singing "Notte 'e Piscatore" in the below video from the Luciano Pavarotti YouTube channel.
The Blind Tenor
While Luciano Pavarotti was not blind, there is a famous tenor who is. That is of course Andrea Bocelli who we've mentioned above. Bocelli was diagnosed with congenital glaucoma when he was only five months old.
Congenital glaucoma means that he was born with glaucoma. By the time he was twelve years old, Bocelli was completely blind. This happened as a complication from a brain hemorrhage caused by a soccer accident.
Bocelli has managed to learn how to play piano, flute, and saxophone before he lost his sight and the loss of vision did not deter him from a music career. He sang at piano bars while he got his law degree and was even a lawyer before giving it up to pursue a career in music.
He studied under the tenor Franco Corelli. It was in 1992 that he had his big breakthrough to the mainstream when he recorded a demo song with the pop star Zucchero Fornaciari. The song was originally intended for Luciano Pavarotti but Bocelli's version of it led to the two tenors becoming close friends.
Luciano Pavarotti and Andrea Bocelli's Friendship
The demo that Bocelli recorded for Fornaciari was given to Pavarotti to show him the song that Fornaciari wanted Pavarotti to sing. However, Pavarotti was so blown away by Bocelli's voice that he refused to sing the song and said that Bocelli should because there was "no finer voice" for the song.
It was after this that Pavarotti and Bocelli became friends. Pavarotti asked him to perform at the gala for his charity Pavarotti and Friends.
They even became so close that Pavarotti asked Bocelli to perform at his wedding. Bocelli also performed at Pavarotti's funeral when he passed away from pancreatic cancer in 2007. He said that it was a privilege to know such a kind man.