Louis CK once tried to have Pete Davidson fired from SNL for smoking and smelling like weed. So what does Pete Davidson actually
The cologne that Pete Davidson wears is unknown. The SNL actor is thought to have been the inspiration behind Ariana Grande's Cloud perfume but this was never confirmed. Davidson once said that the smell in a firehouse reminds him of his dad.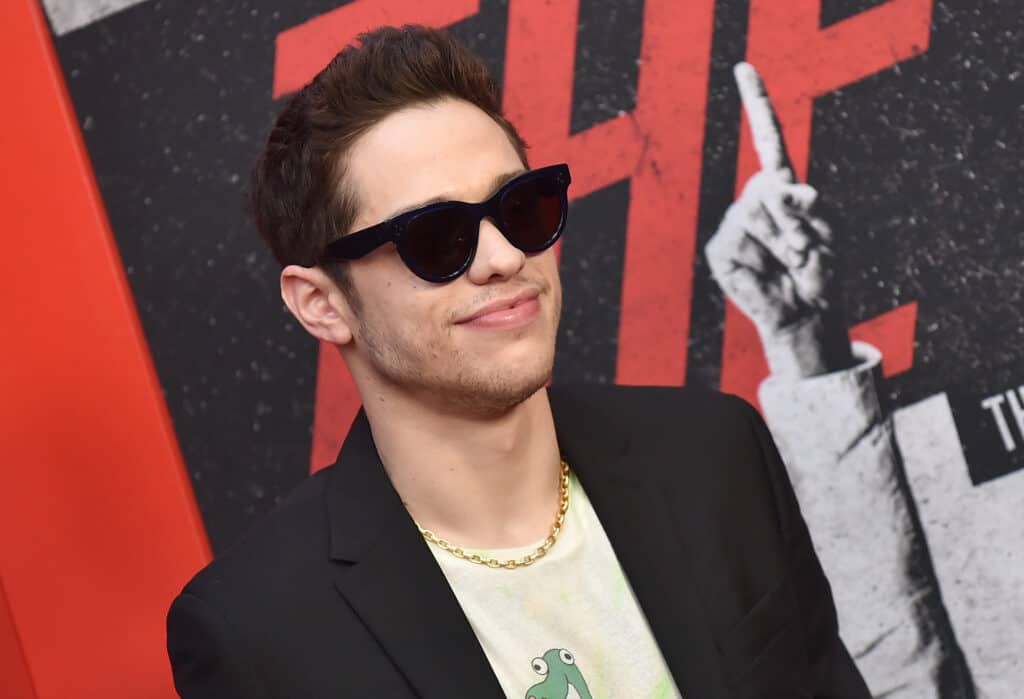 Scroll down to read more about why everyone thought Davidson was the inspiration behind Cloud and why firehouses remind him of his father.
Pete Davidson Inspired Cloud by Ariana Grande
It seems that these days you can't talk about Pete Davidson without him being overshadowed by his past relationships. The most infamous of all would have to be his engagement with singer Ariana Grande.
It was in May 2018 that Davidson and Grande started dating. Only a month later the two had announced that they were engaged. However, the entire relationship was called off in October 2018, not even lasting six months.
Even though it was short-lived, the Grande and Davidson relationship left its mark on the world. It was forever immortalized in two of Ariana Grande's songs 'Pete Davidson' on her album Sweetener and 'Thank U Next' on her album thank u, next.
The relationship also appears to have been immortalized in a fragrance. In 2018, Grande released her fragrance Cloud and everyone went nuts because they were 100 percent certain that it was inspired by Pete Davidson.
Fans were so certain because Grande and Davidson had both gotten matching tattoos of a cloud on their hands right before they went public with their relationship in May 2018. Of course, the cloud wasn't the only matching tattoo that they had. The two are infamously covered in tats and were quick to put tributes to the other on their bodies.
When they split, they both worked to slowly cover up the tattoos with new ones. They didn't listen to the tattoo world advice to never get a tattoo in tribute to a partner because tattoos are forever.
As for the fragrance that Pete Davidson inspired, Cloud by Ariana Grande is a floral fruity gourmand fragrance for women. It has top notes of lavender, bergamot, and pear, middle notes of whipped cream, vanilla orchid, coconut, and praline, and base notes of musk and woody notes.
While we doubt that the fragrance is inspired by what Pete smells like, it could be an ode to his personality. It could also be how Ariana Grande felt about him at the time of their relationship: sweet, light, and floating.
You can watch Pete Davidson's funniest moments on SNL in the below YouTube video.
Pete Davidson's Father
When it comes to smells, they are highly linked to our memories. They are probably the best way to bring back old forgotten memories or bring a person or event to the forefront of our minds.
You see this all the time in interviews when celebrities will say that they have a favorite smell because it brings back childhood memories or reminds them of a loved one. In the case of Pete Davidson, a smell that brings back memories of his dad is the smell inside a firehouse.
Davidson's father was a firefighter in New York City in 2001 when the World Trade Center was the site of one of the world's most known terrorist attacks on September 11. Scott Davidson ran into the burning buildings to try and rescue those trapped inside and put out the flames.
He was inside when the buildings collapsed. This disastrous event in the world and Pete's life made things difficult for him but he has always spoken candidly about the death of his father.
In this article by The Washington Post about his film The King of Staten Island, they state that the extensive shooting in the firehouse brought back a lot of memories of his dad. He said that it was a difficult time and he couldn't have done it without the support from the other actors and director Judd Apatow.
That's a difficult situation but it also allowed Pete to be more vulnerable in the film. It's crazy how fragrances and smells can suck you into the past so easily.