The Saturday Night Live comedian and actor has been on our radar for quite some time now due to his high-profile romances, hilarious jokes, and guess what else? His height! Pete Davidson, known for his performance in The King of Staten Island, is noticeably taller compared to the average American; let's find out just how tall he is exactly.
Pete Davidson stands 6 feet and 1 ½ inches (1.87 m or 186.7 cm) tall according to CelebHeights.com. However, in one SNL sketch, Pete declares that he stands 6'3".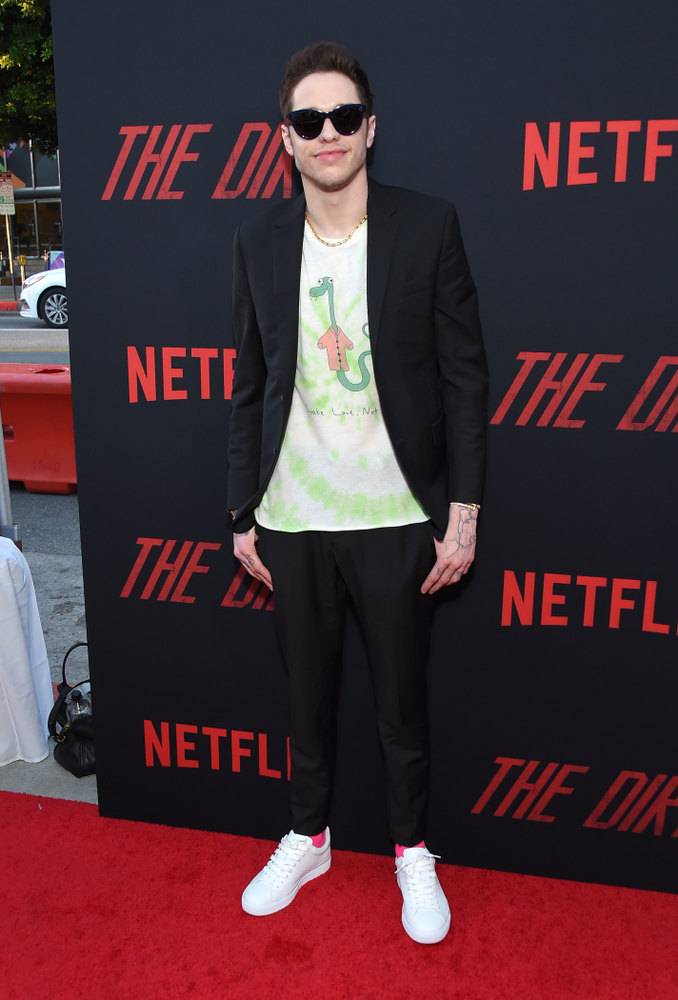 Exaggerated or not, we still see him towering over most of his colleagues as well as the girls he's dated. The 1.5-inch difference could be attributed to Pete's standing posture as the actor tends to hunch.
How old is Pete Davidson?
Before the glitz of show business came, he was known as Peter Michael Davidson from Staten Island, New York. He was born on November 16, 1993, to his parents, Scott Davidson, a NY firefighter, and Amy Waters Davidson, a nurse. He has a little sister, Casey Davidson. Pete
Davidson turns 30 years old in November 2023.
Pete's childhood had been difficult due to the effect of his father's passing. His father, Scott, had been one of the firefighters who were last seen climbing up the World Trade Center Marriott Hotel on September 11. This tragedy left the seven-year-old Pete troubled and depressed. He shared in an interview with The Breakfast Club that he had suicidal thoughts growing up and had a lot of trouble in school.
Davidson attended different schools, St. Joseph by-the-Sea High School, then Tottenville High School, and finally Brooklyn's Xaverian High School, and graduated there in 2011. For college, he attended a semester at St. Francis College in Brooklyn Heights before dropping out to pursue a career in comedy full-time.
Is Pete Davidson married?
Pete Davidson is not married, nor has he ever been married. He, however, has had a pretty colorful dating history and has been engaged before.
Pete has been relatively unknown before his high-profile romance with pop and RnB singer Ariana Grande. But before their whirlwind relationship and apparent engagement, Pete was with fellow comedian Larry David's daughter, Cazzie David. The two were pretty serious during their two-year relationship but had to split for reasons undisclosed to the public.
Years later, Cazzie revealed that they were both struggling mentally, which was a big factor in their falling out.
Was Pete Davidson engaged to Ariana Grande?
Almost immediately after Pete and Cazzie's breakup, the whole world was shocked at the news of him dating Ariana Grande. The two became official by the end of May 2018. Weeks after, the pair announced their engagement to the world but then, their sizzling relationship couldn't endure the heat so they broke off the engagement and from each other after just five months.
For anyone wondering about Pete Davidson and Ariana Grande's height difference, well, the answer is at least an entire foot (12 inches). Ariana Grande is obviously petite, standing just half an inch over 5 feet. Pete Davidson towers over her and often had to hunch down a bit in their photos together, even when she was wearing high heels.
Did Pete Davidson date Kate Beckinsale?
You can say that Pete went on the rebound with actress Kate Beckinsale. Their 20-year age gap was seriously not the issue for the two, who were spotted making out at the New York Rangers game. However, this relationship sadly didn't last and we saw Pete dating Margaret Qualley by August 2019.
Right after Margaret, Pete was spotted having fun with Kaia Gerber, the daughter of Cindy Crawford and Rande Gerber in Miami. The two dated for about 4 months before going their separate ways.
Another short and sweet relationship he had was with Bridgerton actress Phoebe Dynevor. They were together for 5 months but had to end it due to their distance: Phoebe lives in England while Pete likes to stay in New York.
Are Pete Davidson and Kim Kardashian still dating?
Then rumors started to swirl in 2021 that Pete was dating Kim Kardashian, who was fresh out of her divorce from Kanye West. Pete and Kim were spotted in a restaurant getting "affectionate" during a dinner with friends.
Kim Kardashian and Pete Davidson's age difference is 13 years, with Kim being older (she was born in 1980). Along with an age gap, the former lovers shared a significant height difference as well, nearly 12 inches apart. Kim Kardashian is petite at 5 feet 2 ½ inches while Pete stands at 6'1" to 6'3".