These days Prince Harry is rarely photographed looking anything other than perfectly put together in tailored suits or designer clothes, with a neat beard and not a hair out of place. But the question on everyone's mind is: does Prince Harry smell as good as he looks?
Prince Harry is thought to wear Davidoff Cool Water cologne every day. He has not explicitly confirmed this as fact, and the perfume he wore on his wedding day is also a closely guarded secret, so it seems as though Prince Harry wants the world to keep on guessing what he smells like.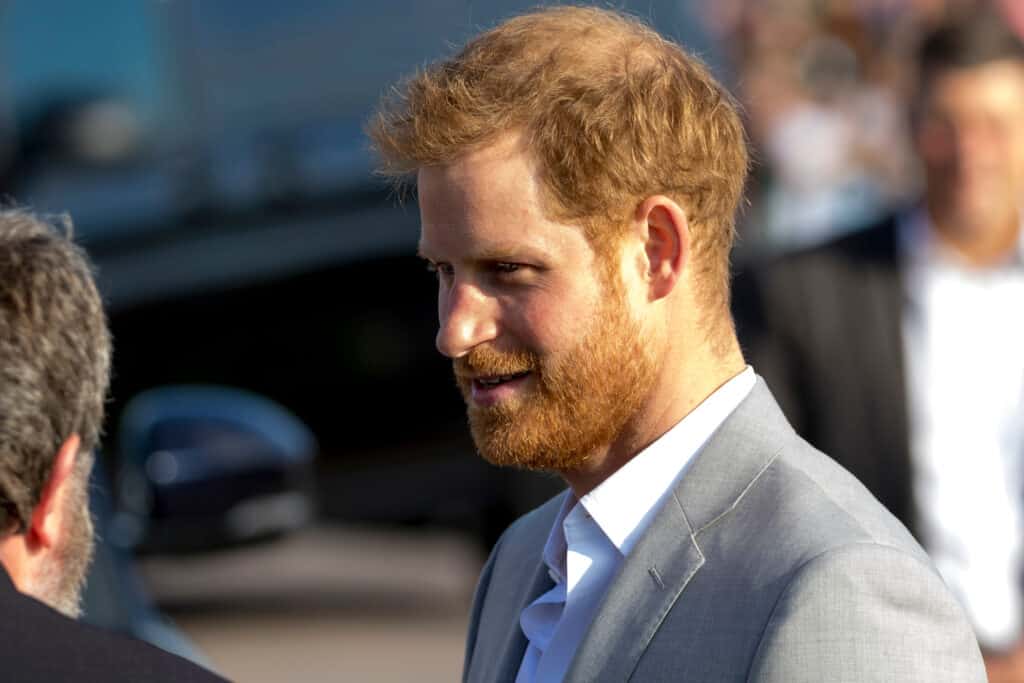 Information on the royal family can be difficult to come by, so it's no wonder people want to know everything there is to know about Prince Harry, even what a whiff of him smells like! Let's sniff out Prince Harry's cologne preferences, and get a clear idea of what he — along with other members of the royal family — really smells like.
Prince Harry's Cologne of Choice
Royals aren't exactly known for sharing the ins and outs of their pampering routines, and Prince Harry is no exception to this rule.
It's long been suspected that Davidoff Cool Water is Prince Harry's go-to cologne and a fragrance he wears daily, but there's no record of him confirming or denying this himself.
Davidoff Cool Water is an aromatic aquatic fragrance for men that has been around since 1988. It was created by Pierre Bourdon and is described as fresh, sharp, simple, and very masculine.
The fragrance boasts top notes of sea water, lavender, mint, rosemary, Calone, coriander, and green notes. Its middle notes are sandalwood, neroli, geranium, and jasmine. Its base notes are musk, cedar, amber, oakmoss, and tobacco.
Whether this is actually the cologne that Prince Harry wears may be up for debate, but the fact that he smells decent is not.
When Channel Nine interviewed a royal super fan, Daphne Dunne, who had hugged him earlier that day they asked her what Prince Harry smells like. Without missing a beat, she responded "Oh, quite nice! Mannish."
Prince Harry's Wedding Day Perfume
When he tied the knot with Meghan Markle on 19 May 2018, Prince Harry and his blushing bride wore the same perfume to mark the occasion.
The only fragrance maker to have a royal warrant — Floris London — was tasked with creating the scent. Of course, the scent is shrouded in mystery but it's been confirmed that it was heavily inspired by the perfumer's Bergamotto di Positano perfume.
Bergamotto di Positano is a limited edition citrus aromatic fragrance for men and women that was launched in 2015. It's part of the 'By Request' collection and will put you back 160 GBP.
It's a complex scent with top notes of bergamot, seat notes, and mandarin orange. It has middle notes of green tea, vanilla, orange blossom, and ginger, and it's finished off with base notes of amber, spices, and musk mallow.
In addition to wearing a specially created wedding day perfume, Prince Harry also chose to scent the chapel in which he married Meghan. St George's Chapel was scented with Diptyque Baies candles and diffusers.
What Do The Royals Smell Like?
Now that you know what Prince Harry's perfume preferences are, let's find out what the other members of the royal family smell like.
Bear in mind that, according to perfumer Neha Vij, "The details of royal scent commissions are kept very secret and the same perfume composition is never made available to the public."
Queen Elizabeth II is thought to wear White Rose by Floris London. Prince Charles is a fan of Creed's Green Irish Tweed Cologne, which is the favorite of numerous male celebrities ranging from Clint Eastwood to Lil Wayne.
The late Princess Diana wore Quelques Fleurs by Houbigant Paris on her wedding day, which she famously spilled all over her wedding dress.
The Duchess of Sussex, Kate Middleton, wears Jo Malone's Orange Blossom when she's off duty and wore Illuminum's White Gardenia Petals on her wedding day. Her husband, Prince William, supposedly wears Ralp Lauren Polo Cologne and Penhaligon's Blenheim Bouquet.