About half of the music videos that Shawn Mendes makes look like they could have been for a fragrance ad, we're looking at you 'Señorita.' So what cologne does the Canadian pop sensation wear?
Shawn Mendes wears the cologne Made to Measure by Gucci. He also has his own cologne that he released in 2017 called Shawn Mendes Signature. In 2018, he released his second version of the fragrance called Signature II. It is a unisex fragrance.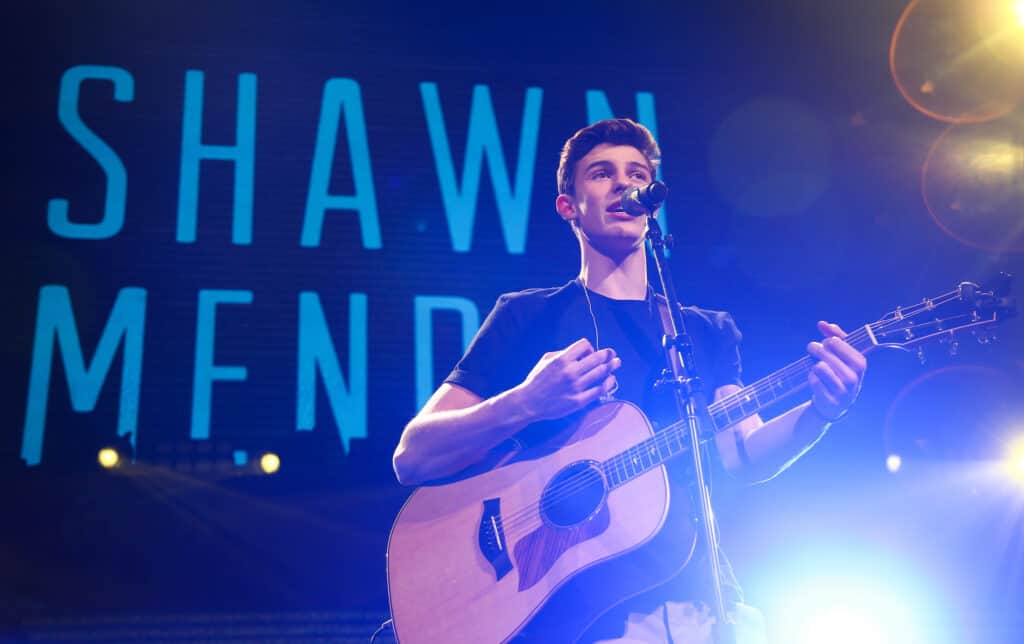 You can learn more below about Made to Measure by Gucci and Shawn Mendes's fragrance line.
Mendes Wears Made to Measure by Gucci
Whenever Shawn Mendes does a live Q&A online, his fans are quick to ask what fragrance he is wearing. He has confirmed multiple times that he wears Made to Measure by Gucci or as he put it on a live feed "What perfume do I use? It's a purple bottle and it says Gucci on it."
Gucci is the famous Italian fashion house that was founded in Florence, Tuscany by Guccio Gucci in 1921. The Gucci family were the owners of the company up until 1993 when they were fully ousted from the capital of the company.
Through the 1980s the family had mass-marketed Gucci products which led to a huge amount of revenue but essentially ruined the Gucci image as an exclusive luxury brand. Then Dawn Mello was brought in and she, along with Tom Ford, turned the company around.
As for the cologne Made to Measure by Gucci, it was created in 2013 right when Gucci entered their current fashion era of post-gender geek-chic designs. Although the bottle for Made to Measure doesn't really portray that image.
The cologne is made for what Gucci describes as the worldly and refined man who demands the very best. It has a purple bottle that is described as an Haute perfumery glass bottle.
As for its smell, Made to Measure is an Amber Spicy cologne for men. It has top notes of French lavender, Tunisian orange blossom, aniseed, and Calabrian bergamot. At the heart of this fragrance are notes of Sri Lankan nutmeg, plum, juniper berries, water lily, and cinnamon. Finally, its base features notes of labdanum, leather, patchouli, and amber.
While this is the main fragrance that Shawn Mendes wears, it may not be the only one. After all, he did release his own line of fragrances in 2017.
You can watch Shawn Mendes's commercial for Shawn Mendes Signature fragrance in the below video from his YouTube channel.
Signature by Shaw Mendes
When Shawn Mendes released his fragrance called Signature, he let everyone know that it was an ode to Canada. More specifically, it was inspired by his Canadian upbringing. Mendes is from Pickering, Ontario, which is part of the Greater Toronto Area in Canada.
While a lot of celebrities make their own fragrances, Mendes said that he was a bit hesitant to create his own when he was approached with the offer. He said that he didn't want to make it just because he could.
However, unlike a lot of celebrities, Mendes put in a lot of time to make a fragrance that looked great, smelled amazing, and felt like a part of him and his career.
In an interview with British Vogue, Mendes said that it took him a few months to create it and he was involved with every single step in the process from start to finish. He said that he made the fragrance unisex because he wanted it to be totally inclusive to everyone since smells aren't gender exclusive.
When he was asked what the fragrance makes him feel, he responded "I just find it very comforting. It has a lot of smells that I grew up with, like maple. So, whenever I smell it it's just a very comforting, relaxing feel."
As for Shawn Mendes Signature by Shawn Mendes, it is an amber vanilla fragrance. It has top notes of pineapple, lemon, and red apple, middle notes of maple sap, rose, and frangipani, and base notes of musk, white cedar extract, and dulce de leche.
He followed this fragrance up with Signature II by Shawn Mendes that is an amber woody fragrance with top notes of pear, ginger, and pineapple, middle notes of apricot, labdanum, and balsam fir. Its base notes are walnut, woody notes, amber tonic, and maple sap.
They are a very unique combination of scents and the different wood notes are truly inspired by his home country of Canada.