If you ever need a break from problematic influencers, stagnant content, and face tuned selfies, you'll find your rest with Emma Chamberlain and her YouTube channel. Emma, while keeping her personal life on the down-low, is an open book when it comes to her appearance, diet, and fitness but leaves fans guessing when it comes to what dress size she wears.
Emma Chamberlain wears a US size 4 dress. The social media sensation has battled with eating issues, including body dysmorphia and eating disorders, and works hard to find a balance between physical and mental health.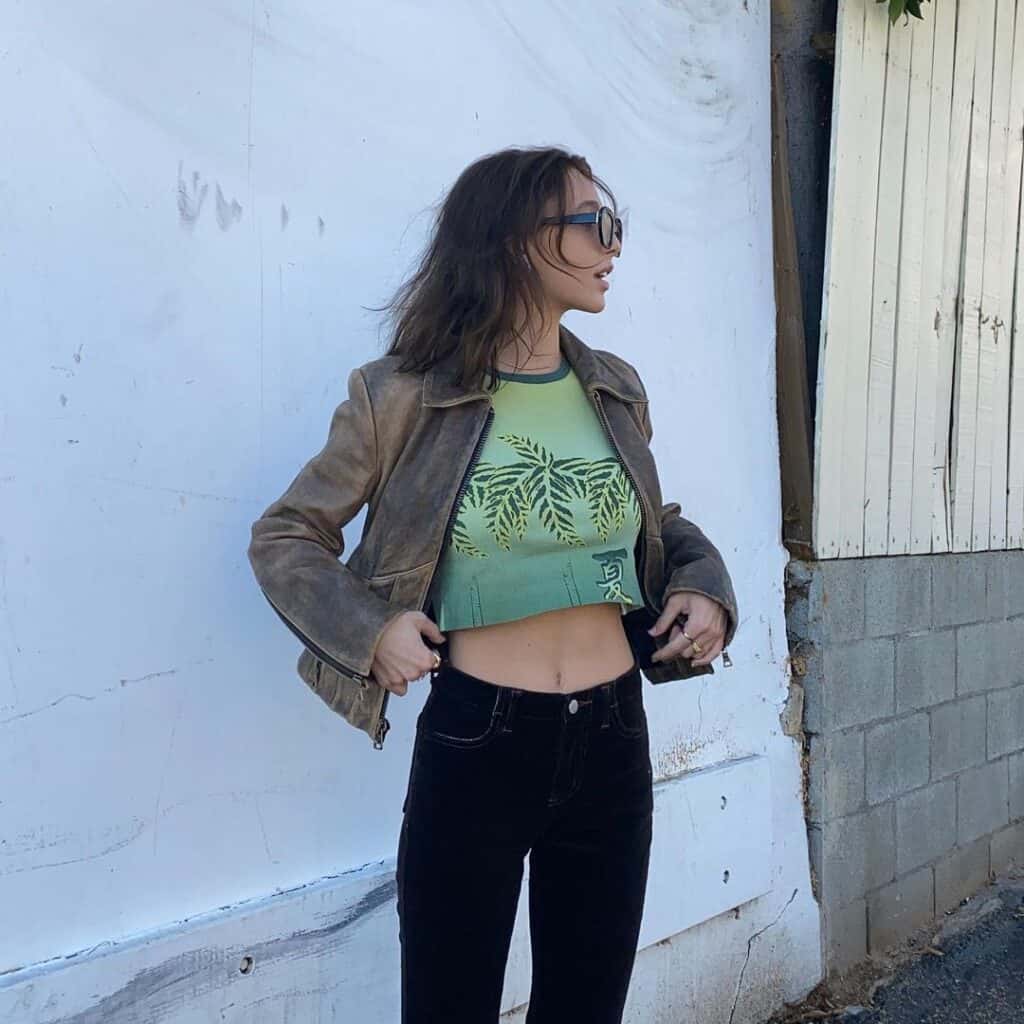 To find out all about what dress size Emma Chamberlain wears, how she dresses, her approach to diet and fitness, as well as her thoughts on how being an influencer can impact your body image, keep reading.
Emma Chamberlain's Dress Size And Style
Though she has bounced up and down in dress sizes throughout her life, Emma now wears a US size 4 dress. The star was born in San Bruno, California, and grew up in the age of social media before eventually having a big corner of it to herself.
The YouTuber and content creator can only be described as fashion-forward. Her millions of followers will buy whatever she's willing to sell them, be it 'grandma scrunchies', official merch, or items from her fashion line 'High Key by Emma Chamberlain' which consists of four scrunchies, strappy tank tops, and different jackets.
Emma's preferred style of dressing is unique but hints at a definite nod to 90s fashion. She is a fan of crop tops, turtlenecks, and plain T-shirts, oversized hoodies, short shorts, high waist pants, and mom jeans.
She describes her style as "mixing modern trends with retro trends and making them fit in a way that isn't what you expect at all times. I will try things that nobody's tried before and see if it works."
Emma Chamberlain's Body Dysmorphia
Emma point-blank refuses to advertise weight-loss products. She says that she developed eating issues as a kid due to growing up with social media and has battled with "so many" eating disorders.
The friendly YouTuber battled with video-editing induced body dysmorphia and has claimed that she has been technically underweight but thought of herself as obese at different stages of her life and career.
Speaking to Cosmopolitan, the social media influencer says "Living in L.A., if you're at an unhealthy weight, that's normal. That's really, really, really a mindf**k, for sure."
Emma Chamberlains Approach To Diet And Fitness
As part of the Food Diaries series with Harper's Bazaar, Emma shared everything she eats in a day to remain happy and healthy. She starts her day with a cup of Chamberlain Coffee with almond creamer, two over-hard fried eggs covered with avo, salt, and pepper on a slice of toast.
The YouTuber describes lunch as "the neglected meal" and can't recall a time in her life when she ever cooked herself lunch. She typically orders her lunch from nearby restaurants and is fond of kale salads with lentils, carrots, hard-boiled eggs, and vinaigrette, or a cauliflower rice burrito.
Emma has been a vegetarian her entire life and has never eaten a piece of meat. She briefly experimented with veganism but found that it wasn't the right fit for her dietary needs.
A self-confessed picky eater, she avoids mayonnaise, ranch, celery, mushrooms, and over-steamed leafy greens. She snacks throughout the day on items such as seed crackers, mini-cauliflower pizzas, and spoonfuls of different types of nut butter.
Dinner is her favorite meal of the day and most of her meals consist of frozen vegetables, tofu, pasta, and brown rice.
Emma prefers working out in the evenings but says "I really just shove in a workout whenever I can fit it. And sometimes it doesn't fit at all. I try to work out four to five times a week, but you know, we do what we can." Her hour-and-a-half workouts include cardio, planks, push-ups, pile squats, jump squats, lunges, and leg lifts.
Emma Chamberlain's Measurements
Emma's fans are lucky in the sense that her vlog-style YouTube content allows them to discover everything she's willing to share with them. The star, who weighs 110 lbs, stands 5'4" tall and wears a US size 6.5 shoe.
She is naturally slim but works hard to stay body positive and fit. The content creator's hips measure in at 34 inches, her waist at 24 inches, and her bust at 32 inches. She wears a B cup bra.