As the daughter of actor Stephen Baldwin, the wife of singer and songwriter Justin Bieber, and an established fashion model and socialite, Hailey Baldwin has become a household name and popular media personality. Many aspects of her life and career have become public knowledge, but what dress size is Hailey Baldwin?
Hailey Baldwin's dress size is a petite size 2, which is fairly common among fashion and style icons such as herself. Outside of her modeling career, which has brought her fame and recognition all over the world, Baldwin has begun to appear in film and television.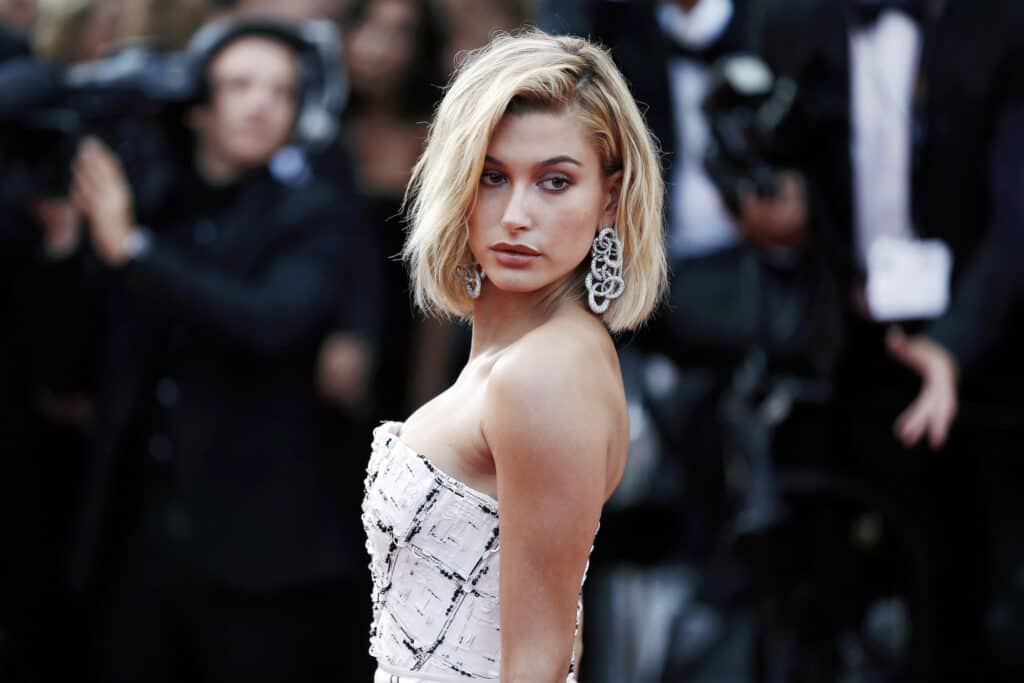 Hailey Baldwin's Career
Hailey Rhode Baldwin was born in Tucson, Arizona, on November 22, 1996, and is the second child of Stephen Baldwin and Brazilian graphic designer Kennya Baldwin. She was named after Halley's Comet and has an older sister named Alaia.
In her younger years, Baldwin was homeschooled by her mother. She also trained at the American Ballet Theater in New York but ultimately chose a different career for herself.
By the time she had turned 20 years old, Baldwin was already building a substantial career as a fashion model. In June 2016, she modeled for Italian luxury fashion house Moschino, alongside noteworthy supermodels like Alessandra Ambrosio, Chanel Iman, and Miranda Kerr.
However, this was far from her first modeling gig. While some models don't get their big break until well into their twenties, Baldwin was significantly ahead of the curve.
Before modeling for Moschino, she participated in Sherri Hill's prom runway show in 2012. Just two years later, Baldwin appeared in French Connection's autumn and winter collection.
In 2015, she was on the April cover of L'Officiel Netherlands magazine. That same year, she modeled for Sonia Rykiel at Paris Fashion Week.
Her extensive modeling portfolio includes major fashion and culture magazines like Tatler, i-D, Flaunt, Love, and V. She has also endorsed brands such as H&M, Miu Miu, and Denim & Supply Ralph Lauren.
Baldwin received her first modeling representation from Ford Models, an international agency based in New York City. She has subsequently been represented by Storm Management of London, Silent Models of Paris, and Endeavor Group Holdings of Beverly Hills.
As one might imagine, Baldwin has become good friends with other supermodels. Among these are Bella Hadid, Kendall Jenner, and Kylie Jenner.
Despite achieving enormous success in the fashion industry, Baldwin has not limited her career to lavish runways and high-profile magazine covers. Over the years, she has gradually ventured outside of fashion and into the world of film and television.
Baldwin made her first television appearance in a 2009 episode of the sketch comedy show Saturday Night Live. Also appearing in the episode were Alec Baldwin, who is her paternal uncle, and the Jonas Brothers.
In 2018, Baldwin made her feature film debut in the heist comedy Ocean's 8. Baldwin has a cameo appearance in the film, which also featured models like Kendall Jenner and Gigi Hadid.
Less than two months before the film's release, she appeared on The Tonight Show Starring Jimmy Fallon. To see her interview with Jimmy Fallon, check out the video below:
Hailey Baldwin's Dress Size
Fortunately, there is no one size, look, or style required to be a fashion model. Models of varying appearances and dress sizes have found great success in the fashion industry, especially in recent years.
Ashley Graham, Madeline Stuart, and Chantelle Young are among these less conventional but incredibly popular models. However, there is always a place for the more typical, petite body type that has dominated the fashion industry for decades.
Hailey Baldwin's dress size is a size 2. During her career, she has worn dresses produced by some of the most prestigious fashion houses in the world.
When Baldwin married singer and songwriter Justin Bieber, she wore no less than three custom-made dresses.
Despite this, Baldwin's typical outfit is a fairly casual one. It consists of a black shirt, leather jacket, black jeans, and a pair of chunky boots.
In her handbag, she makes sure to have a phone charger, face moisturizer, hair ties, and lip balm at all times. Interestingly, one might not find makeup in Baldwin's bag, as she does not like to wear much of it.
No matter what her dress size may be, Hailey Baldwin is undeniably an icon of the fashion industry. As her career continues to thrive, it is exciting to think of what stunning creation she may appear in next.