Julie Chrisley is a born and bred South Carolina girl who has carved a name for herself in the television industry. Reality TV and social media success aside, Julie is simply a likable lady who has an admirable weight loss story to share with the world.
Julie Chrisley wears a US size 8 dress. The American reality TV personality has a passion for cooking that has seen her cook three meals for her family, every day, for the past two decades. Julie has struggled with overeating but learned the art of portion control in January 2017.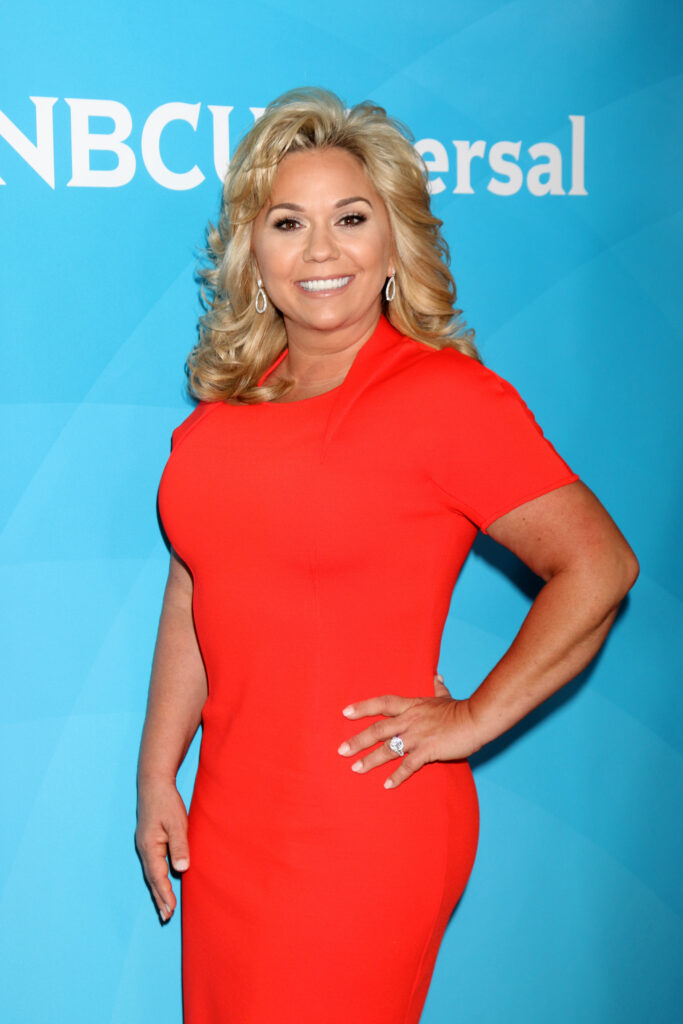 The Southern Belle has charmed her fans with her inspirational breast cancer survival story, friendly demeanor, positive outlook on life, typical Southern charm, and unexpected rags to riches tale. To find out about Julie Chrisley's dress size, preferred style of dressing, weight loss journey, and the rest of her measurements be sure to keep on reading as this article covers all of that.
Julie Chrisley's Dress Size and Style
After battles with her health, Julie Chrisley began gaining weight at a rapid rate. This weight gain came as a result of the post-op medications she was taking to recovery from her 2012 double mastectomy.
Julie managed to lose the weight gained — and keep it off — and is now proud to fit into a US size 8 dress. In a short clip posted to her Facebook Page, Julie says "Y'all, I feel so good and I want to shout it from the rooftops! My clothes fit way better now. This dress is size 8!!"
The mother of three likes to show off her new body in form-fitting exercise clothes, structured shirts, comfortable T-shirts, and sophisticated dresses. When she attends red carpet events and award shows, Julie will often wear classically cut dresses in bright, bold, and daring colors.
When filming her show, Chrisley Knows Best, Julie opts to keep things casual and is usually filmed wearing activewear, all-black ensembles, denim jeans, loose button-down shirts, and pajamas.
How Julie Chrisley Lost Weight
Julie Chrisley's 20 lb weight loss was the talk of the town back in 2018. The Chrisley Knows Best star struggled with overeating for many years but eventually decided to take certain steps to improve her lifestyle — and shed some weight in the process.
Though the reality TV star is fond of walking for exercise, she credits the Nutrisystem diet plan for her weight loss. Julie, who is an ambassador for weight loss brand, eats breakfast burritos, egg sandwiches, mini cakes, and fudge bars as part of her diet plan.
Speaking of her weight loss, she says "Dropping some weight makes me feel better about myself because I know that I look better, and I'm being more healthy. It's just good all the way around."
Diet and exercise aside, it must also be noted that Julie has undergone AirSculpt Laser Liposculpture on her arms, back, and a "stubborn fat pocket" on the back of her neck. When discussing the pain associated with the technique, Julie describes the cosmetic process as "almost like when you nick yourself shaving."
Julie Chrisley's Other Measurements
The reality star may be known for her famous family but her admirable 20 lbs weight loss has left many people wondering about the rest of her measurements. Julie measures in at 38-32-37 and stands 5'6" tall.
She weighs approximately 134 lbs and wears a US size 6.5 shoe. When Julie was diagnosed with breast cancer in 2012, she underwent a double mastectomy and a few weeks after the surgery she had reconstructive surgery and got breast implants.
Julie, who has been cancer-free since her double mastectomy, now wears a size 34B bra and the former beauty queen says of the surgery "I came out feeling like a new woman."