Keely Shaye Smith is an American journalist, TV host, and author who is also known for her long relationship with James Bond star Pierce Brosnan. Her look and sense of fashion have long been an interest to the public.
Keely Share Smith has never publicly revealed her dress size, though her weight has fluctuated over the years. No matter her size, she has been celebrated for her fashion and style.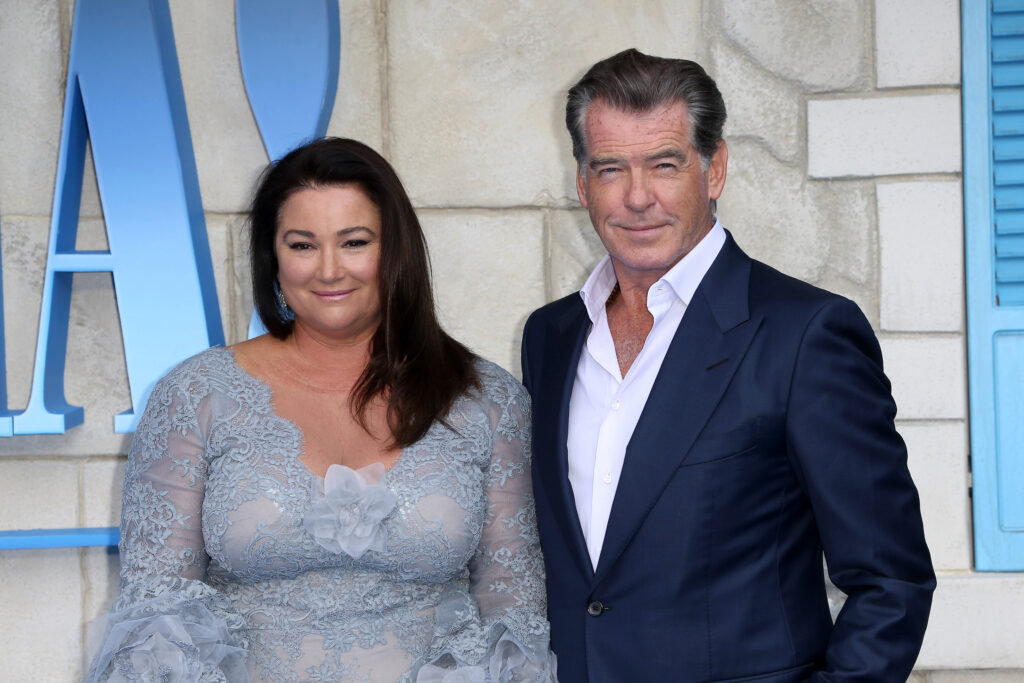 Keely Shaye Smith has achieved much over her career and is far more than just the wife of a famous actor.
Early Life
Keely Shaye Smith was born on September 25, 1963, in the quiet California town of Vallejo. The journalist has not revealed much about her private life growing up and she hasn't even released information about her other family members or education.
She started her career in the 1980s as a model and was first noticed in the music video for Huey Lewis's song "Stuck with You". That song and its music video were a major hit and spent three weeks at the number one spot on the Billboard Hot 100.
Smith also appeared on the smash soap opera General Hospital, appearing as the character Valerie Freeman.
The early 90s saw Smith start to focus more on journalism rather than acting and she appeared on the ABC series The Home Show. The Home Show was a talk show that aired on ABC for multiple years.
Smith was the environmental correspondent on that series for six years, a huge boost to her career. Her work there earned her two Genesis Awards as well as a Special Achievement Award at the 1991 Environmental Film Festival and a nomination for the Environmental Media Association.
Her work on The Home Show was the beginning of Smith's commitment to raising awareness of the environment. It would become a part of her life and career forever after that.
In the mid-1990s, Smith began her time on the hugely popular series Unsolved Mysteries on NBC. She was a correspondent who would appear in the show's phone center and would provide special bulletins and updates to previously-aired segments.
She would spend more time focusing on the environment when she became the gardening expert and correspondent for Good Morning America in the 90s.
Smith would move over to NBC's The Today Show and also spend her time working at CBS's Entertainment Tonight. She also hosted her show, Outdoor Life Network's Great Bears.
Relationship with Pierce Brosnan
Keely Shaye Smith met Pierce Brosnan in 1994, at the height of her popularity. The journalist was on a beach in Mexico when she met the famous James Bond actor.
The couple began dating almost immediately and were the focus of many tabloids and newspapers, especially as Brosnan's star continued to rise during the Bond era of his career.
The couple was spotted often being affectionate in public at various premieres, red carpet events, or on vacation.
The couple welcomed their first child, Dylan Brosnan, in January 1997. In February 2001, the couple welcomed their second song, Paris Beckett Brosnan.
The couple was officially married at Ballintubber Abbey in County Mayo, Ireland on August 4, 2001, after nearly eight years of dating and two children together. They have remained steadfast and together ever since.
Style and Look
Keely Shaye Smith has been the subject of much attention because of her fashion and looks, sometimes for the worst reasons.
The journalist started slim and slender when she first appeared on screen in the 1980s and 90s but her weight and size have fluctuated over the years, especially after having children.
This has led to some nasty tabloid headlines but Smith has never commented on her weight gains and has not revealed much about her struggles to stay a certain size.
For his part, Brosnan has always remained incredibly close to his wife and has never wavered not shown anything but intense dedication and love for his partner.
Smith has always maintained a strong fashion sense and impressive look when walking red carpets with her husband.
Activism
Smith and Brosnan have long been associated with various activist causes. They have donated time and money to work with the Natural Resources Defense Council as well as the International Fund for Animal Welfare.
Smith and Brosnan have long been associated with environmental education and taking care of the planet.
They have also fought for animal rights repeatedly as well. In 2009, the couple visited the White House to help introduce legislation that would close loopholes on commercial and scientific whaling worldwide.
The couple also testified in Washington DC before the Environmental Protection Agency in support of a new Climate Change Bill.