DeVonta Smith is an NFL wide receiver who was the first in this position to receive the Heisman award since 1991 and who is known for his slender frame and softspoken personality. He made his name as a college footballer, but what high school did DeVonta Smith go to, and what was he like as a student?
DeVonta Smith attended Amite High Magnet School, a public high school in Amite, Louisiana, before heading off to the University of Alabama to play college football. He was a quiet and unassuming but dedicated student who had a GPA of almost 4.0.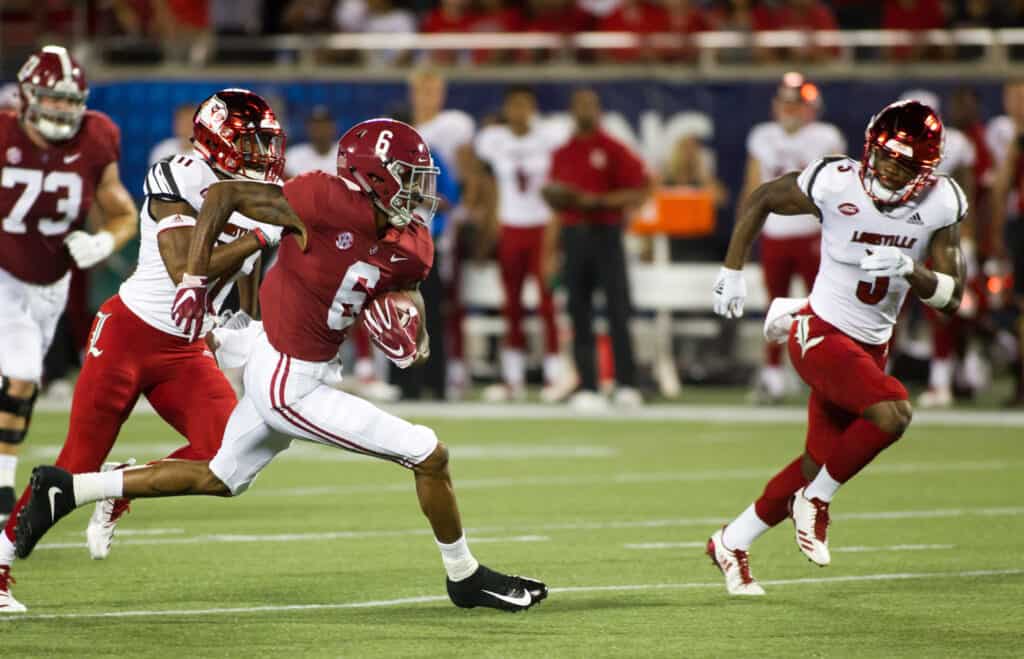 There's no doubt that he's a gifted player, but was he a gifted student? Let's find out more about the high school DeVonta Smith went to and what his time was like there before taking a look at his experience of playing college football.
DeVonta Smith's Time in High School
DeVonta was born on 14 November 1998 to parents Kelvin Dickerson and Christina Smith-Sylve in Amite, Louisiana. He was born and raised in Amite City.
He spent all of his childhood in his hometown and attended local educational facilities in the area. He was a student at Amite High Magnet School, a school with a reputation for churning out NFL players.
Amite High Magnet School's notable alumni include Cletis Gordan, Reggie Porter, Alan Ricard, P.J. Franklin, Kevin Hughes, and Aaron Morgan — all of whom are former NFL players.
Today, his slender frame is feared out on the field but during his school days, it was simply material for bullies to work with. He remembers "Me being the smallest person, they tried to bully me. I could never let that get to me."
DeVonta Smith's Time in College
When he graduated from Amite High Magnet School, DeVonta committed to the University of Alabama. As predicted, he enjoyed an enormously successful football career at the school.
In his freshman year, he scored three touchdowns, had eight receptions for 160 yards, and made a game-winning touchdown. In his sophomore year, he scored six touchdowns and had 42 receptions for 693 yards and his streak carried on for the rest of his time at the school.
His commitment to his sport and staying in peak shape to play took up most of his time. Football aside, DeVonta was focused on academics and only ever attended two undergrad parties.
While a student at the University of Alabama DeVonta earned his degree in education. Getting a degree was important to DeVonta and he insisted on "checking that box" before the NFL.
He told Bama Central, "I came back to get a degree and win a national championship" before explaining "Eventually you're going to have life after football. Football is going to end one day. You're going to have to find something else to do."
DeVonta hopes to put his degree to good use and said, "I just wanted to get my degree so hopefully when I'm done playing I can end up coaching or training athletes."
Was DeVonta Smith a Good Student?
To say that DeVonta was a good student would be an understatement, to say the least. He was a great student — in sportsmanship, academia, and temperament.
He has an impressive GPA that is just shy of a 4.0, was a studious pupil, and was the kind of student that went out of his way to make a former teacher's dream come true.
When DeVonta won the Student Athlete of the Week award, his former college professor Neika Nix-Morgan benefited greatly. DeVonta remembered that it was a dream of hers to stand on the Bryant-Denny Field, and he made it come true.
Along with the invitation to a once-in-a-lifetime on-field experience was a note penned by DeVonta himself.
The handwritten note read, "Mrs. Morgan, Thank you for everything you do for me and for all the students in the class. You have made the class really interesting. Hope you enjoy your sideline experience. Thank you, DeVonta Smith."
If that doesn't accurately depict what kind of student DeVonta was — and what kind of person he is — nothing will.