Adam DeVine is a famous actor, comedian, singer, screenwriter, writer, and producer who is well on his way to becoming a Hollywood legend. He has a distinctly American accent, and appears to be American on all counts, but what is Adam DeVine's ethnicity?
Adam DeVine is primarily American but has direct ties to Ireland as well as more distant ancestral links to England, Germany, and the Netherlands. Adam was born in Waterloo, Iowa, to American parents Penny and Dennis Devine.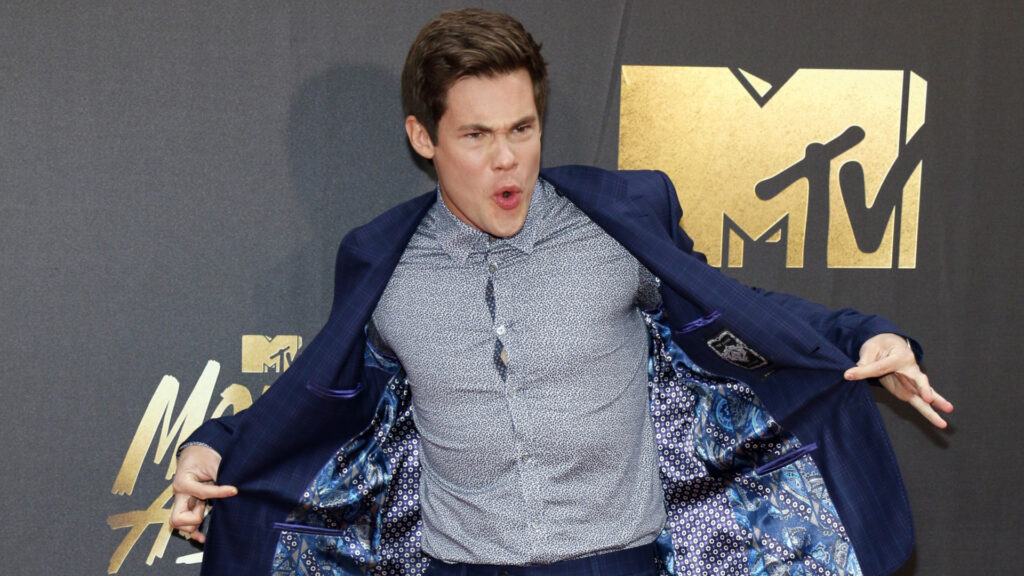 Are you interested in finding out everything there is to know about Adam DeVine's ethnicity and genealogy? Then be sure to keep reading as today's article will answer any questions you have about Adam DeVine and his ethnicity.
What's Adam DeVine's Ethnicity?
Adam DeVine is American, and he was born in the Waterloo area of Iowa on 7 November 1983 to parents Dennis and Penny Devine. Both Dennis and Penny were born in the United States.
On his maternal side, Adam's grandfather was Missouri-born Jack Cobb whose parents were William Cobb and Ethel M. Tennyson. Adam's great-grandmother, Ethel, was the daughter of a Dutchman and a woman who was thought to have British Isles ancestry. His grandmother, Freda Evelyn Smith, was also born in Missouri, as was the rest of her family.
On his paternal side, Adam's grandfather William James 'Bill' Devine was born in Iowa to parents William Devine and Clara Brown. William was born in Ireland to Irish parents and Clara was born in Iowa but her parents and grandparents were born in Ireland, and her great-grandparents were Germans who hailed from Prussia.
Adam's paternal grandmother was named Arvilla Drenth and she was born in Iowa. Her parents, Sievert Drenth and Elizabeth Grimmius were both Dutch.
When you break down Adam's ethnicity, the above means that Adam is American with direct ancestral ties to Ireland as well as ancestral links to Germany, England, and the Netherlands.
Adam DeVine's Nebraskan Upbringing
Though Adam was born in Iowa, he considers Omaha to be his true hometown. He moved to Nebraska when he was 10 years old. He settled in the area nicely and made friends, but the following year tragedy struck when Adam was out riding his bicycle and was struck by a 42-ton cement truck.
When Adam returned to middle school, he was bullied by his new friends but he told jokes to deflect attention away from his "mangled legs" and healing injuries. When he was 14, he went to Millard South High School where he met his best friend and would-be co-star, Blake Anderson.
Despite Omaha being the location of his near-fatal life-changing accident, and the place where he was bullied, Adam loves his "hometown" and often talks about the time he spent in the area.
He told Omaha Magazine, "What I love about Omaha – and what I love about Nebraska and the Midwest in general – is that it was mayhem, and everyone was having a great time, but everyone was so cool and so polite and really open and giving."
Which Celebrities Have Irish Heritage?
Many people are unaware that Adam has Irish ancestry, and he's not the only celebrity that has Irish heritage! Of course, some celebrities – like Colin Farrell, Bono, and Liam Neeson – very obviously have an Irish background. But others may surprise you.
Tom Cruise is a descendant of the de Cruis family who arrived in Ireland in 1176. The star has visited Ireland numerous times and was even presented with an honorary 'Certificate of Irishness' by the Irish government, which means he is officially recognized as a citizen of Ireland.
Another surprising celebrity that has strong ties to Ireland is Mariah Carey. Mariah's mother was born in Ireland and the songstress has grown up appreciating the Irish charm. She once said, "My mother's white, she's so Irish, she loves Ireland. She's like 'Yay, Ireland!' Waving the flag, singing 'When Irish Eyes are Smiling' and that's great. I appreciate that and respect it."
Model Emily Ratajkowski has Polish and Irish heritage. Her father is an artist and had an art gallery in Bantry in County Cork for more than two decades and so the beauty spent every summer in Bantry. She calls it "one of the most beautiful places on earth" and describes her ties to the land as "strong."
And last, but certainly not least, is Robert De Niro. Now, Robert De Niro is largely associated with Italian-Americans, but his great-great-grandfather was Irish. When Robert was 19 years old he spent a year travelling around Ireland and describes his experience as "one of those trips that changes you."