There is no denying that the former California governor is one fascinating character – he's been the subject of many conversations since hitting the scene in the 1970s. The general public often wonders and talks about his origins, diet, political views, and…real height. Here we attempt to put an end to the incessant question: Just how tall is Arnold Schwarzenegger?
Arnold Schwarzenegger has claimed in several instances to be 6 feet 2 inches tall (1.88 m or 187.96 cm). This figure is also listed in the former Mr. Universe and Mr. Olympia title holder's IMDb page.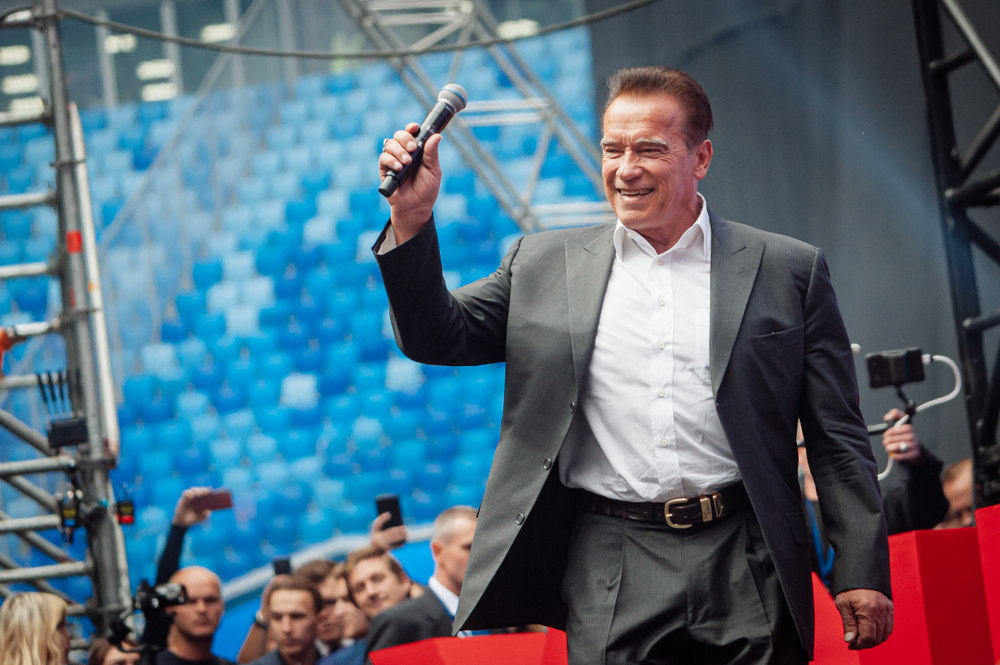 Many have disputed this claim for years, even decades. People who have personally met him and worked with him have come up with their own estimates of his true height and claim that he might actually be shorter in real life.
Did he shrink?
The 6'2" height came up when Arnold was a professional bodybuilder, a time when he was at his physical peak. According to Celeb Heights, he might have shrunk as a result of aging, losing 1.5 to 2 inches when he hit his 60s.
A Quora thread dedicated to the Conan The Barbarian actor's height offers more estimates, from personal experience or as a result of extensive research. Some commenters confirm the action star's height claim, while others disagree saying he is barely 6 feet tall.
How old is Arnold Schwarzenegger?
Born on July 30, 1947, in Thal, Styria, Austria, The Terminator star turned 75 years old in 2022. He won his first Mr. Universe title at 20 years old, in 1967. He went on to win three more of the same title in the following years. He was also Mr. Olympia holder for 6 straight years, from 1970-1975. He won the title again at 33 years old in 1980 when he returned from a break from body building. 
Arnold was 22 years old when he landed his very first acting role, in a movie titled Hercules in New York.
Arnold vs. Other Actors: Who's Taller?
Having won and held prestigious bodybuilding titles for years, there is just no comparing other actors to The Last Action Hero star when it comes to who has bigger or better-defined muscles. And since his height has been debated for years, it would be interesting to see how he fares with a few other action heroes.
Jason Statham worked with Arnold Schwarzenegger in the 3 Expendables movies, where the former played Lee Christmas and the latter played Trench. Jason Statham's height is said to be 5'8" ½, which makes him shorter than Arnold by at least 2 ½ inches.
Sylvester Stallone worked with Arnold in the same movies as Jason, both as a member of the cast and as the movies' director. While Stallone is about a year older than Schwarzenegger, he is around 3-4 inches shorter than Arnold in his peak height.
Dwayne Johnson had the chance to work with the True Lies actor in his 2003 movie The Rundown, where Arnold made a cameo appearance. Like Arnold, Dwayne "The Rock" Johnson's height has been widely debated, but many seem to agree that he might be 6'2" tall. In that case, not only are they similar in physique but in height as well. 
Danny DeVito and Arnold Schwarzenegger were co-stars in the 1988 film, Twins. The buddy comedy played on the two actors' physical contrast, putting DeVito's 4'10" frame beside Schwarzenegger's bodybuilder form. Even with Arnold's "shrunken" height measurement, he would be taller than Danny by at least a full foot.