You might know him as one of the greatest bodybuilders of all time, as the stoic cold-blooded Terminator, or as the governor of California, Arnold Schwarzenegger is a man who has been there and done it all. Over his years of competition, acting, and politics, who are his closest friends?
Arnold Schwarzenegger's closest friend was Franco Columbu. Although he has other close friends, Columbu was the man that Schwarzenegger described as his "best friend", a friendship that spanned almost the entirety of his adult life.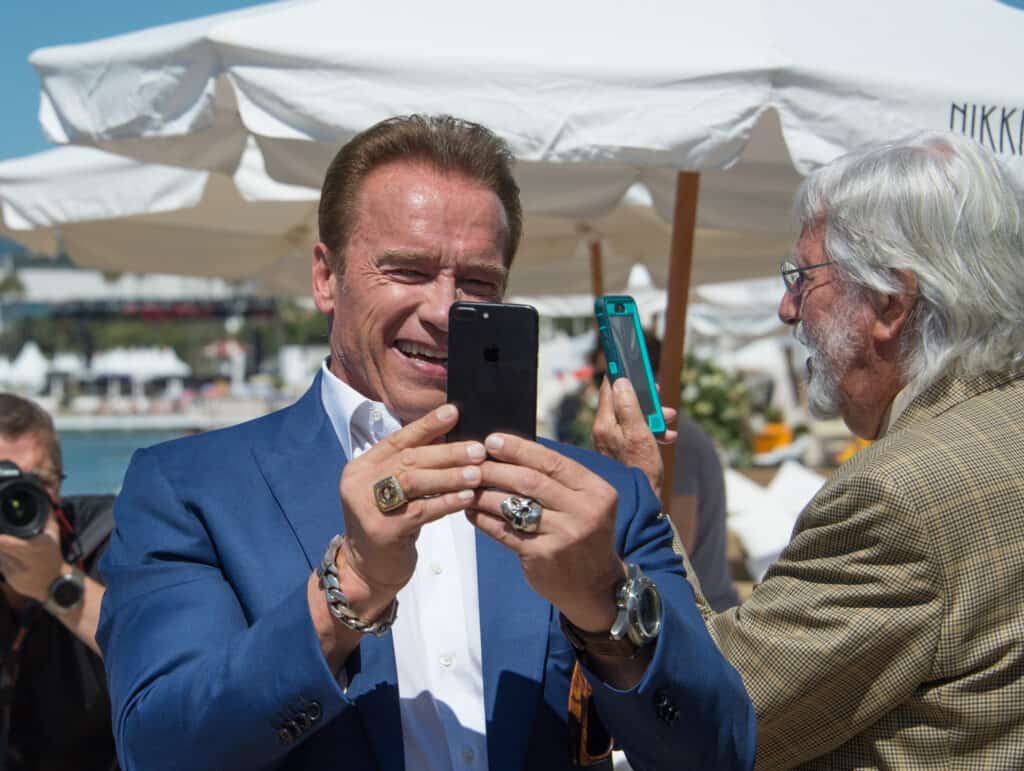 When you make your way to the top of multiple high-competition industries like bodybuilding, acting, and politics, you make a lot of friends on the way. A lot of the time, however, the closest friends are the ones who were with you from the very start, as Columbu was for Schwarzenegger.
Beginning of a Long Friendship
Franco passed away in August of 2019, at the age of 78. Just a few years prior, Arnold had been celebrating 51 years of 'bromance' between himself and his lifelong friend and competitor Franco.
To be able to grow so old, together with one of your closest friends since you were a young adult, is something that many may consider a gift. In the video, you can visibly see both the respect and the fondness that the two had for each other as they joke around and reminisce about their history together.
Like any good story, we should start at the beginning. That takes us all the way back to 1965, back to the birthplace of Schwarzenegger and the place that he spent his youth, Austria and Germany.
They first met in Munich and immediately bonded over their shared interest and passion for the sport of bodybuilding, which they were both actively pursuing at the time. Although they didn't know it yet, they had just embarked on a friendship that saw them both traveling all the way to the United States.
Bodybuilders and Business Partners
Upon arriving in the United States, full of hopes and aspirations for both their bodybuilding career and a pursuit of the American dream, Schwarzenegger and Columbu ended up being housed by Joe Weider, fitness industry and bodybuilding expert.
Although they were given a stipend by Weider, the pair didn't have enough to live on. To remedy the situation, they set their minds and their work ethic towards the idea of generating some cash.
A perfect example of the hardworking nature of the good friends, they set about carving their own path, forming a business together. The business started off as bricklaying, where they employed some clever marketing, leveraging the exotic appeal of their European roots.
They advertised their bricklaying as specifically standing out from other competing tradesmen by describing it as "Austrian Bricklaying". The combination of their entrepreneurial approach and the fact that their residence of Los Angeles had been hit with an earthquake meant that work was plentiful, making their business a huge success.
In the world of their bodybuilding competitions, the two friends pushed each other hard, both driving the other to success out of mutual respect and camaraderie.
A Friend on the Silver Screen
Looking through the early years of Schwarzenegger's acting career, many of his huge breakout roles such as Conan, Terminator, and Predator always have one extra name common to the cast lists.
In many of his earlier movies, Columbu found his way on-screen, either together with Schwarzenegger or in a minor role, but always involved in some capacity. The two were basically inseparable, "partners in crime" as Schwarzenegger himself has put it.
A Friend For Life
As the years went on, the friendship never dwindled or lost the special spark that it possessed. From bodybuilding to business, to acting, to being the best man at Schwarzenegger's wedding, the two had forged an unbreakable bond that lasted for decades.
An article once referred to Columbu as being Schwarzenegger's "Sancho Panza," comparing the two to the characters of Don Quixote and his squire. In truth, it would be hard to come up with an accurate metaphor or comparison to describe the friendship that the two shared.
The tragic passing of Columbu left not only a great hole in the life of Schwarzenegger and those who cared for him but also in the world of bodybuilding and all of those that he inspired.