A rising star in the realm of country music, singer-songwriter Maren Morris has been making waves and making a name for herself, especially after the release of her 2016 hit, My Church. Want to know more about this Grammy-award-winning brunette country singer? We've rounded up some deets that you might be interested in, starting with her height.
Maren Morris stands at 5 feet and 1 inch (1.5m or 155 cm). Maren embraces her frame saying,  "I'm five-foot-one and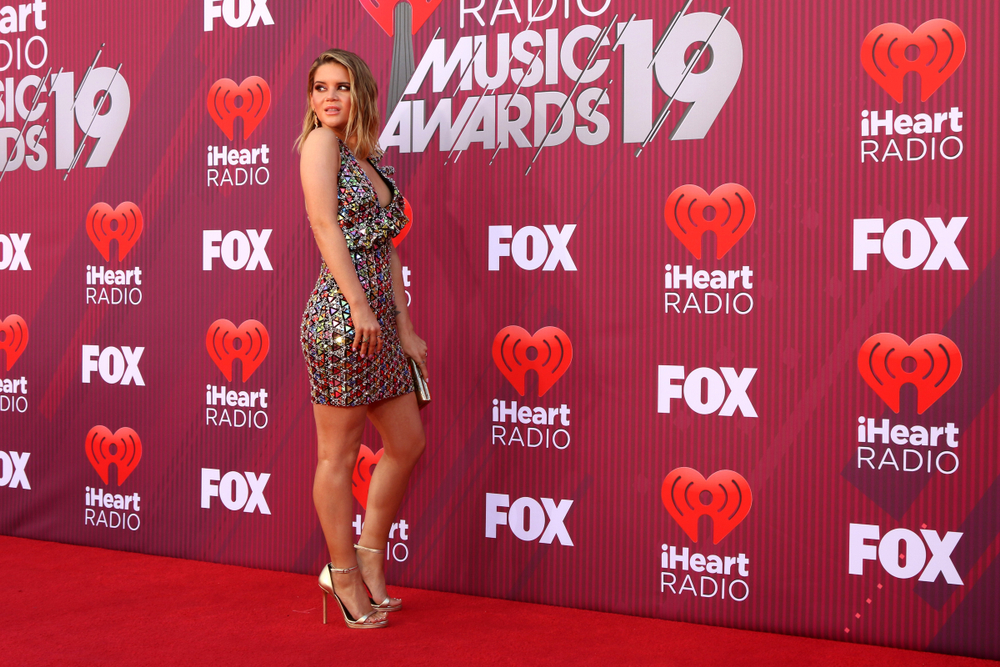 The country singer joins the roster of other petite but oh-so-talented music superstars like Dolly Parton (5'0), Lady Gaga (5'1), and Ariana Grande (5'0). Scroll down for more info about Maren Morris.
Where is Maren Morris from?
Before moving further along, let's first hit rewind and go back to how Maren started.
Maren Larae Morris was born on the 10th of April 1990, in Arlington, Texas.
Her parents, Gregory and Kellie Morris owned the Maren Karsen Aveda Salon in Arlington, which is still operating today. For years, she has worked there as a front desk and guest coordinator. At salon parties, she would entertain everyone by singing karaoke songs by LeAnn Rimes and  Patsy Cline.
Seeing her natural ability, her dad encouraged her to sing further and eventually bought her a guitar. At 12, she began writing songs and discovered her passion and calling for music. After finishing high school, Maren went off to college at the University of North Texas but dropped out after one semester to pursue her singing full-time.
For Maren, music was her weekend job. While other girls her age would do slumber parties, she would be performing in bars and clubs around her home-state Texas, with her father acting as her manager and booking agent.
She once attended a music camp sponsored by the Grammys Foundation where she was able to mingle with industry insiders and have music workshops. At 15, she was able to release her first solo album titled Walk On, which according to her mom, cost them some "furniture from their home" just to fund its recording and release.
How did Maren Morris become famous?
Having no luck with television competitions, Maren shifted to songwriting, which proved to be a very good stepping stone for her music to reach a wider audience. Songs she wrote were used by other known artists like Kelly Clarkson and Tim McGraw.
Eventually, she started recording music under her name. With the help of social media, Maren Morris' songs gained 2.5 million streams on Spotify in a month, with three songs appearing on Spotify's US and Global "Viral 50" charts. This made the big labels take notice and later on she signed under Columbia Nashville in 2015.
By 2018, Maren pushed her career even further by collaborating with non-country musicians like Grey and Zedd for her song, The Middle. The following year, she released her fifth album, Girl, with tracks in different genres, that gave a more global appeal. Her 6th album, titled Humble Quest, was released in March 2022.
Clearly, being petite in height has never been an obstacle for her to achieve her highest dreams. Following her breakout hit from her third album Hero, Maren has released other commercially-successful songs like 80s Mercedes, I Could Use a Love Song, and Rich.
Is Maren Morris married?
Maren prefers to keep things private, especially her romantic relationships. All we know is that she began dating her now husband, country music singer and songwriter, Ryan Hurd in 2015. It's interesting to note how the two have a significant height difference–Maren and Ryan are 1 foot apart vertically.
They tied the knot in 2018 and welcomed their first child, Hayes Andrew Hurd, who was born under C-section 2 years later.