Famously known as Harry Potter's best friend and confidant, Ron Weasely in the Harry Potter franchise, Rupert Alexander Lloyd Grint (33 years old) is an English actor from Harlow, Essex, United Kingdom. Rupert is the eldest among his siblings and attended Richard Hale Secondary School in Hertford.
He was born on August 24, 1988–which makes Rupert Grint a Virgo. Those born from August 23-September 22 fall under the star sign Virgo, which is represented by a virgin carrying wheat.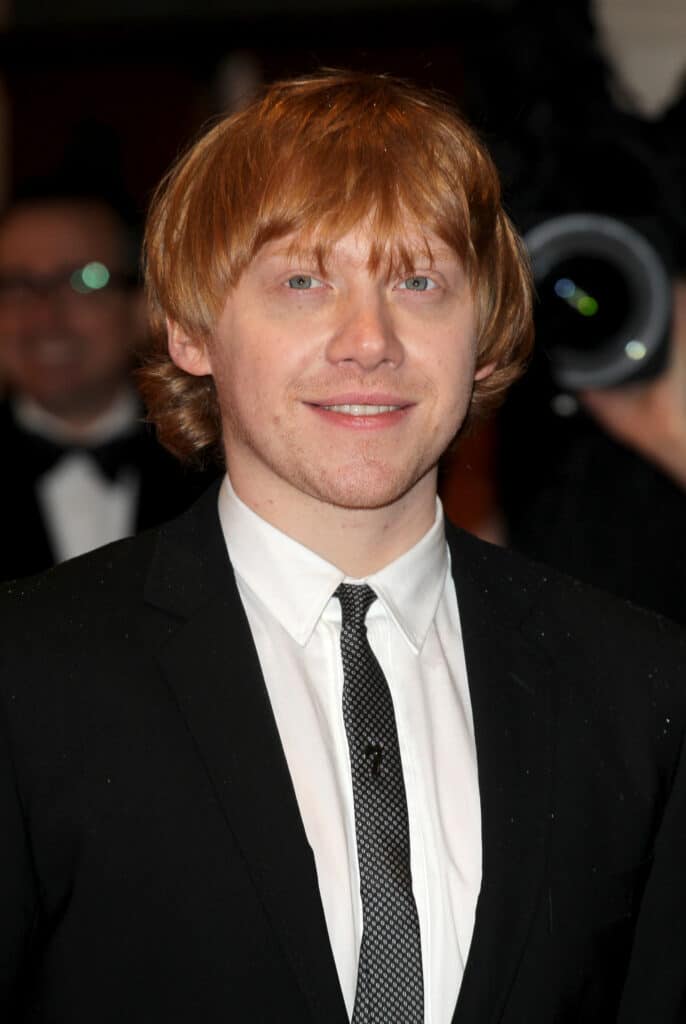 Virgo people are known to be perfectionists, practical, and systematic. Worrying is also one trait associated to the sign. Could it have helped him characterize the eternally anxious Ron Weasely?
Let's take a glimpse at the life of one of the most famous Virgos in Hollywood today.
On Being a Child Actor
In a conversation with Esquire.com, The Harry Potter star revealed that he missed the powerful feeling of being unafraid to do anything, a hallmark of youth. Rupert was 11 when he auditioned for the Harry Potter role, and his world changed forever since. When his time at Hogwarts was over, there were days when he'd wonder if he still wanted to be an actor or just go back to his "normal" life.
While promoting the Harry Potter 20th Anniversary: Return to Hogwarts 2022 reunion special (released via HBO Max), he sat down with The Movie Culture and shared that he could relate to Ron Weasely because he too was a bit of an outsider, wasn't popular, but had a lot to offer.
He was a fan of the books and feels that it was truly a dream to be in the fantastical world he would read about.
After the fourth installation of Harry Potter, he considered leaving the franchise because as the films got more successful, the more he felt pressured. Handling overnight success and fame before adolescence proved challenging for him, but fortunately, it was something he shared with his other co-stars. They had one another to help them get through the struggles.
A Virgo Father
Many astrology experts say that a Virgo parent is all about the details and is always planning—from preparing crafted lunch boxes to invitation designs for birthday parties. Virgo parents are devoted, and focused on giving only the best for their kids.
This seems to ring true for the Harry Potter star, who became a parent for the first time in 2020. Rupert and long-time partner Georgia Groome welcomed their daughter Wednesday G. Grint in May that year.
In an interview with People.com he said that he loved being a father, that it was the best thing, and how it completely kind of takes over everything. It was the only thing he cared about. 
When asked on The Tonight Show by Jimmy Fallon (who is also a Virgo) about his daughter's name, he shared that he always liked the name Wednesday, and that it was kind of inspired by The Addam's Family movies.
When asked about the "G" as the initial on his baby's name, he explained that it was cool to have a middle initial like Samuel L. Jackson or Michael J. Fox, so she's "Wednesday G. Grint!"
Grint is excited for his daughter to watch his movies someday and already has a wand, plus a PEZ dispenser with his head on it!
Life After Hogwarts
When the Harry Potter era had ended, the actor was fearful that he wouldn't make it as an adult actor and was considering selling ice cream. He even bought a pink and white ice cream van.
Rupert did a cameo in Ed Sheeran's 2011 music video for the song Lego House where you can spot the duo twinning. Then he later lent his voice to the American Dad TV series and to Postman Pat: The Movie, which was based on the popular animated show in the United Kingdom.
Grint has also done two Harry Potter-related TV shorts: The Hogwarts Express and Harry Potter and the Escape from Gringotts, both in 2014.
From 2017 to 2018 he starred alongside Nick Frost in Sick Note, a British dark comedy show, which was released on Sky One and then later made available on Netflix. His is also part of the TV show Servant, released by Apple TV+. He plays Julian Pearce who is an alcoholic—a far cry from his Ron Weasely character.
From Gryffindor House to a haunted house, Grint will display his acting prowess in an upcoming psychological horror-thriller by M. Night Shyamalan. Knock at the Cabin is scheduled for release in the United States in February 2023.