From Drake to E-40 to Rihanna, so many big-name rappers and singers have a huge love for basketball and Travis Scott is no exception.
Travis Scott's favorite basketball team is the Houston Rockets. His hometown is Houston so it makes sense that he supports the basketball team. Scott has been dubbed the Rockets superfan and collaborated with the team to make t-shirts for fans. When he was younger he was a ball boy for the team too.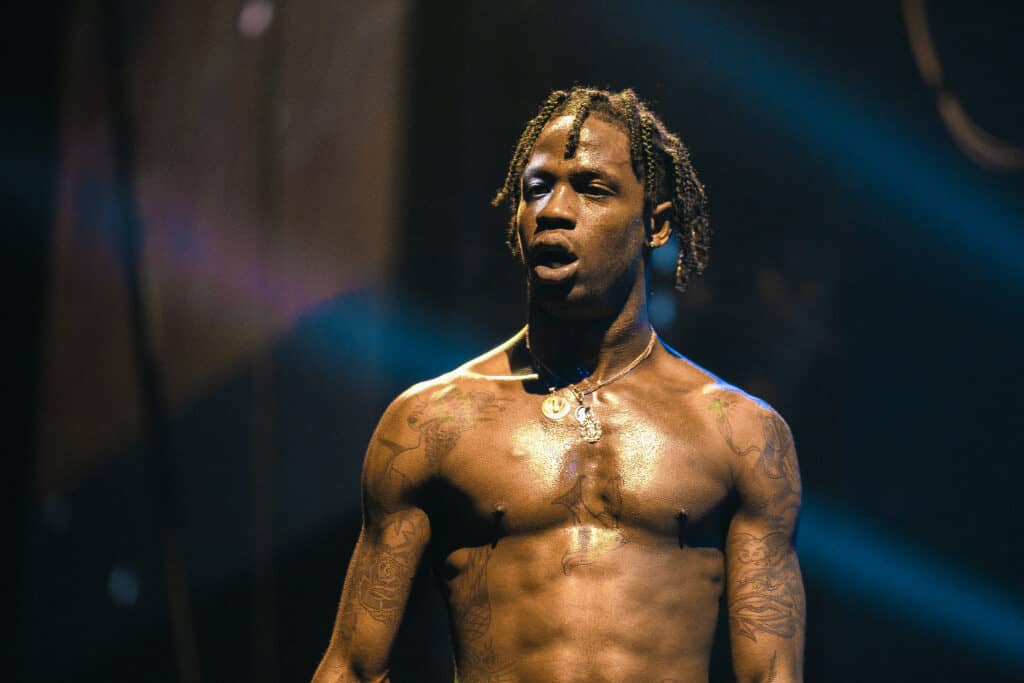 You can read more below about Travis Scott's time as a ball boy with the Rockets, his design of the t-shirts, and his limited edition Houston Rockets jersey.
Travis Scott Was a Ball Boy
Travis Scott was a Houston Rockets superfan well before he could afford to attend every game if he wanted to. When he was in high school, he worked as a ball boy for the team.
The 'Antidote' singer managed to get the job with the Houston Rockets through one of his friends. Scott has said that the year he was a ball boy big stars like Kyle Lowry and Yao Ming played for the team.
As a ball boy, it was Scott's responsibility to retrieve balls that had gone off of the court and out of play. It was through this job that he got to meet a lot of his favorite players.
In an interview with Jimmy Kimmel Live! Scott recalled working as a ball boy. He talked about the unwritten code of conduct between the athletes and the ball boys that was supposed to be followed when working.
That code is that the ball boy doesn't talk to the star athletes or ask them for autographs because it is considered inappropriate. Despite that code, Scott still managed to get a signed headband from Melo.
In the interview with Jimmy Kimmel, he also recalled that he was able to get Kobe Bryant to sign a basketball for him once. He probably didn't know that he would become the superstar he is today rubbing shoulders with players and being good friends with some of them like James Harden.
You can watch the full interview with Jimmy Kimmel Live! in the below video.
Scott's Houston Rockets T-Shirts
In early 2017 Travis Scott created his own record label named Cactus Jack and he also used the same name to create merchandise. By May, Travis Scott had the opportunity to design a custom t-shirt for other fans of his favorite basketball team.
His t-shirt would be given to all the fans in attendance of the 2016 Western Conference finals game 6 between the Houston Rockets and the San Antonio Spurs. The t-shirts were red with a white Rockets logo and the words "Run As One" printed on the center of the chest.
The t-shirts also featured the words 'Curated by Travis Scott' and the game information was printed down the left side. On the left sleeve was the words 'Cactus Jack' to recognize the collaboration with his record label.
The 'Sicko Mode' singer also hyped up the crowd before the game's tipoff. After that, he had the opportunity to collaborate on some more Houston Rockets merch.
Travis Scott's Limited Edition Jerseys
In 2019, he took part in the capsule collection that was known as the Mitchell & Ness x Bleacher Report NBA Remix Campaign. As a part of this campaign, Scott and his brand Cactus Jack worked to create a Hardwood Classic Swingman jersey.
The jersey featured the 1971 Houston Rockets logo with Scott's Astroworld globe in place of the face of the basketball player. It was also designed to look like the Rockets' 1986-95 road jersey and had the name Jack printed on the back.
Travis Scott has also managed to get merch deals with other companies now due to his huge success as a rapper and record label owner. He has even had an entire Mcdonald's meal named after him.
His McDonald's meal consists of a quarter pounder with cheese and bacon, a medium fries, sprite, and barbeque dipping sauce. There was also a Travis Scott action figure made in collaboration with McDonald's that is selling online now for $55,000.
Scott also has a partnership with Sony's PlayStation for the release of the PS5 in November 2020. He released tons of merchandise collaborations with the PlayStation logo on it and was a part of their teaser campaign.