Winona Ryder has been in show business for quite a long time. She's played a variety of roles allowing her to physically transform into different personas. From having strawberry blond hair in Edward Scissorhands to black-hued hair in Beetlejuice, it's kind of tricky to know what her natural hair color is.
In an interview, Winona revealed that her natural hair color as an adult is brown, but she used to have blond hair as a kid. It may have darkened through time as she always had to color her hair for the different roles she played.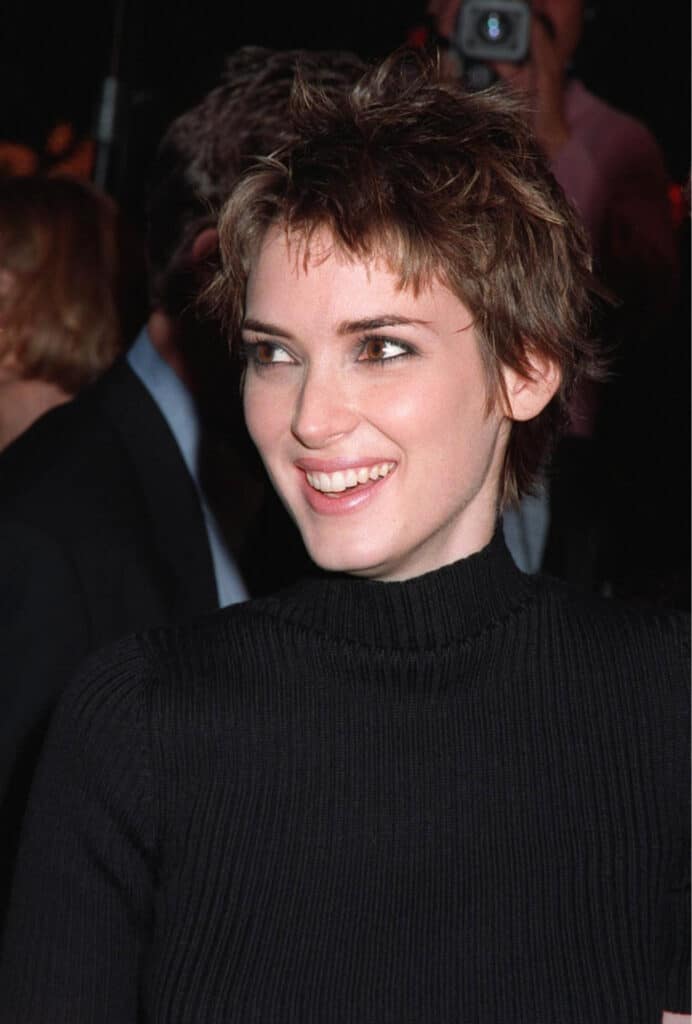 The wide range of portrayals Winona has done over the years always fascinated audiences, like her physical appearance. She has sported different hairstyles and colors to match her roles–so let's do a little rundown of her most unforgettable looks.
Early Years
Not much has been written about Ryder's childhood except that she was born and grew up in Minnesota with her parents and half-siblings.
When she was seven years old, she and her family, together with 7 other families, lived in a 300-acre commune in Elk, California. After that, they moved to Petaluma, California where she attended junior high. She was bullied in school for looking like an "effeminate boy."
At 12, Winona took her first acting class at the American Conservatory Theater, a non-profit theater company in San Francisco. Her knack for acting landed her one of her most unforgettable roles as Lydia Deetz in the movie Beetlejuice.
Her role as a goth-inspired character required her to dye her hair all-black. The movie was a huge success but that gave her more heartache as she continued to be bullied and even called a witch.
These disappointments could have caused so much trauma in the young Ryder but she managed to finish high school with an impressive 4.0 GPA.
Getting Started
Before becoming the 90's ultimate "it"-girl, Winona has proven that her range knows no bounds. Hair seems to be a crucial piece to her compelling character transformations, and here are two of her most-remembered looks:
Mermaids
We can all remember her in the 1990 movie Mermaids, a coming of age story about a family grappling with their personal issues of life, love and the oft-complicated dynamics of a mother-daughter relationship.
This movie also required her to keep her hair dark just like her on-screen mom's character played by Cher.
Edward Scissorhands
Who could ever forget her role as Kim Boggs in Edward Scissorhands? Winona had strawberry blond hair depicting an all-American teenager. Opposite Ryder was her real-life boyfriend Johnny Depp, playing Edward, a humanoid with scissors for hands.
Did you know that while filming the movie, Depp and Ryder were engaged? We can only gush as Johnny Depp even got a tattoo on his bicep saying "Winona Forever."
Unfortunately for the pair, they broke up after 3 years of being engaged.
Major Roles
The 90's has really seen the rise of Winona Ryder as a serious actress. In movies like Bram Stoker's Dracula, Age of Innocence, and The House of the Spirits, she's worked with the great artists of her time and that truly cemented her A-list status in Hollywood.
Reality Bites
In 1994, she appeared in a rom-com directed by Ben Stiller, Reality Bites. It follows the lives of 4 Gen X-ers as they navigate through the realities of finding love, jobs and life in general. How can we forget the iconic scene in the convenience store when Leina, Vickie and Sammie gradually break into dance as "My Sharona" plays? What a trip!
Alien Resurrection
Winona had short hair in Reality Bites and then cut it even shorter to a pixie cut while doing Alien Resurrection with Sigourney Weaver. Her acting performance in Alien gained positive reviews and she was given the Best Actress award by Blockbuster Entertainment.
Girl, Interrupted
Another of Ryder's notable performances was in the movie adaptation of the book Girl, Interrupted with Angelina Jolie. It was set in the 60's and Winona's role here is somewhat boyish and rebellious, so her pixie cut was perfectly suited it. 
Autumn In New York
In 2000, barely a year before she began a career hiatus, she starred in a movie with Richard Gere titled Autumn In New York. The movie had mixed reviews and made $90 million in the box office with a $60 million budget. As Charlotte Fielding, the young love interest of Gere, Ryder once again kept her short brown hair for the role.
Winona Ryder shows her versatility and range, not just in her acting but in her hairstyles as well. In contrast to her nearly-pale complexion, her dark brown hair stands out and goes perfectly with her waif-like figure and gentle dark eyes.