Richard Branson is one of the world's most influential businessmen, launching the global Virgin Group in the 1970s. Which languages does he speak?
Sir Richard Branson speaks English and has not displayed proficiency in any other language. He stated his belief that time spent on languages in school should be used for practical subjects such as computer coding, but also believes in learning widely used languages such as Spanish.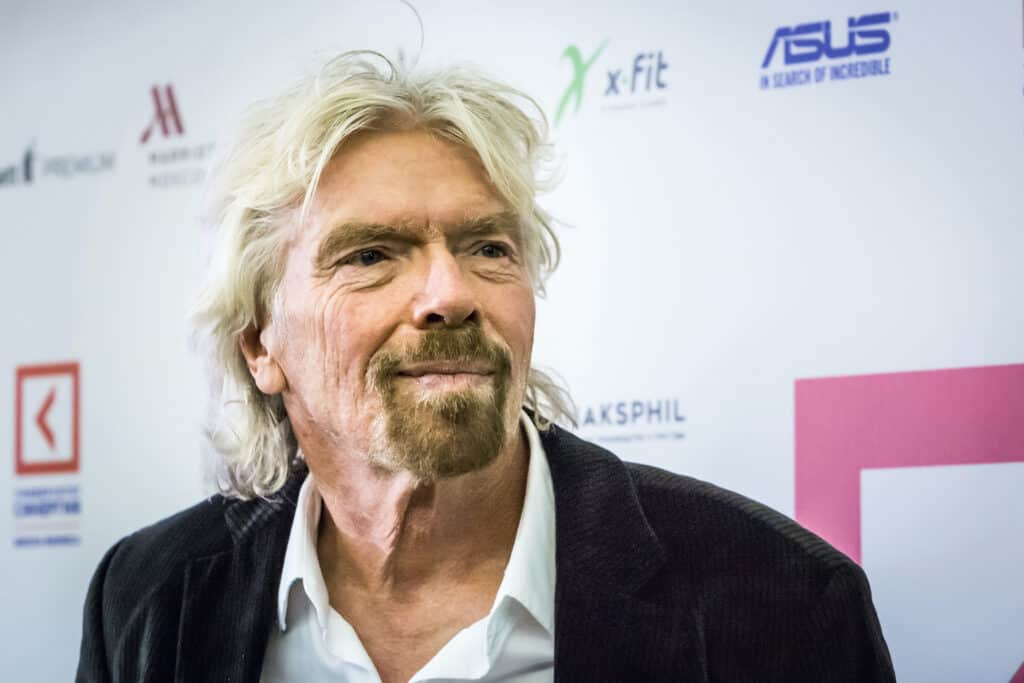 For more on Richard Branson's background and his ventures around the world, read on.
Richard Branson
Richard Charles Nicholas Branson was born in Blackheath, London, England on July 18, 1950. His parents were Edward James Branson, a barrister, and Evette Flindt, a flight attendant.
Branson, who is dyslexic, struggled with his school education from an early age. He attended Scaitcliffe School until he was 13 before transferring to the Stowe School, a boarding school in Buckinghamshire.
He continued to struggle and ultimately decided to drop out of school when he was 16. On his final day, the school's headmaster, Robert Drayson, told Branson that he would end up in prison or become a millionaire.
He founded a magazine for young people called "Student" in 1966, written by students. The first issue of the magazine was released for free, with Branson recouping the costs by selling $8000 worth of advertising space.
Branson's parents were supportive of his entrepreneurial ambitions. His mother, Evette, had started a successful business making and selling wooden tissue boxes and wastepaper bins.
Virgin Group
In the late 1960s, Branson was immersed in London's music scene and was inspired to start a mail-order record company, primarily to fund his magazine. He named the company Virgin and soon raised enough money to open his first record store on Oxford Street in London.
At the time, the UK marketplace was highly restrictive, limiting discounting in a way that made it difficult for smaller companies such as Virgin to compete with high street retailers. He was questioned in 1971 for selling records that were declared as export stock.
Branson avoided court by agreeing to pay any applicable tax, as well as a £70,000 fine. His parents, ever supportive, re-mortgaged their home in order to pay Branson's settlement and keep him in business.
With the store generating money, Branson was able to build his first recording studio in Oxfordshire in 1972, launching Virgin Records. He signed Mike Oldfield as the label's first artist and his single, "Tubular Bells", well known as the theme to "The Exorcist", became an enormous success in the UK.
"Tubular Bells" charted in the UK for 247 weeks and Branson was able to use Oldfield's success as an example of what artists under the Virgin label could accomplish. He signed major acts such as the Sex Pistols, the Rolling Stones, and Genesis, with Virgin becoming one of the leading labels in the world.
The business continued to grow exponentially, adding a travel company in 1980, an airline in 1984, and expanding his stores into major multimedia retailers. After a period of difficulty, Branson was forced to sell Virgin for $1 billion in 1992.
He was downhearted but not discouraged and founded Virgin Radio in 1993, then the V2 record label in 1996. He remains one of the most influential entrepreneurs in the modern world.
Languages
There is no evidence of Richard Branson regularly speaking any language other than English. He was born and raised in England, to English parents, with no immediate family from overseas.
Branson does have some connection to South Asia, with John Edward Branson, Richard's third great-grandfather, moving to India in 1793. Four generations of Branson's family lived in Cuddalore in India.
On the PBS show "Finding Your Roots", a DNA test found that Branson was approximately 3.9% South Asian. When asked about the results, he revealed that one of his great-grandmothers was an Indian woman called Ariya.
Despite these connections, Branson seemingly does not know how to speak a foreign language,. He has, however, encouraged people to learn a modern language, singling out Spanish as an example, and saying it is very beneficial for traveling or conducting business globally.
Branson encouraged learning Spanish due to its relative ease to learn and how widespread its speakers are. In general, Branson has actually said that he feels time spent learning languages in school could be better used learning practical skills for the modern workplace, such as computer coding.