An unmatched Twitter fanbase, gorgeous children, handsome husband, and unfiltered approach to life all make Chrissy Teigen what she is. The successful supermodel slash cookbook author is also admired for her staple makeup look: glowing skin, sharp cheekbones, full lips, and come-hither eyes.
Chrissy Teigen has an impressive set of skills when it comes to applying makeup and taking care of her skin. In her makeup bag, you'll find foundations, concealers, bronzers, blushers, highlighters, eyeshadow, mascara, lip liner, and lipsticks galore.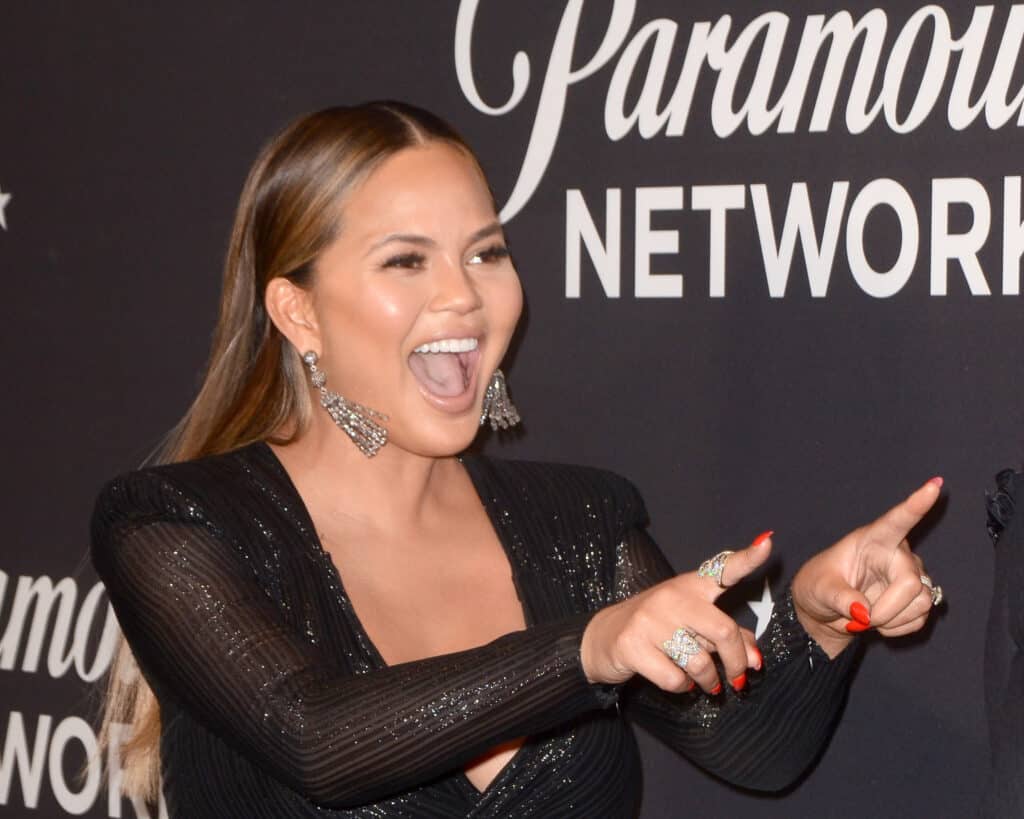 While most of her fans love seeing John Legend's legendary wife and mother of his children makeup-free on Instagram, others are keen to know the ins and outs of her makeup routine and which products are used to get the Chrissy Glow. This article is for those people.
Her Face
According to her longtime makeup artist, Patrick Ta, Chrissy's beauty routine begins with Tatcha Gold Camellia Beauty Oil to ensure that her foundation of choice — Giorgio Armani's Designer Lift Smooth Firming Foundation in shades 7 and 8 — glides on easily with a damp beautyblender.
Giorgio Armani's Light Makeup Master Primer is also used to achieve a more luminous base. To start creating the sun-kissed look that Chrissy is known for, Tom Ford's Bronzing Powder or the Nudestix Nudies Matte All Over Face Colour in the shade Sunkissed is then used on the face in whichever spots the sun normally catches.
To soften her sculpted cheekbones and add a little color to her skin, the YoungBlood Mineral Blush in the shade Nectar is applied to the apples of her cheeks. Next, the Champagne Pop Shimmering Skin Perfector Highlighter from BECCA Cosmetics is applied strategically to her face.
BECCA Cosmetics is one of Chrissy's favorite brands and she even collaborated with them on the BECCA X Chrissy Teigen Glow Face Palette, which she often uses to achieve a luminous finish.
Chrissy then sets her face using the Luminous Skin Mist by Tatcha or Cover FX's Illuminating Setting Spray to make sure her makeup stays put for the rest of the day. When Ta is in charge of setting her face, he'll either make use of one of the above-mentioned products or the Smoothing Translucent Setting Powder from Sephora.
Her Eyes
When it comes to her eyes, Chrissy isn't afraid to play around with color but she is always sure to stick to tones that compliment her eye color and skin tone. She has been spotted wearing Lucky Penny, Copper Rush, and Tahitian Pearl from the Sephora Collection Colorful Eyeshadow.
After curling her eyelashes, Chrissy applies a coat or two of the Elizabeth Mott It's So Long Defining Mascara. For her eyebrows, Givenchy's Mister Brow Filler in Brunette is used to enhance her naturally strong arches and keep the hairs in place.
Her Lips
Chrissy is a big fan of the COOLA Mineral Liplux Organic Tinted Lip Balm SPF 30 in the shade Firecracker. When traveling, it's almost guaranteed that Chrissy will have a pot of La Mer Lip Balm on hand.
For big events and special shoots, Patrick Ta likes to combine the shades Pink Latte and Copper Blush from Sephora's collection of Lip Stains. Another one of Chrissy's makeup artists, Mary Phillips, uses Nude Fair from Smashbox to line her lips followed by Charlotte Tilbury's K.I.S.S.I.N.G in the shade Penelope Pink and finishes off using Vincent Longo's Velvet Riche Lip Lacquer in the shade Felicity.
Her Skin
Chrissy has incredible skin, but it takes work to keep it looking soft, smooth, and radiant. Naturally, Chrissy has an intensive (and expensive) skincare routine and uses a carefully selected group of products which she shared on her Instagram feed.
Her routine begins in the shower where she cleanses using the iS Clinical Cleansing Complex and follows up with a healthy application of Control Collective's SPF 30 and La Mer's Moisturizing Cream and Concentrate.
The star then goes on to use Biore's Nose+Face Deep Cleansing Pore Strips to keep her face free from blackheads and her pores clear. When it comes to her Alpha Beta Extra Strength Daily Peel pads, Chrissy says they're "so important for on and around my nose and chin. You'll notice a HUGE difference!!".
At nighttime, the makeup of the day is removed using the Eyeko Mascara Off which she uses on her whole face instead of just the eye area. After that, she uses Le Prunier's Plum Beauty Oil — a product she describes using words such as "magic", "holy", and "amazing".