Classy, timeless, and black beauty: these are just a few of the words that can be used to describe the queen of the ageless beauty, Jada Pinkett-Smith. Without a doubt, she is serious beauty goals, but what makeup look does she typically wear?
Jada Pinkett Smith's signature makeup look is any bold or subtle lip gloss, a sultry eye makeup accentuating her eyes' shape. Lastly, a bronzed cheek to sweep through her cutting edge cheekbones and accentuate her glowing skin tone, thanks to her incredible genes and skincare.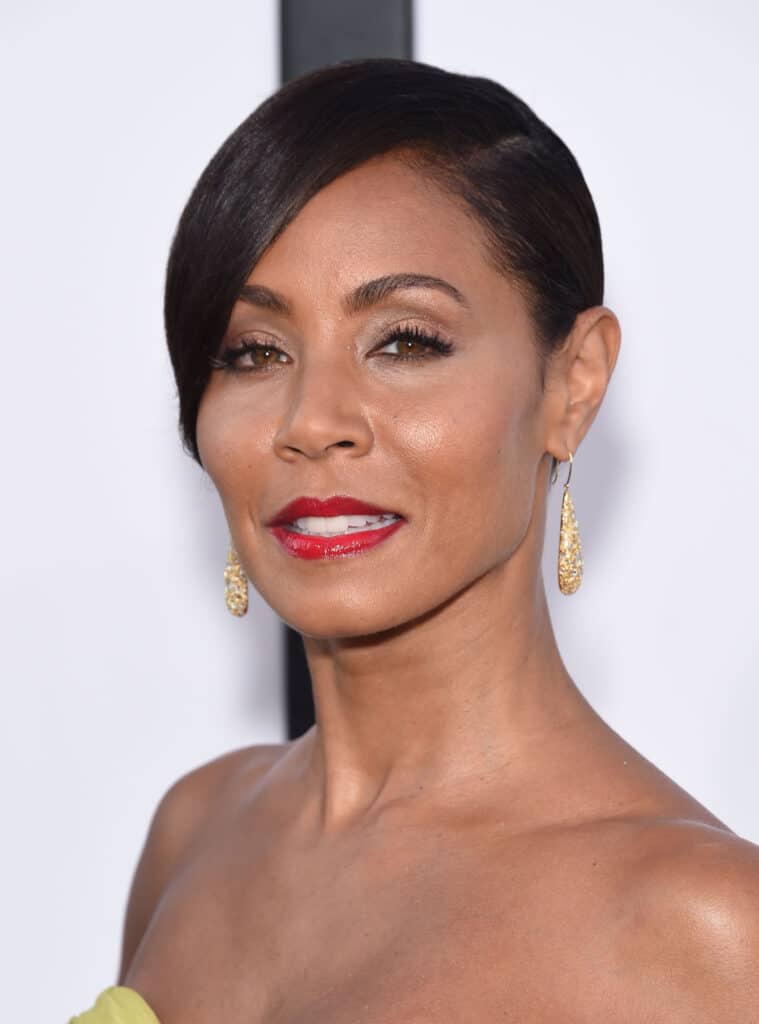 At the age of 49, she looks radiant as ever, may it be the classic red carpet look or bare-natural look. And fortunately, copying her trademark style is easier than you might think!
What is Jada's Iconic Beauty Style?
Jada is the reminder of classic black beauty that exudes a natural radiance. She is always seen with a barely-there look on her social media accounts, letting her natural complexion peek through.
Her acting is not the only thing that deserves an award at an all-star night, but her makeup and overall fashion statement also do.
Her skincare is actually a top-secret in how to achieve her natural, dewy face that transitions into a va-va-voom look at red carpet nights!
She could pass as a 20-something thanks to her flawless and wrinkle-free skin, making a great canvas for makeup that fits all occasions. She's given us classic makeup and hair looks that provide her the glimmer on the red carpet at any moment.
Classy Yet Alluring Makeup at the "Red Table Talk" Event
Sultry eyes, polished brows, and a glossy lip: Jada never fails in setting standards on the red carpet.
To start with the base makeup, a primer can be used to smooth down and fill in the pores. Think of it as smoothing down a canvas, ready to be painted; but as for Jada, her skincare speaks well for her clear complexion.
Ladies, establish your skincare routine!
Her makeup was simple, but very striking, especially with the eyes. Her eyes used a blend of earthy colors, a mix of light to dark browns, different in hues.
Blending is the key here. Use a darker shade to define the crease of the eyes to make them more lustrous and appealing.
A bit of eyeliner gave her the definition that she needed, as it made her beautiful hazel eyes pop out more from her caramel complexion. Lastly, shimmer and a pair of fluttery lashes were the perfect touches to finish off this sexy eye makeup look.
The makeup look will not be complete with a lip gloss that matches her natural lip color, making it look like a my-lips-but-better shade.
All-Out Makeup Look at the Premiere of Disney's "Aladdin"
If you're nostalgic about the Land of Agrabah, the land of Princess Jasmine and Aladdin, Jada Pinkett-Smith gives you a hint of how exquisite it can be. She went all out on her whole makeup look at the premiere of Disney's "Aladdin."
Being the wife of Will Smith, who acted out as the Genie in the said movie, she stepped up and set out the magic in the bottle through her makeup look!
Of course, she wouldn't be caught without her sexy eye makeup. The eyeliner highlighted inner corners and a defined crease accentuated her eyes well, as well as the brows that suited her face shape perfectly.
To make it a step higher, she paired it with killer red lips.
Her hair also made a statement and combined with the makeup and styling, Jada was ready to strut off the runway and take out the genie in the bottle.
An All-Natural Makeup Look
Minimal base makeup, barely-there eyeshadow, and plump lips… this makeup look exudes freshness.
Jada Pinkett-Smith is a known advocate for skincare first before makeup, achieving her wrinkle-free and clear complexion is not an easy task. It takes years of discipline to wear sunscreen while basking out in the sun.
On normal days at home, she doesn't even wear makeup to let her skin breathe. However, when she goes for a quick errand, a touch of concealer, mascara, and lip color will do.
Minimalism is the key ladies; take it from the queen of ageless beauty, Jada Pinkett-Smith.
Conclusion
She's like a chameleon who can switch it up for every look she wants to achieve — may it be a no-makeup-makeup look or a red carpet makeup look.
The queen of classiness and epitome of ageless beauty, Jada Pinkett-Smith sets the standard high and ablaze, especially with her beauty and glowing, youthful looks.