American actress and activist Jane Fonda is known for serving looks and serving up justice. How does this style icon manage to keep her makeup looking fly?
Jane Fonda likes to keep her makeup low-key, but there are a few key products that she can't live without, including her L'Oreal Paris Colour Riche Matte Lipstick. In general, Jane Fonda likes to go for a lightweight matte look.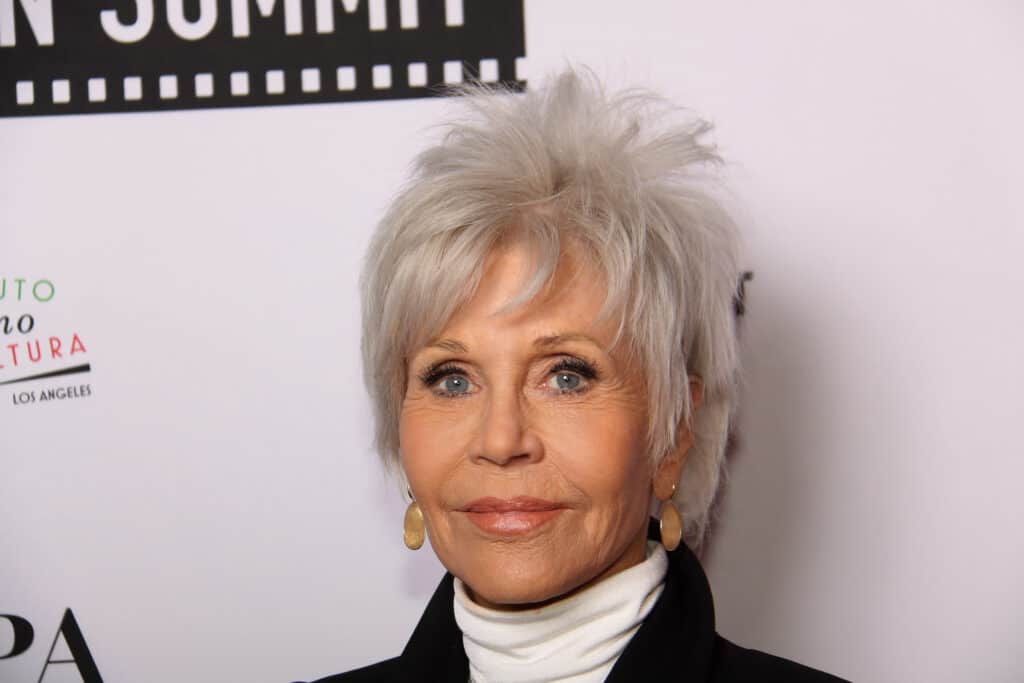 Jane Fonda's makeup routine is quite simple yet sophisticated, as the talented actress likes to let her inner beauty shine through. Still, there are a few key tips, tricks, and products that Jane Fonda uses in her makeup routine.
Makeup and Skincare Routine
In a profile for Oprah Daily, Jane Fonda shared some of her favorite beauty secrets with fans, including some of her personal favorites to keep her skin and makeup looking on point.
Specifically, Jane Fonda says that she absolutely can't live without her L'Oreal Paris Colour Riche Matte Lipstick, which she uses for a pop of color when attending Zoom calls.
She also uses skincare products to ensure that she's applying makeup to a great base, in addition to using skincare as a form of self-care. Jane Fonda is particularly partial to Uncle Bud's Hemp Blue Light Face Mask.
Jane Fonda says, "I enjoy a face mask while I'm relaxing at the end of the day."
However, self-care is also about taking care of the rest of your body, and Jane Fonda takes self-care seriously, saying, "I try to get eight hours of sleep, work out on a regular basis, eat a lot of fresh fruits and vegetables, and drink plenty of fluids."
In addition to her self-care routine, Jane Fonda's makeup artist Shawnelle Prestidge shared some of the beauty tricks that she uses to keep the "Grace and Frankie" actress looking her best.
In an interview with Prevention, makeup artist Shawnelle Prestidge says that the key to Jane Fonda's flawless-looking skin is to use foundations that have lightweight, buildable coverage.
Shawnelle Prestidge says, "Jane favors the HD varieties, so I use both Makeup Forever Ultra HD Foundation and Lorac POREfection Foundation on her. They glide on quickly and effortlessly to achieve flawless coverage with minimal layering and actual product."
In addition to the choice in makeup, Shawnelle Prestidge says that having hydrated skin is incredibly important, as it creates a smooth base on which you can apply makeup.
For Jane Fonda she uses a skincare serum from her own brand, Prestidge Beauté Ageless Skin Serum, but it certainly has a hefty price tag at $125. If you're looking to create a smooth base, look for serums or creams that contain the plumping ingredient hyaluronic acid.
Political Activism
Yes, Jane Fonda's skin and makeup look absolutely amazing. However, she's been making headlines for something else — her political activism.
In an interview with Allure magazine, Jane Fonda said that she's conscious of how she looks at protests and often adapts her makeup for the protests.
"If I'm gonna go out to a large protest or something, I highlight under my eyes," Jane Fonda told Allure, saying that she has a protest makeup routine, "I put some blush on, I put a black liner on my eyes, I curl my eyelashes, I put black mascara on the upper lashes and the lower lashes. […] Sometimes I use a bright red lipstick, sometimes I use a pale pink lipstick. That's my activism face."
Jane Fonda's signature protest makeup look has been spotted at various protests, including when she was arrested four times at the Capitol whilst protesting to increase awareness about the climate crisis.
You can watch Jane Fonda speak on the climate crisis and her highly-publicized arrests in this video she posted to her Instagram account in 2020.
The New York Times reported Jane Fonda's comments on her night in jail, quoting the actress saying, "One night, big deal!"
Jane Fonda has commented, saying that she was incredibly privileged due to her celebrity status, and plans to continue to use her star power to fight for climate justice. She's incredibly passionate about the environment and was previously arrested for speaking out against the Vietnam War in the 1970s.
Jane Fonda is leveraging her star power to create political action — now that's beauty with a conscience.