Martha Stewart has spent decades carving out a name for herself as an actress, model, writer, television personality and has earned herself numerous awards and accolades along the way. She is a renowned cookbook author, the unlikely best friend to Snoop Dogg, and a makeup and skincare buff.
To achieve her iconic Hollywood star glam, Martha Stewart uses a tinted moisturizer, foundation, concealer, highlighter, bronzer, blush, eyeliner, mascara, lip liner, lipstick, and a touch of gloss. Martha keeps her makeup application light and uses products that are accessible to most.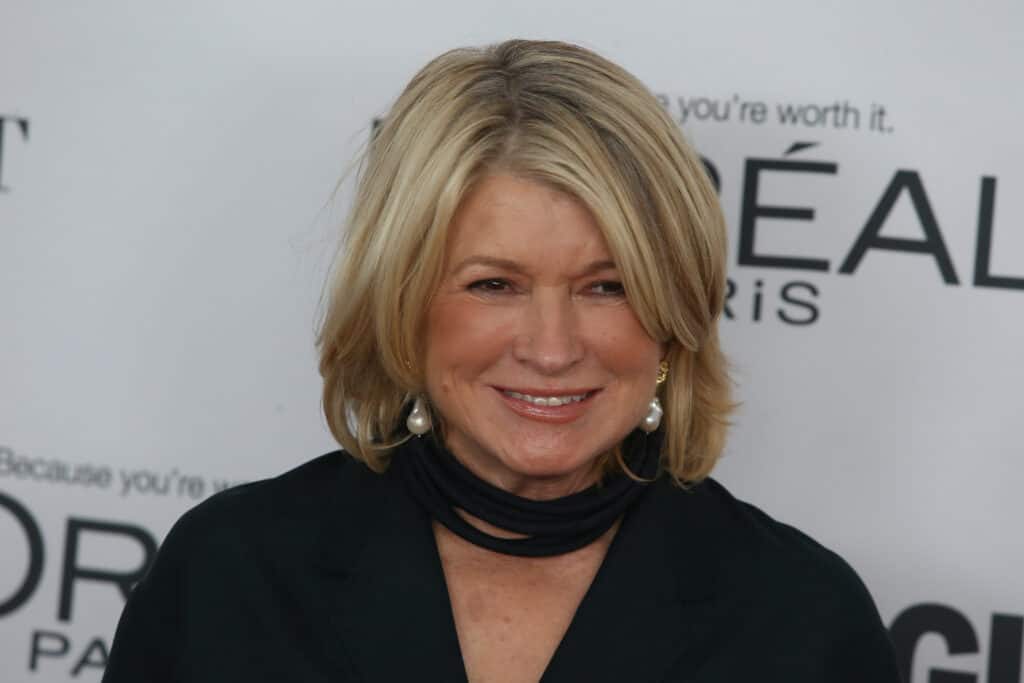 With the help of her makeup artist, Daisy Toye who is often credited for the makeup looks on Martha's Instagram page, you're about to find out what Martha uses to achieve her legendary fresh-faced look. Here's what a sneak peek inside Martha Stewart's makeup bag will reveal. 
Her Face
Martha's makeup routine starts off with a generous application of the L'Oreal Paris True Match Lumi Glotion to create an illuminating base for the rest of her makeup. She is also a fan of tinted moisturizer and prefers to use either Bobbi Brown's Tinted Moisturizer or AmorePacific's Moisture Bound Tinted Treatment Moisturizer. 
Next, the Cle de Peau Beaute Radiant Fluid Foundation SPF 20 is applied using a damp beautyblender.
Daisy does not use concealer to hide any imperfections on Martha's skin but rather to exclusively brighten her under-eye area. For this, the Yves Saint Laurant Touche Eclat Brightening Pen is used.
To brighten her cheekbones and add a slight shimmer, Gee Beauty's Cheek Color Stick in the peachy shade Adorable is applied. For a more flushed appearance, Martha will use the Westman Atelier Baby Cheeks Blush in the shade Petal or Tom Ford's Cheek Color Blush in the shade Flush.
Martha is a huge fan of the Bobbi Brown Bronzing Powder Natural One, which she describes as "the best" and "for everyone".
A few drops of Dior's Backstage Face & Body Glow, and voila! Occasionally, Martha will use a setting powder from Dior called the Nude Air Healthy Glow Invisible Loose Powder.   
Her Eyes
Instead of eyeshadow, Daisy enjoys using a Bobbi Brown Bronzing Powder on Matha's eyelids for a soft and natural eye look.
To help her eyes pop, Martha uses Kokie's Waterproof Velvet Smooth Eyeliner Pencil in the shade Bronzed but her all-time favourite eyeliner is from T. LeClerc which is no longer produced. She also uses the Lineur Intense Defining Felt Tip Liquid Eyeliner from L'Oreal Paris.
Maybelline's Volum Express the Falsies mascara is used to add volume to Martha's lashes. She is not totally set on that specific product though and says that "any Maybelline mascara is good."
Martha likes to use a smidge of the Lancome Les Sourcils Definis in the shade 101 Blonde for her brows as well as the shade Golden Mink from Tom Ford's Eye Color Quad which she applies to her brow bone.
Her Lips
For lip liner, Martha prefers neutral tones. Her favorite lipstick shades, Casablanca and Sable Smoke, are both from Tom Ford Lip Color. Martha then finishes her lips off with a swipe of Laura Mercier's Lip Glace in the shade Bare Baby.
For big events, a classic red such as Chanel's Rouge Allure Luminous Intense Lip Color is used.
Her Skin
Having skin as soft and smooth as Martha's doesn't happen overnight and takes a lot of dedication. Speaking to Into the Gloss, Martha says "I really believe in cleaning your skin well, every day. I never go to bed with my makeup on…ever. You just don't do that."
As such, Martha's skincare routine starts before going to bed. She'll use a warm washcloth and Johnson's Baby Oil to ensure all of her makeup from the day has been removed and that she wakes up "with a fresh, clean face".
Before cleaning her face in the shower using Mario Badescu's A.H.A Botanical Body Soap or Azulene Body Soap, Martha applies a face mask. Her favorites are Yon-Ka Gommage 305, Mario Badescu Azulene Calming Mask, and the Mario Badescu Super Collagen Mask.
SkinCeuticals Phyto C E Ferulic, Cle de Peau Beaute Intensive Eye Contour Cream, La Mer The Broad Spectrum SPF 50 Daily UV Protecting Fluid, La Roche-Posay Anthelios SX, and Neutrogena's Ultra Sheer Dry-Touch Sunscreen are all also part of Martha's skincare routine.
Martha makes use of Susan Ciminelli's Cleansing Milk and then goes on to tone using either AmorePacific's Treatment Toner or The Mist from La Mer. A spritz of Mario Badescu Facial Spray and Martha is on her way.