Martha Stewart is an American businesswoman, writer, and television personality, best known for her successful business ventures for founding the Martha Stewart Living Omnimedia. She has written a number of bestselling books and is the publisher of the Martha Stewart Living magazine, as well as previously hosted her own television programs, "Martha Stewart Living" from 1993 to 2004 and "Martha" from 2005 to 2012.
Martha Stewart currently lives on a 153-acre farm in Katonah, New York. She calls her main residence on the farm the Cantitoe Corners, and she and her team have been restoring her massive property since 2000.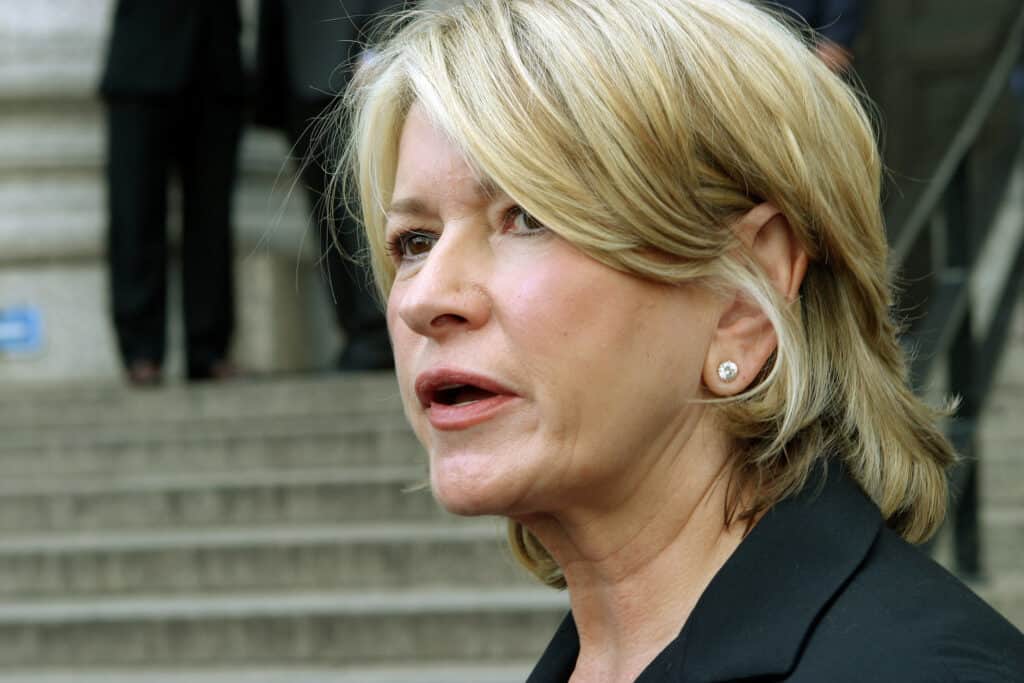 Martha Stewart has accumulated a net worth of approximately $400 million, and she has chosen to continue living near where she was raised in New York. Despite her farm in Katonah being her main residence, Martha also owns an apartment in Manhattan, a condo in the West Village, a home in East Hampton, Maine, Connecticut, along with many other small properties.
Martha Stewart's Success As A Lifestyle Television Personality
Martha Stewart was born in New Jersey and was one of six kids. She lived in a working-class community with her family that was near New York City, which allowed her to travel and model for various fashion shows in the city starting at the age of thirteen.
Martha was a student at Barnard College in Manhattan, New York City, and graduated with a degree in European and architectural history in 1962. She met her husband, Andy Stewart a Yale student, while at college, and six years later the couple had a daughter named Alexis.
Martha Stewart worked on Wall Street until 1972 before moving to Westport, Connecticut, and bought their first home.
She started to restore the 19th-century farmhouse the couple bought together and decided to turn it into more of a hobby. She began teaching herself gourmet cooking and eventually started her own catering company, which ended up being a major success and grew to a $1 million business within a decade.
Martha then decided to publish a few books, the first one being "Entertaining" which ended up being a bestseller. Many books followed as people loved the aesthetic and lifestyle matters that Martha Stewart seemed to have a lot of knowledge about.
In 1991, her company grew even more and it became known as the "Martha Stewart Living Omnimedia Inc." and Martha Stewart released a magazine called "Martha Stewart Living". All of her books and lifestyle-related content brought in over $763 million in annual sales.
By the start of the new decade, Martha Stewart returned to Wall Street but in 2002, was faced with insider trading allegations and was under investigation for selling shares of ImClone Systems before the FDA's refusal to approve the company's new cancer medication.
In 2003, Martha Stewart was charged with securities fraud, obstruction of justice, conspiracy, and lying to prosecutors and the FBI. She was sentenced to five months in prison and was released on March 4th, 2005.
After being released, she continued to try and build her lifestyle and cooking empire. She was given her own daytime television shows, such as PBS's "Martha Stewart's Cooking Show".
Martha Stewart continued to be a television personality, being a guest feature on shows such as "Chopped" and "Bake Away Camp".
Martha Stewart's Huge Farm Property
Martha Stewart built her own personal lifestyle brand from the ground up, and due to the domestic nature of her brand, she had to match her living situation to fit her image. What better way to do that than to buy a farm property?
She owns several properties, although her main home is in Katonah, New York. Her next-door neighbor is Ralph Lauren and the property spans an incredible 153 acres.
The property consists of buildings, gardens, and farmland and she has been passionate about restoring it ever since she bought it back in 2000.
Martha Stewart likes to call the property "Cantitoe Corners" and her home on the land is a three-story cottage known as the "Winter House". It is among one of three homes on the property.
The property itself features a peony garden, daffodils, a working farm with horses and chickens, vegetable gardens, greenhouses, and grazing paddocks. It has been a certified wildlife habitat with the National Wildlife Federation due to the number of animals and land on the farm.
Martha loves animals so she owns multiple dogs, cats, chinchillas, canaries, parakeets and has previously raised donkeys, sheep, goats, geese, turkeys, peacocks, and even owls. What a busy woman!