Ever wondered what makeup the gorgeous Transformers actress wears on a daily basis? To get her naturally flawless look while on set, or just going about her normal daily activities, Megan Fox reveals all her best beauty secrets.
While Megan's go-to look is completely natural, as she loves to allow her skin to breathe, she swears by a simple makeup look composed of "red lips with plain eyes". This actress also expresses the importance of loving your skin and she has a simple skin routine to go along with her stance. She states she always has to have her moisturizer, concealer, mascara, and a good lip gloss on her at all times.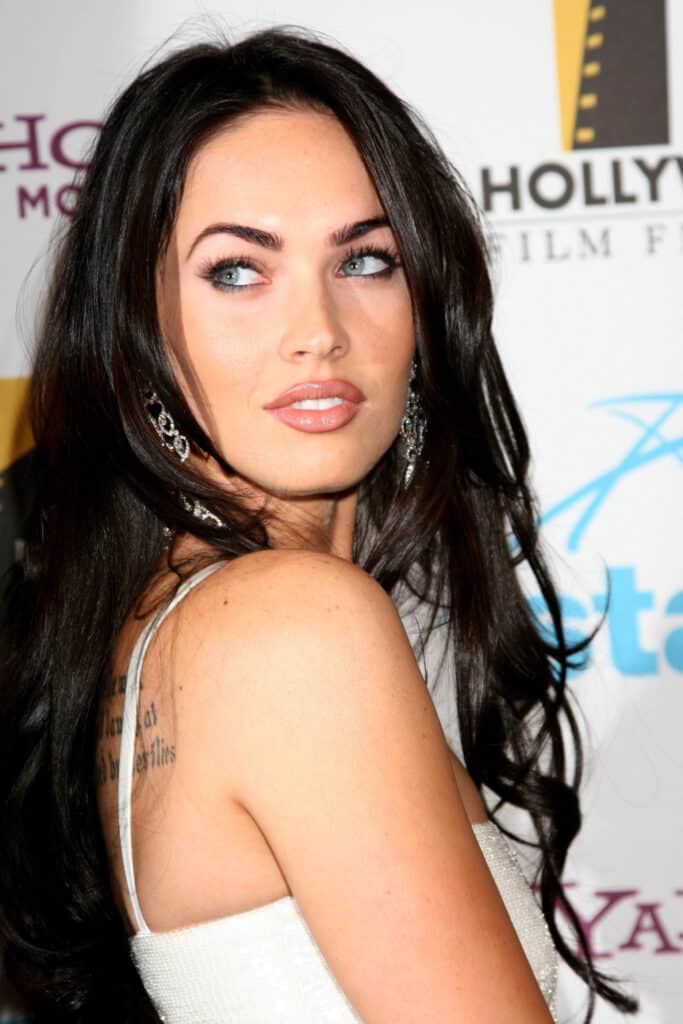 Possibly everyone's favorite "girl crush", Megan Fox's makeup looks are always flawless and natural. Here is a quick explanation of all of her favorite go-to products.
Skincare
Megan is possibly the best example of the saying "less is more" when it comes to her makeup routine, however, her skincare routine is nothing but the opposite. She goes on routine visits to skin specialist Sonya Dakar as she struggles with acne, enlarged pores, and occasional breakouts.
She also indulges in Diamond Peel Treatment for her clear skin, with a hefty price tag of $725, it's not exactly a drugstore option however she regularly partakes in the treatment.
Even having the ability to splurge on luxury products for her skin and face, the VGX award winner loves Cerave moisturizer right from the drugstore section.
While sunscreen is an integral part of skincare, Megan Fox chooses not to use any as she has sensitive skin. However, she has found an SPF product that does not cause her irritation and this is the Mindi Walters Vitamin C Complex which she uses on a daily basis.
Megan fox says that she doesn't like to wear makeup all the time because she prefers to let her skin breathe. She once stated that she prefers herself as she was in her childhood photos, "all-natural".
Eyes
For her eye look, Megan normally chooses to start with her brows. She highlights her eyes by shaping her brows delicately making sure to shape them properly. In order to do this, she uses Chanel Crayon Sourcils Sculpting Eyebrow Pencil in shade Soft Brown.
To define her eyes, Megan goes for a soft eyeliner look using Mac Omega, which is her favorite choice. If she wants to go for a darker and messier look, she uses Mac Smoulder Eye Kohl.
To make her lashes as striking and beautiful as they always are she lives by using two different mascaras for the different brush shapes. She uses Giorgio Armani Eyes to Kill mascara to get to the base of her lashes first and follows it up with L'Oréal Voluminous to lengthen her lashes.
She has also been quoted saying that on her more natural days she likes the look of a little Vaseline on her cheekbones and eyelids for a nice healthy glow.
Lips
Megan's lip look waivers depending on what she is wearing. It can range anywhere from a deep-berry red to a bright orange-red. Her favorite red lip shade is Giorgio Armani Rouge d'Armani Lipstick in shade 400.
Megan chooses red lips as her signature look and she wears a different shade of red no matter what high stakes event she shows up to.
To prep for any of her favorite shades she uses Dr. Hauschka Lip Care Stick and Chanel Le Crayon Lévres Precision Lip Definer in natural.
For her natural looks, she also chooses to do a natural lip gloss as it moisturizes her lips and gives her effortless beauty.
Face
To achieve her flawless makeup looks Megan normally goes with a light-wear foundation and some flattering blush to accompany it.
Her favorite foundation is Giorgio Armani Luminous Silk Foundation which she wears any time she does her makeup for a day out. Her favorite choice for blush is Lorac Rose, a coral-pink to compliment her skin tone perfectly.
To tie everything together she always uses the Dr. Hauschka Translucent Face Powder and to brighten her overall complexion she uses Laura Mercier Secret Brightening Powder in #2 under her eyes.
How can you achieve this look?
For those of you asking, is this even possible for me? Absolutely, many makeup artists on youtube have recreated Megan's iconic makeup look for years. Below is a wonderful tutorial on how to get this exact, gorgeous natural finish.