Tamron Hall has a handful of Emmy awards, her own syndicated daytime talk show, and a seriously impressive stash of makeup products that she stores in bins inside her closet. The American broadcast journalist does her own makeup for her appearances and shares them every week with her fans and followers.
How does Tamron Hall always look so fresh and put together? With the help of a foundation, concealer, blush, bronzer, highlighter, pressed powder, lipstick, eyebrow pomade, mascara, eyeshadow, and a whole lot of black eyeliner.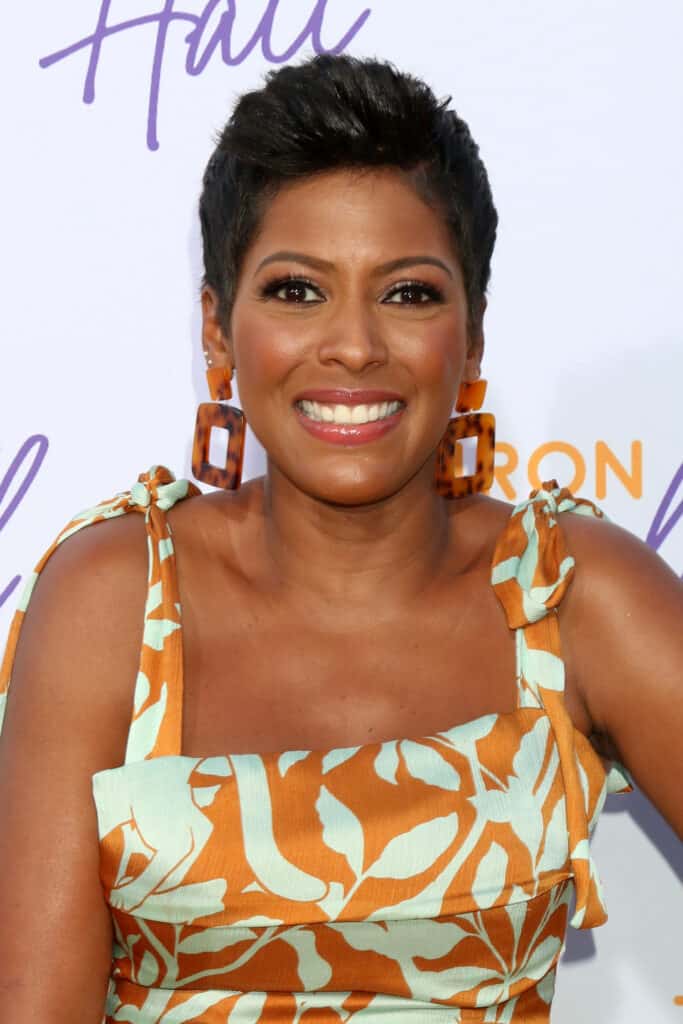 The inspirational African American powerhouse's beauty philosophy is one we can all agree with: quick and clean. With that being said, here's the lowdown on which products Tamron uses to apply her makeup quickly and cleanly before hopping on the air.
Her Face
Back in 2015, the anchorwoman Tweeted that she ditched cream and liquid foundations and replaced them with L.A. Colors Mineral Pressed Powder which she applied using a damp sponge. But it seems that things have changed since then as now Tamron begins her makeup routine by applying Eve Pearl HD 40:60 Dual Foundation.
The shade Timeless, from Eve Pearls Ultimate Face Compact, is used to achieve that glowing from within look that translates incredibly well on camera. To achieve a deeper, more radiant, shimmer Mac Cosmetics' Mineralize Skinfinish in the shade Gold Deposit or Refined Golden is dusted over her face.
Finally, Bobbi Brown's Sheer Finish Pressed Powder in the shade Golden Orange is used to keep her makeup in place while she films. While Tamron does her own makeup for the show, sometimes she gets a little help from celebrity makeup artist Porsche Cooper every now and then.
Her Eyes
Much like the Duchess of Cambridge, Kate Middleton, Tamron is a big fan of the Urban Decay Naked Ultimate Basics Eyeshadow Palette and prefers to keep her lids covered in shades of brown, bronze, gold, and creamy neutrals. It seems that Tamron opts to use lighter shades that compliment her skin and make her eyes look bigger.
She credits Rihanna as her eye makeup inspiration and admits to screen-grabbing photos of her eyes. When at home, Tamron often opts to go makeup-free but when she's in the studio the makeup chair is her first port.
Once her eyeshadow has been applied, she defines her eyes even more utilizing a generous application of the blackest eyeliner. Tamron says that she has tried not to wear it on air and just feels "naked" without it.
Tamron likes to fill in and darken her brows using Damone Roberts' Brow Shadow in the shade Minx which she applies using a most unusual tool: her toothbrush! Le Volume de Chanel Mascara by Chanel in the shade Noir is used to enhance Tamron's naturally full lashes.
Her Lips
When it comes to her lips, Tamron loves to get adventurous with the colors, shades, and textures she puts on her pout. Sometimes she'll wear a demure nude lipstick with a touch of gloss while other times she'll go live on air wearing a bright Fuschia pink lippy!
Mac Cosmetics' Sheen Supreme Lipstick in the shade Tea Ceremony is said to be one of Tamron's favorite lipsticks. Tamron also enjoys mixing two existing shades to create a custom shade. Her favorite shades to mix are the Mac Cosmetics Chatterbox mixed with Kinda Sexy, from the same brand.
There is one brand of lipstick that she has been using for years however due to the lipstick's age its sticker has long since faded and she is unable to identify the shade. One of Tamron's fans reportedly wrote her five letters requesting the name and shade of her go-to lipstick.
Her Skin
In order to be able to post such stunning makeup-free Instagram posts, the natural beauty swears by the Clear Skin Probiotic Masque from EMINENCE'S Organic Skin Care range. She has been applying a face mask every single morning since the age of 27 to keep her skin looking radiant and free from blemishes.
Raw Coconut Cream by RMS Beauty is also one of Tamron's essential skincare products as is Yon-Ka Paris' Phyto-Contour. No7's Advanced Retinol Night Concentrate is also said to have a spot in her skincare routine, although she has five bins of beauty products in her closet so it's tough to keep track of what she uses and what belongs in the bin.