Rihanna is not only a musician; she's a mogul. She's amassed a fortune of $600 million, making her one of the wealthiest women in America, but was her success created by her alone?
Although everyone gets help and support, Rihanna is a self-made millionaire, according to Forbes. Most of her money comes from her business ventures, notably her luxury makeup line, Fenty Beauty.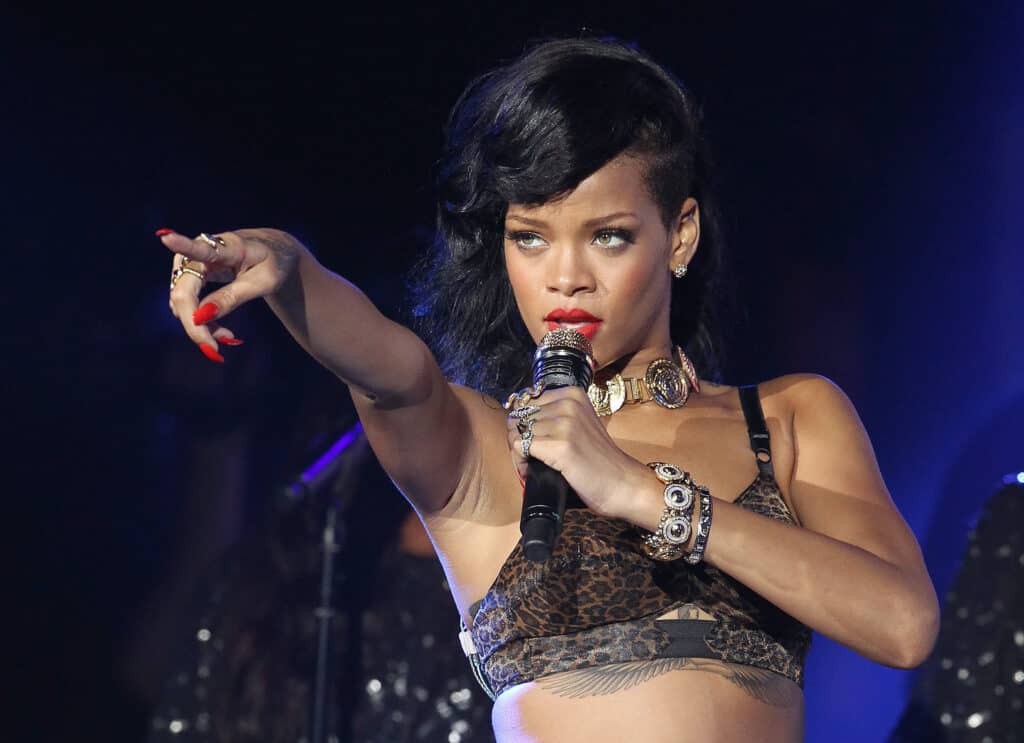 She has worked extremely hard to make her fortune, having come from a challenging background to create an empire. Rihanna has not taken this for granted, as she is also one of the most openly charitable celebrities, in addition to one of the wealthiest.
Fenty Beauty
A large portion of Rihanna's wealth comes from her contract with LVMH, a French luxury goods brand whose subsidiaries include iconic brand names Louis Vuitton, Dior, Sephora, Fendi, and Givenchy. They have a partnership to co-own the Fenty Beauty brand.
Fenty Beauty launched at Sephora, a luxury cosmetics retailer, in 2017 to massive commercial success. According to a Forbes report, the brand brought Rihanna $570 million in revenue after just 15 months.
Rihanna told TIME that she has "100 percent involvement in this process, which is what makes this so special and very fun. I have so much creative freedom from products to packaging, and that's really the only way this brand will stay true to my vision for it."
Part of what made Fenty Beauty such a success was its inclusivity. The makeup industry is often called out for discriminatory practices such as releasing foundation shade ranges that do not include dark-skinned women, but Fenty Beauty changed everything.
Fenty Beauty released a whopping 40 shades of foundation designed to fit every person's shade needs to commercial clamor and glowing customer reviews. Rihanna's brand also ran diverse ad campaigns featuring women that were representative of women in reality.
Rihanna's makeup line was a complete game-changer.
Before the line was released, there were barely any makeup lines that catered to black women and women of color. Influencer Nyma Tang told Glamour that before Fenty Beauty was released, many brands would just say, "'Oh, you don't need foundation. You're perfect the way you are,' because they didn't carry any foundations that matched."
It wasn't just about makeup; it was about representation.
Rihanna told TIME about the brand's emotional connection with consumers, "Some are finding their shade of foundation for the first time, getting emotional at the counter. That's something I will never get over."
Savage X Fenty Lingerie
Rihanna approached her lingerie brand in the same way. The brand's Instagram page, @savagexfenty, features stunning and diverse models.
One post made Rihanna's feelings clear, as it shows her carrying out the trash while sporting a shirt that reads, "END RACISM." Ostensibly, she's cleaning up the industry.
Just like with Fenty Beauty, Rihanna also approaches her brands with an eye for quality products. She isn't just selling whatever she can to the consumer, but carefully creating a product that will benefit them.
This is clear with Savage X Fenty's consistently positive reviews, which commend the mogul for making lingerie that makes women feel beautiful and supported at any size.
Bree, who reviewed a bra from Rihanna's line for Elle Magazine, said, "After the Fenty beauty launch, I think we all realized Rihanna didn't come to play, so I had the highest expectations for quality and aesthetics for this line. … Finding bras in my size that look like this one and actually fit well is really hard, so knowing she has a plethora in this collection makes me want to sign over my direct deposit to her name."
Philanthropy
Rihanna cares about quality, but she also cares about people.
The self-made millionaire is a huge philanthropist, as Forbes notes that she has donated "$1 million to New York's needy, $2.1 million to abuse victims in LA and $5 million to other charities through her Clara Lionel Foundation."
Rihanna overcame incredibly difficult hardships to become the woman she is today, including an abusive father and a highly-publicized assault by a previous romantic partner. However, she persevered through these challenges and became an inspiration for many young people going through similar issues in their lives.
Perhaps it is because of these challenges that Rihanna seems to care so deeply about how her actions impact people and how she incorporated her values into her brands. Whatever the reason, her work resonated with consumers and turned her into a self-made millionaire.