Martin Luther King Jr. is remembered as the most prominent spokesperson of the American civil rights movement due to his nonviolent methods of civil disobedience in the fight for social justice. What was this great man's personality type?
Martin Luther King Jr. never publicized a personality type test result during his life. Without input from the man himself, any results are theoretical, but given his compassion and drive, he is remembered as a highly empathetic personality.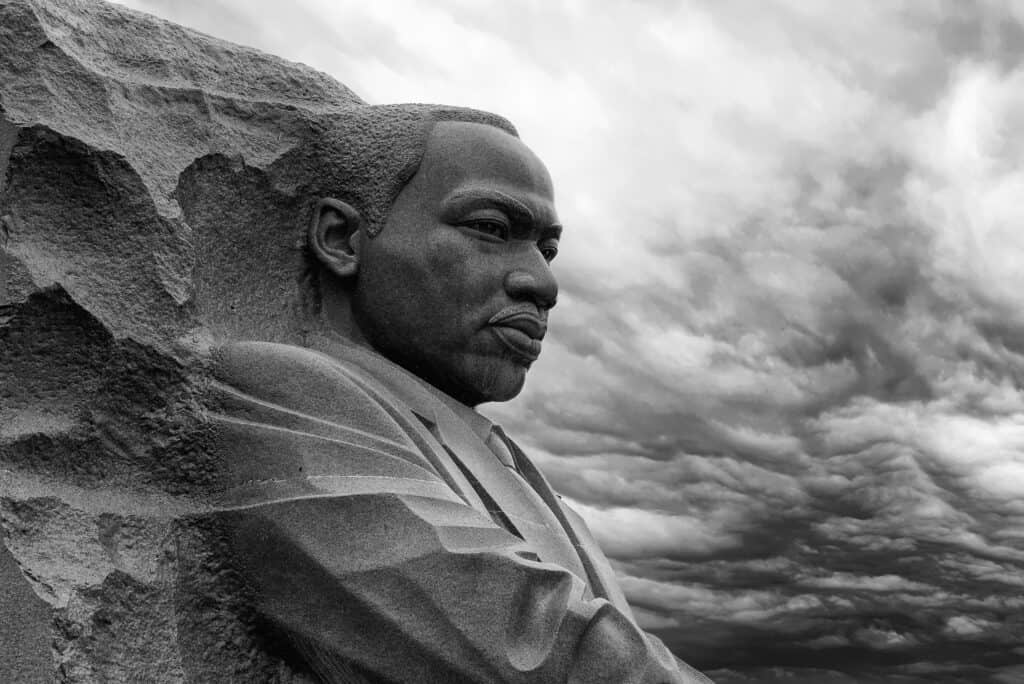 Although Martin Luther King Jr. never publicly stated the results from any personality type test, his mark on history is so massive that one can learn about him and his life despite that. If you want to live like Martin Luther King Jr., a commitment to racial justice is what you need — not a specific personality type.
Myers-Briggs Type Indicator and Speculation
Although it may be disappointing to some that we will never truly know Martin Luther King Jr.'s personality type straight from the man himself, popular personality type website 16Personalities did speculate that he could have been an INFJ personality type.
INFJ personalities are also known as Advocate type personalities, given their dedication to idealism and morality — however, these personality types do not sit idle, content with dreaming about their ideals, but take action to make the change and progress they dream of into a reality.
This personality type certainly fits Martin Luther King Jr.'s public persona, as someone who was incredibly dedicated to making lasting change in his lifetime. An empathetic and intuitive man, Martin Luther King Jr. never compromised on his ideals and fought each day for the civil rights movement.
However, just because this personality type fits Martin Luther King Jr. does not mean that is all we have to go on in order to better know the man himself.
In fact, a report by Vox argues that personality type tests such as the Myers-Briggs Type Indicator test are relatively meaningless. It argues that the descriptions are flattering yet vague, and sorting people into "types" is not an accurate way to judge something as complex as an individual's personality.
If personality type tests are about as accurate as horoscopes, then how can we know someone? It is perhaps best practice to examine a person's behavior in the world to best know their personality — to study how they treat other people and their impact on those around them, as well as on the world at large.
Civil Disobedience and Racial Justice
In the case of legendary civil rights activist Martin Luther King Jr., this would best be examined through his civil rights activism and commitment to racial justice.
It is almost impossible to summarize someone as influential and mythic as Martin Luther King Jr., except perhaps through the words of the man himself.
In April 1963, Martin Luther King Jr. was jailed in Birmingham, Alabama, after leading a march of black civil rights protestors without a permit. Although many people today focus on the fact that Martin Luther King Jr. was a nonviolent man, this does not mean that he was not radical in his actions.
After his arrest, white clergymen criticized the march and demonstrations, publishing a statement in The Birmingham News. This prompted Martin Luther King Jr. to write a lengthy response, which was published in full in publications such as The Atlantic.
Within the now-famous letter, Martin Luther King Jr. wrote, "Indeed, this is the very purpose of direct action. Nonviolent direct action seeks to create such a crisis and foster such a tension that a community which has constantly refused to negotiate is forced to confront the issue. It seeks so to dramatize the issue that it can no longer be ignored."
He continued, saying, "The purpose of our direct-action program is to create a situation so crisis-packed that it will inevitably open the door to negotiation."
Doing the Work Today
Today, the fight for racial justice continues around the globe. It is not enough to simply idealize and dream of a better world but to continue the path to racial justice that Martin Luther King Jr. helped create.
Tragically, police brutality and violence against black people and people of color have continued, with the death of American George Floyd sparking waves of protests against this brutality. The New York Times reported on how protests were met with even more brutality from police in Minneapolis and across the country.
If one wants to embody the personality type of Martin Luther King Jr., taking direct action against these injustices is the best place to start.