One of the greatest civil rights leaders in modern history, Martin Luther King Jr. is a man who many people want to learn about. And one of the questions many want to know is where did he grow up, and go on to become the legendary figure we now know today?
Martin Luther King Jr. was born in Atlanta, Georgia on January 15, 1929. He was raised by his parents in Atlanta, and lived on Auburn Avenue in the 'Williams House', from birth until he was 12-years old. He spent his childhood, adolescence, and much of his adult life in Atlanta.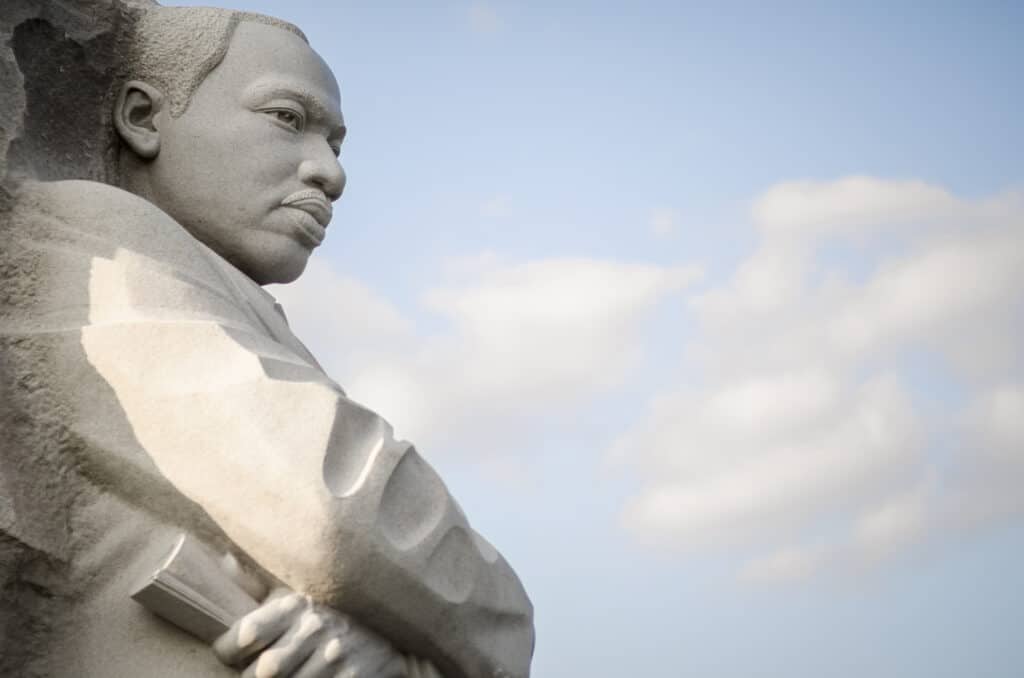 Much of the experiences that would propel King into the American Civil Rights movement would occur in Atlanta over these years.
Family Roots
On his mother's side, Martin Luther King Jr.'s family name can be traced back to Georgia through his great-grandfather, Willis Williams. Williams was a Baptist preacher in Georgia during the era of slavery and would start a family tradition that would continue through the male line of their family for generations.
"This is my being and my heritage," King once explained, in reference to his roots as a preacher despite his fame as a civil rights leader, "for I am also the son of a Baptist preacher, the grandson of a Baptist preacher and the great-grandson of a Baptist preacher."
Willis' son, Adam Daniel Williams also became a minister in rural Georgia, and later moved to Atlanta in 1893. His own son, Michael King Sr. (later Martin Luther King Sr.), would become a Baptist pastor and missionary in Atlanta, as well as taking part in the early civil rights movement.
King Jr.'s maternal grandmother, Jennie Celeste Parks, was born in Atlanta in April 1873. She married King Jr.'s grandfather, A.D Williams, in 1899 and they had their only child together, King Jr's mother Alberta Christine Williams.
Childhood in Atlanta, Georgia
Martin Luther King Sr., and Alberta Christine Williams were married in 1926, after courting for eight years. They had three children together: Willie Christine, Martin Luther, and Alfred Daniel Williams.
King Jr. and his siblings were raised in a stately Victorian home known as "Williams House", the same house his maternal grandparents had lived in on Auburn Avenue. The house was built in 1895 and purchased by the Williams' in 1909.
The children were raised in a middle-class family, and the financial security provided by their mother and father ensured that they were given far better educations than the average African-American child of those times.
As a child, he attended the black-only school, Younge Street Elementary. His close friend attended the white-only school nearby, and the child was soon restricted from playing with King Jr. This event in the suburbs of Atlanta was reportedly the first time that he would become aware of the discrimination and segregation of white and black people.
For more information on the life of Martin Luther King Jr., watch an animated video on the vision and legacy of the great civil rights leader below.
Martin Luther King Sr.
His father's actions had a profound effect on the young Martin Luther King Jr., as he was an early adopter of the civil rights movement. The elder King stood up against racial prejudice, discrimination, and segregation in the South throughout King Jr.'s childhood.
Throughout his career, King Jr. recalled multiple times that his father demonstrated his dignity and resistance in his son's presence. One in particular occurring when he bravely spoke out against a policeman who referred to him as "boy", saying "'This is a boy. I'm a man, and until you call me one, I will not listen to you.'"
King Jr., famously said ""I think that my strong determination for justice comes from the very strong, dynamic personality of my father… I have rarely ever met a person more fearless and courageous than my father."
King's Childhood Home
Sweet Auburn district, the district where King Jr. was born and raised, is now home to the first National Historical Park in the state of Georgia. It is a commemoration of Martin Luther King Jr. and the legacy of the civil rights movement that he lead.
Both his family home and Ebenezer Baptist Church, where his father and grandfather preached to the local congregation, have been protected and preserved due to cultural significance. The park is open for viewing by the public.