Lionel Andrés "Leo" Messi is a professional footballer, a forward for Ligue 1 club Paris Saint-Germain (PSG), and is the captain of the Argentina national team. Leo's family loved football and he would often play with his two brothers. 
Being born in Argentina, which is a predominantly Catholic nation—Lionel Messi follows Roman Catholicism and was molded by his family's beliefs.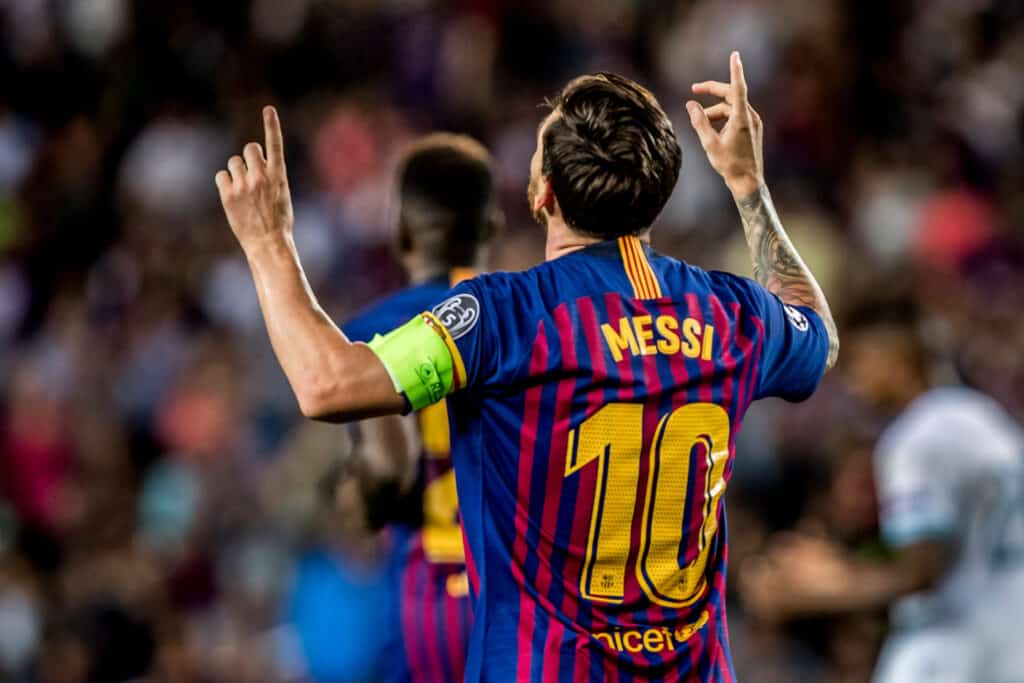 It is not known just how devout the superstar athlete is. However, he has been seen expressing his faith a few times by making the sign of the cross after scoring in several matches. The athlete even has religious-themed tattoos on his body.
In this post, we'll take a closer look at Leo's life–a bit on the personal together with the professional–as we explore the role of faith in his career.
Early Life
By age 4, Leo joined his first local club called Grandoli and was coached by his father, Jorge Messi. His grandmother, Celia, also used to go with him during practice and games.
The young footballer had big dreams of turning pro. But after he was diagnosed with a rare growth hormone deficiency (GHD) at age 11, it stunted his growth and almost cost him his career. Luckily when he was 13 years old, Spanish club FC Barcelona signed him while agreeing to pay for his treatment, resulting in him and his family moving to Spain.
Achievements in FC Barcelona and Moving to PSG
Throughout his career in Barça, he had scored a total of 672 goals and won 25 trophies, including ten La Liga titles, seven Copa del Rey, and four UEFA Champion Leagues. Messi left the club in August 2021 after being with them for 21 years.
Religious Ink
The La Liga champion has two tattoos revealing his Catholic faith—one of which is Jesus Christ with the crown of thorns on his upper right shoulder and a rosary on his forearm.
They were designed by Roberto Lopez, who mentioned in SportMob that the rosary tattoo represents Rosario, the name of Messi's hometown in Argentina.
Believing in Heaven
The striker is known to look up and point both index fingers to the sky. Leo explained this gesture in an interview with the Mirror, where he talked about his grandmother's significance in his football journey. He also believes that she continues to help Leo and his family.
Visiting Pope Francis
In 2013, Pope Francis was ordained to be the leader of the Catholic church. Messi mentioned on SI.com about Argentines taking pride in sharing the same motherland as the Pope, and that he would like to meet him someday as well.
And just like an answered prayer–it came true! A few months after, he was granted a private audience with the Pontiff. We can tell that this was one significant event to him, with Leo capturing the moment and publishing it as his first Instagram post in August 14, 2013.
In their conversations, Pope Francis asked Messi and the other soccer players to remember that on and off the field, they are role models "for better or worse." Known for his sharp wit, Pope Francis also asked the players for their prayers for himself "on the playing field God put me on."
Thanking God for the Copa América Victory
When the Argentina National Team won 1-0 against Brazil in the 2021 Copa América finals, Leo was beyond grateful. He told CBS Sports that he felt like God was saving this moment (of beating Brazil, in Brazil) just for him.
And we understand why. 1993 was the last time the team brought home the trophy, so this win ended a dry spell of losses in the tournament. Not only did they make their home country proud–but they also gained more ground in qualifying for the 2022 FIFA World Cup. It was also Messi's first International Trophy.
In a sport that is treated almost like a religion in some parts of the world—Messi is regarded by legions of fans as the greatest player of all time. Being one of the most respected footballers of all time, he has made his mark as a legend with multiple accolades.
He remains on top of the game not only with hard work and passion but also with a deep faith in God that keeps him grounded. These, combined with a strong sense of family make Lionel Messi one remarkable and inspiring figure in professional sports today.