Ralph Dale Earnhardt was an American stock car driver and team owner who competed from 1975 to 2001 in the former NASCAR Winston Cup Series. Due to the wild nature of his racing, he was famously called "The Intimidator," "The Man in Black," and "Ironhead." Many famously recognize Dale Earnhardt as one of the most significant NASCAR drivers in history, making us wonder what kind of car he drove.
Dale Earnhardt drove the No. 3 Chevrolet. He did this from the second half of 1981 and the 1984 race until he died in 2001.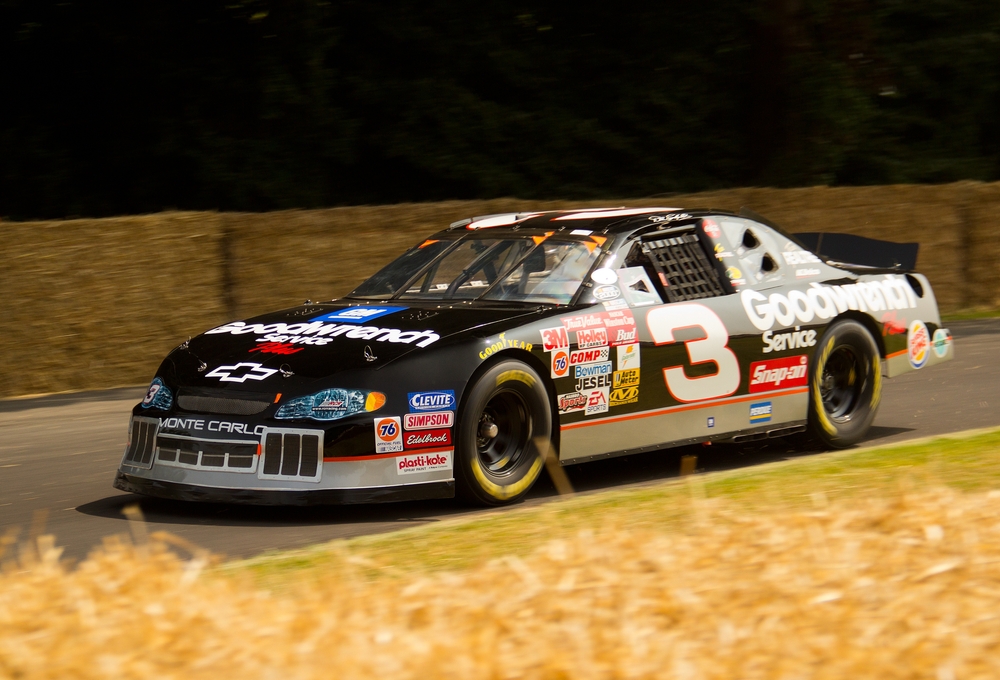 Here's all we know about the driver's car:
What Are the Characteristics of Earnhardt's Car?
Earnhardt's red and black automobile was one of the most recognizable in North American auto racing. Dale Earnhardt's No. 3 vehicle was predominantly black with brilliant red and silver embellishments. Due to the car's peculiarity, fans could associate it with his final sponsor, GM Goodwrench, and his final paint scheme.
What Other Cars Did Dale Earnhardt Drive?
Although Dale Earnhardt was famously associated with his legendary No. 3 Chevrolet, he raced different vehicles during his career. 
With his No. 3 Chevy, he competed in 529 races and earned 67 victories. He also drove the No. 2 car in 78 races and earned six victories, and the No. 15 in 60 races and earned three victories.
Earndarth also drove the No. 96 car in 4 races with zero wins; the No. 19 car in a single race with no wins; the No. 30 car in a single race with no wins; and the No. 77 car in a single race with no wins.
Did Dale's No. 3 Vehicle Ever Lead to a Game Loss?
It is well known that the tools an adventurer uses are often regarded as a determining factor in their success. To some extent, this was true of the driver in the 1990 season. Earnhardt began the 1990 season with victories at the Busch Clash and the Gatorade Twin 125s.
In the Daytona 500 competition, Earnhardt was 40 seconds ahead of Derrike Cope. However, he accidentally ran over a piece of bell-shaped metal, tearing one of the tires on his No. 3 vehicle, which prevented him from driving as quickly as he intended.
As a result, Derrike Cope won the race, while Earnhardt finished sixth after leading 155 of 200 laps. In remembrance of how close they came to winning the Daytona 500, the No. 3 Goodwrench-sponsored Chevrolet team hung the flat tire on the shop wall, which stood as a memorial for a long time.
What Happened to Dale Earnhardt's No. 3 Car When He Passed Away?
Most times, after the death of a renowned person, nothing is left to commemorate them. For some, sculptures are erected in their honor. In the case of Dale Earnhardt, after his death in 2001, the International Motorsports Hall of Fame and Museum in Talladega County exhibited his signature No. 3 stock car. It became an attraction for many people as they took pictures in the car when visiting the museum.
Who Drives Dale Earnhardt's Car Now?
In April 2022, Dale's grandson, Jeffrey Earnhardt, drove the No. 3 Chevrolet in the NASCAR Xfinity Division race at Talladega Superspeedway in Alabama.
Richard Childress, chairman and chief executive officer of RCR, found it fascinating that an Earnhardt was once again driving their car.
Jeffrey Earnhardt was a good race car driver like his grandfather, Dale Earnhardt. In 2019, Jeffrey Earnhardt made 135 Xfinity Division appearances, with the best finish of third at Charlotte Speedway with Joe Gibbs Racing. When Jeffrey turned 22, he participated in all three national NASCAR series.
Who Drove No. 3 Before Dale Earnhardt?
Richard Childress Racing's No. 3 was driven by Ricky Rudd before Dale Earnhardt took over the ride.
Richard Lee Rudd, famously known as Ricky Rudd, was a former American racecar driver. In 1982, Rudd began driving for Richard Childress Racing in the No. 3 Chevy. In 1983, he was able to earn his first two career victories at Riverside and Martinsville.
He retired in 2007 with 23 victories in his career. In 2007, he was also inducted into the Virginia Sports Hall of Fame.
He competed as well in three Busch Series races of his career that year, winning at Dover Downs in his debut. Before switching to Bud Moore's team in 1984, Rudd won twice in the No. 3 car.
The No. 3 Chevrolet was truly a remarkable ride driven by many notable racecar drivers.