James Dean was an American actor who, after his tragic death in 1955, became a pop culture icon, a heartthrob, and served as an inspiration to several A-list actors. He famously only starred in three films, but which one was his last?
James Dean's last movie was a film called 'Giant', which was a Western drama film that told the story of Jett Rink, a ranch hand from Texas who struck oil. The film was released after his death and James received a posthumous Best Actor Academy Award nomination for his role.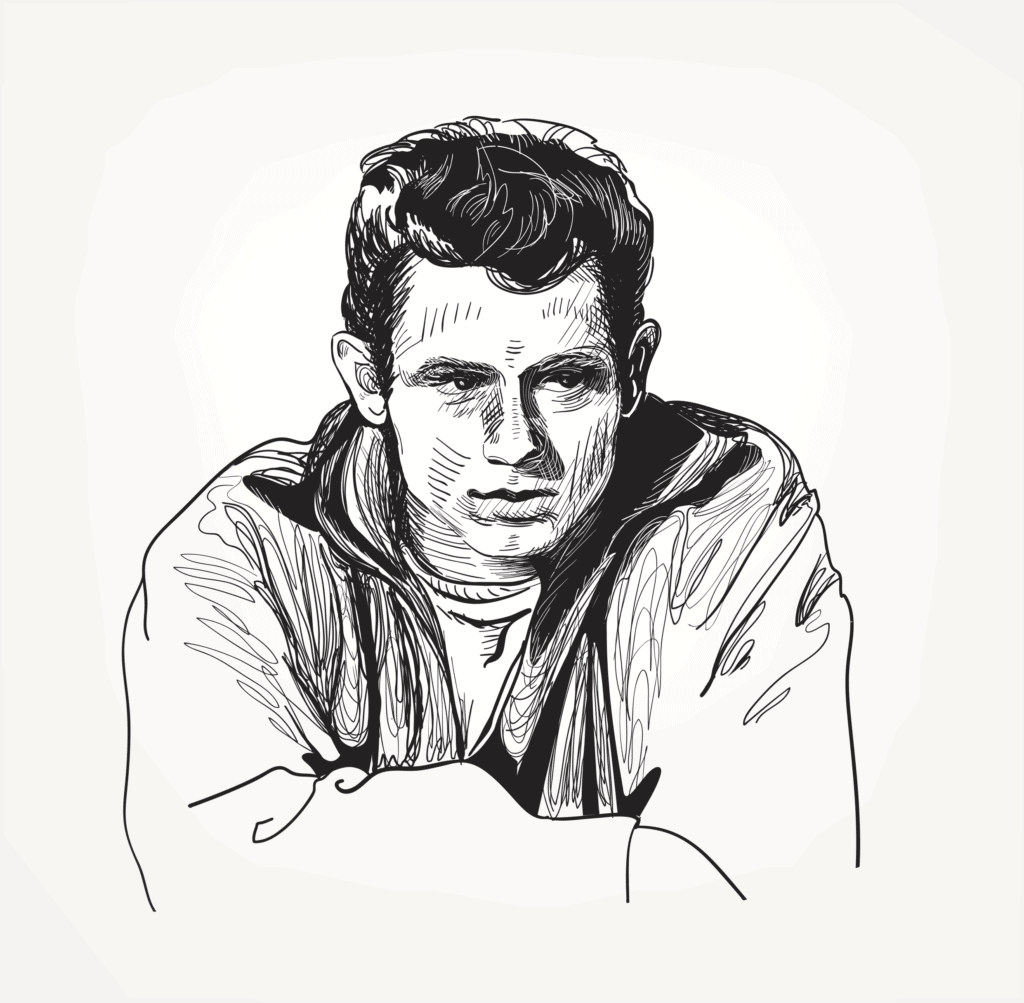 There's no denying that all three of James' films are cult classics that deserve their spots in our history books and hearts. Let's take a look at his first and last films and which Hollywood icons of today they inspired.
James Dean's First Movie
The first movie James starred in was an adaptation of John Steinbeck's novel, 'East of Eden'. He portrayed a character named Cal Task, an emotionally complex and moody teenager.
The director, Elia Kazan, reportedly wanted "a Brando" type to bring the role to life and that's what he got. Elia disliked James from the get-go but thought him perfect for the role.
James committed to the character and plenty of his performances in the film, including the iconic bean field dance and the most emotional scene in the movie, were entirely unscripted.
Loosely based on the biblical story of Cain and Abel, the film tells the tale of twin brothers and their complicated relationship with their father.
Sadly, this was the only one of his three films that James would see released in his lifetime.
James was posthumously nominated for a Best Actor Academy Award for his role in the film and he was posthumously awarded the Golden Globe Award for Special Achievement.
His portrayal of a sullen teenager and jealous brother was relatable to many and he played the part of Cal so well that he was cast as Jim Stark in 'Rebel Without a Cause' that very same year.
James Dean's Third and Final Movie
The last movie James would ever appear in was 'Giant'. It's very different from his first two films and proves that he was eager to grow as an actor and not accept the typecasting Hollywood wanted him to.
'Giant' starred James, Elizabeth Taylor, and Rock Hudson. In the film, James played the role of Jett Rink, a Texan ranch hand who became infatuated with someone else's wife and inherited land.
Several decades pass in the film, and James dyed his hair gray and faked a receding hairline to play the part. The film also called for a scene where Jett was drunk, and James got drunk in real life to authentically act out the scene.
By the time James passed away, filming had wrapped up but the editing was still underway and Nick Adams had to redub some of James' lines in this scene as his words were too badly slurred to be understood.
Due to the necessity to overdub some of James' lines, and George Stevens' pursuit of perfection, the film took an entire year to be edited. It premiered on 10 October 1956 and was released on 24 November.
'Giant' was a box-office success. It was critically acclaimed at the time of its release and remains so to this day.
Like 'East of Eden' and 'Rebel Without A Cause', in 2005 the Library of Congress preserved it in the National Film Registry due to its cultural and social significance.
James was posthumously nominated for a Best Actor Academy Award for his role in the film.
James Dean's Legacy
James left so much more than three films behind. He's left behind a legacy that is nothing short of astounding. Teenagers in the mid-1950s up until today relate to the characters he played in his first two films.
Above and beyond this emotional connection forged with his fans decades after his death, his roles in all three films have inspired some of the most accomplished actors in Hollywood today.
Johnny Depp credits seeing James in 'Rebel Without A Cause' as the "catalyst" to him becoming an actor while Leonardo DiCaprio considers James to be one of his favorite actors ever and stated that his performance in 'East of Eden' "broke my heart".
The Beatles, Elvis Presley, Bob Dylan, and even Taylor Swift were all inspired by James and reference him in their music.
And finally, James and his tragically short life and career have been the subject of several documentaries, films, plays, and books. His estate, which was inherited by his estranged father as he died without a will, is said to generate approximately USD $5 million every year.