Country music serial chart-topper Jason Aldean has a discography of studio releases dating all the way back to the mid-2000s, almost all of which have managed to seize a top 10 position on multiple charts. Looking through this wildly successful library of releases, which song kicked it all off?
Jason Aldean's first song was "Hicktown", released in 2005 on the 28th of March. It was the first single on the eponymous debut album Jason Aldean and managed to reach number 10 on the US Hot Country chart.
Managing to chart well on your very first single has to be the dream for any aspiring singer or songwriter, and for Aldean, the dream came true. Perhaps an even more impressive feat than the single's number 10 spot was the fact that the album it belonged to managed to hit number 6.
Why Hicktown?
If you're familiar with Aldean's methodology for picking which tracks make the album, you'll know that he typically chooses to go with songs that have been put together by other songwriters.
This isn't for a lack of ability to write the songs himself, but as a perfectionist and his own harshest critic, he will always opt for the highest quality song available to record for his albums. With that in mind, what was it about "Hicktown" that appealed to him so much as his debut single?
Part of the reasoning behind picking "Hicktown" as his debut single and the first song was because of the history had with the songwriters. The song was originally written by Big Kenny and John Rich, of American country duo Big & Rich.
Although he of course loved the song and is a fan of Big & Rich, the connection to the track actually runs a little deeper and relates back to Aldean's songwriting days. Back before he had made it as a recording artist, Aldean was instead helping to pen the lyrics for other performers.
One artist that he had worked with closely in the past was John Rich, one of the first artists that he had the pleasure to work with when he arrived in the country songwriting mecca of Nashville.
He had first heard the song "Hicktown," as well as "Why," during the production of one of Big & Rich's albums. Of course, the two tracks didn't make the final cut, which turned out to be perfect for Aldean as they fit his style like a glove.
Big Green Number One
Fans of Aldean, or just fans of the country genre in general, will be aware that "Hicktown" is pretty much considered one of the defining tracks for Aldean. He's spent the final moments of many a tour featuring the original song that broke him onto the scene.
To a mainstream audience, however, that may not be as familiar with his work, it might not be the track that defines him despite it being so influential both on his career and on the track lineup of his live shows.
No, the honor of being one of his most well-known and recognizable tracks lies with the song "Big Green Tractor." It's equal parts homage to country music, and to the romantic side of Aldean, in one perfect concoction.
It wasn't his first number one, the song "Why" had already managed to accomplish that, but it was his most popular song up until that point, and likely still ranks somewhere fairly highly on any list compiling Aldean's best work.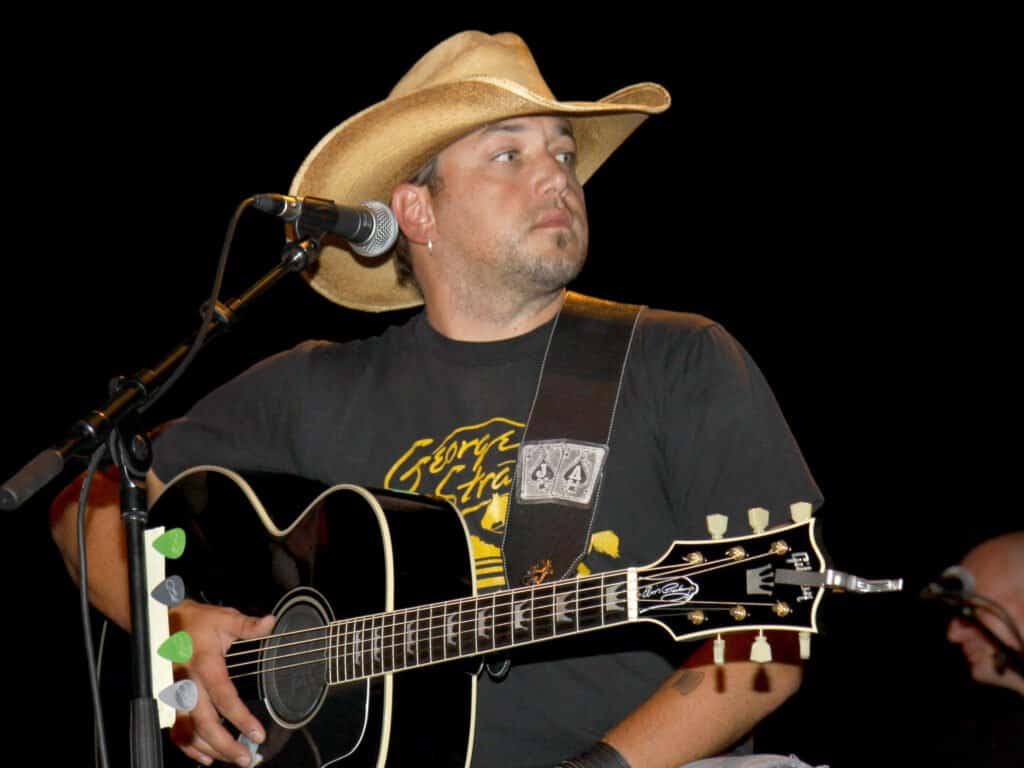 Almost Left Town
He's got more than a decade of experience of singing and songwriting under his belt now, and with so many top-charting albums and the incredible success that he has enjoyed, it's hard to imagine that he almost walked away from it all.
Instead of "Hicktown", we almost had Aldean leaving town. Due to becoming so disillusioned with the lack of traction that he had managed to make with the performing aspect of his career, Aldean almost quit for good.
He had considered moving back home from Nashville, to take a job in a factory. Thankfully he didn't, which is why we now get to detail the story of his first song, rather than the country star who lost a chance at becoming one of the most prominent artists in his genre.