Stan Lee, born Stanley Martin Lieber, was an American comic book writer, producer, editor, and publisher who started his writing endeavors in his family's business, which is now known worldwide as Marvel Comics. The beloved writer's last known words tug heavily at our heartstrings, but what did they mean?
Stan Lee's last words were "God bless. Take care of my boy, Roy." This was said to his protege, Roy Thomas in their last sit-down meeting, where they talked about comics and superheroes, a mere two days before Stan Lee's passing.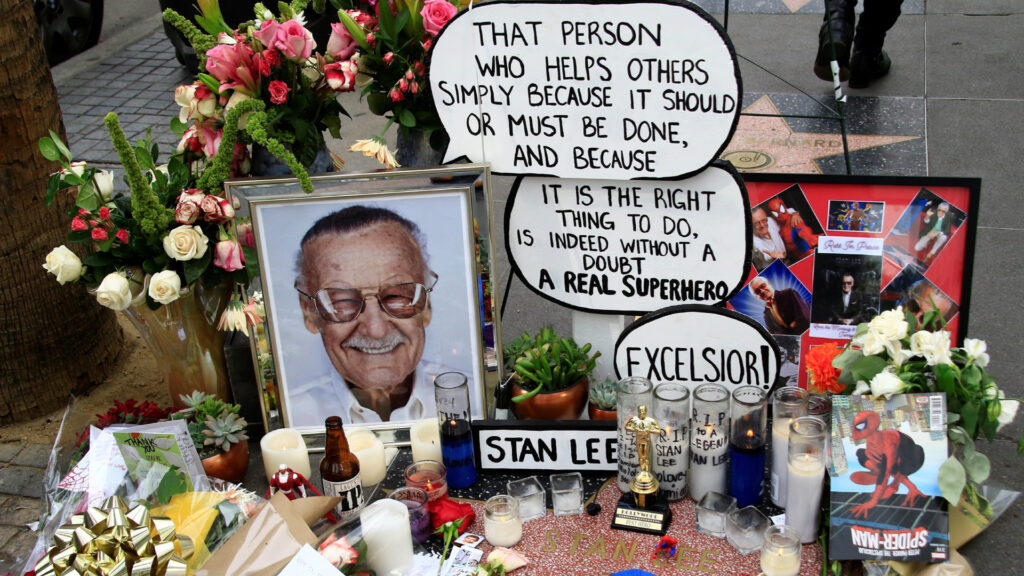 Through his love for reading as a young boy, Stan Lee managed to capture his boundless imagination into one of the most recognized comic and movie franchises to date. But one burning question remains, who was the "my boy" Stan was referring to in his last words?
What Were Stan Lee's Last Words?
On 10 November 2018, Stan had his last known photograph taken while in a meeting with his close friend and the man he trusted to be at the helm of Marvel Comics, Roy Thomas. They spent most of the meeting talking about their love for comics and the superheroes they have created over their 50-year working relationship.
During their discussions, Stan mentioned his excitement at future Marvel movie cameos, if these could be done without him being a burden to the cast and crew. Roy's manager, John Cimino stated that Stan appeared to have less of the "old Stan energy" he was known for.
As their 30-minute meeting came to a close, Stan looked at Roy and said "God bless. Take care of my boy, Roy". While it has never been confirmed, fans speculate that Stan was referring to his much-beloved Spider-Man.
How Did Stan Lee Die?
When someone lives as long and fruitful a life as Stan did, health complications are to be expected. Having been born in 1922, Stan Lee was 95 years old at the time of his passing, just over a month from his 96th birthday.
On his death certificate, the cause of death is listed as cardiac arrest caused by respiratory and congestive heart failure. It was noted that Stan was afflicted with aspiration pneumonia, an infection from inhaling something into your lungs, like food or drink, vomit, and even your own saliva.
The announcement of Stan Lee's death sent a shockwave through the world, with many celebrities like Hugh Jackman, Chris Evans, Ryan Reynolds, and Evangeline Lilly paying tribute to the legend and sharing how he impacted their lives as children, and while starring in movie adaptations of his beloved comic books.
A statement from Stan Lee's POW! Entertainment revealed that he was adamant about not having a large public ceremony, so to see to his wishes, his family held a private funeral just 4 hours after he died.
What Is Stan Lee's Legacy?
Living to 95 years old is no easy feat, and throughout that time, Stan Lee has left behind a phenomenal legacy that we all still enjoy today. With Marvel Comics being one of the world's most prominent character-based entertainment companies and having a hand in creating each of these characters, Stan is attributed with changing the way comics were made.
With the creation of Spider-Man, Stan made the first comic book hero that was a teenager and had family problems that would be relatable to the audience that read the penned adventures. Helping to create the likes of the Avengers, X-Men, and Fantastic Four, along with 8000 other characters, Stan managed to dominate pop culture for multiple decades.
Like any celebrity, there are aspects of Stan Lee's life that are not perfectly golden, from accusations of stealing credit for other artists' work, to facing allegations of sexual harassment. Stan has been accused of having a "God complex", being untruthful about collaborations and one former colleague has gone so far as to say that he could never see Stan as being creative.
Despite these would-be smears on his reputation, Stan Lee's legacy is one of wonder, determination, and above all, imagination becoming reality.
Through all of the good, bad and ugly, Stan Lee has managed to remain the figurehead of Marvel by being his charismatic and camera-friendly self. He lives on through the Stan Lee Foundation which supports literacy and arts programs all across America, providing access to literacy resources and promoting the importance of arts in our everyday lives.
Stan Lee has gone down in history as one of the most beloved comic book creators, and his cameos in the future Marvel movies will surely be missed. Excelsior Stan!