Clint Eastwood is an award-winning American actor, director, producer, and composer who has long been known as one of Hollywood's finest leading men. He's been gracing our screens for what feels like forever, but just when did Clint Eastwood start acting?
Clint Eastwood started acting in 1954 when he was 24 years old. His acting debut was in 'Revenge of the Creature' where he played the uncredited role of 'Lab Technician Jenkins', but eight months later he scored his first credited role as 'First Saxon' in 'Lady Godiva of Coventry'.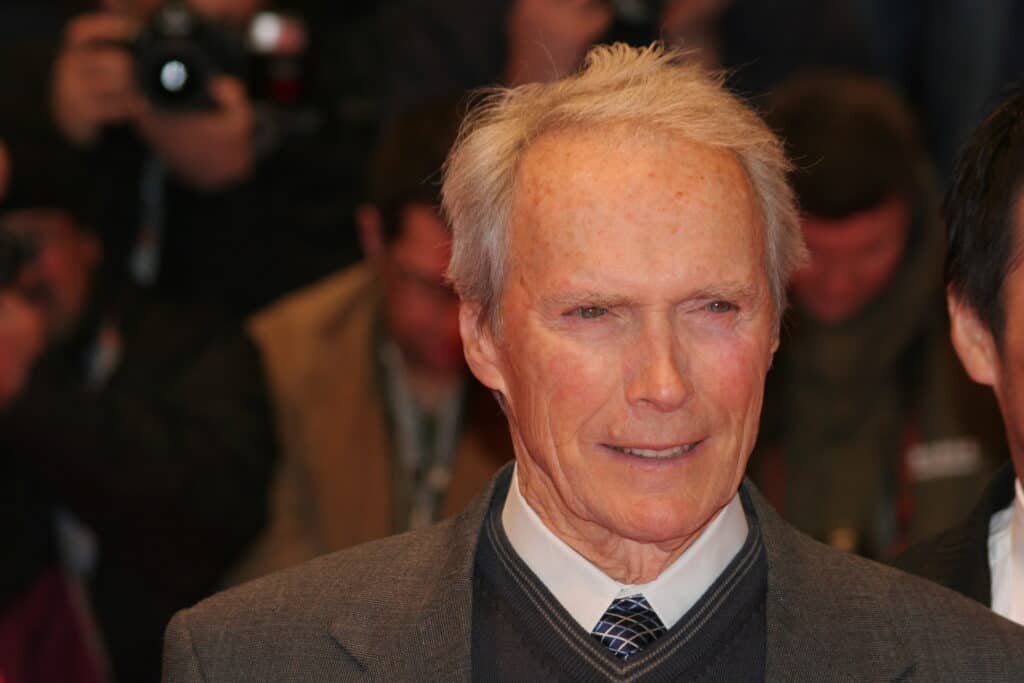 He's enjoyed a career that has spanned more than six decades and shows no signs of letting up anytime soon. Let's take a closer look at when Clint Eastwood started acting, when he stopped or plans on stopping, and the directing he's done in between.
When Clint Eastwood Started Acting
When Clint was born on 31 May 1930 he was nicknamed 'Samson' by the nurses at Saint Francis Memorial Hospital as he weighed a whopping 11 pounds 6 ounces at birth.
He would remain a "big guy" throughout his life, and this was what caught the eye of film director and producer Arthur Lubin. However, Arthur was not as impressed with his acting as he was with Clint's stature and arranged for him to take drama classes.
In April of 1954, after he had a few acting lessons under his belt, he went for his first official audition but was unsuccessful.
The next month, in May of 1954, he landed his first role in Jack Arnold's 'Revenge of the Creature'. He played the uncredited role of 'Lab Technician Jenkins', but the bug had bitten him.
In February of 1955, Clint's acting had improved enough for Arthur's liking and he scored his first credited role of 'First Saxon' in the film 'Lady Godiva of Coventry'.
During the years that followed, Clint would feature — both credited and uncredited — in many small films, but achieved little success and did not have a permanent contract in place.
Clint's big break came at the age of 30 years when he got the role of 'Rowdy Yates' in the CBS series 'Rawhide'. Today, his IMDB acting resume boasts more than 70 actor credits.
When Clint Eastwood Started Directing
In 1971, Clint decided to step behind the camera as opposed to in front of it and directed his first film called 'Play Misty for Me'. Since then he's directed more than 35 films.
Clint has directed films including 'Cry Macho', 'Richard Jewell', 'The Mule', 'The 15:17 to Paris', 'Sully: Miracle on the Hudson', 'American Sniper', 'Invictus', and many more.
Life Magazine has described Clint's directing style as "to shoot first and act afterward" and Tim Hunter commented that his films are "superbly paced: unhurried, cool, and give a strong sense of real time, regardless of the speed of narrative."
He's been directing films since he was 41 years old and has achieved great success in this area. He won the Academy Award for Best Director and Best Picture for his films 'Unforgiven' and 'Million Dollar Baby'.
At the time of writing, Clint is one of only two people that has been nominated for Best Actor and Best Director for the same film — twice!
When Did Clint Eastwood Retire From Acting?
Clint announced his retirement from acting shortly after the release of 'Gran Torino' in 2008 but didn't follow through.
Despite being on the other end of 90, Clint doesn't show any signs of being ready to retire. He told Closer Weekly, "I like doing it, it's nice to be able to have a paying job. I like being in films, I like making films."
Variety's senior vice president, Tim Gray, said of Clint's retirement "I think he's going to keep working as long as he can… He seems to have a creative drive that keeps him going. He's pretty unpredictable. I get the feeling now, he does what he wants to do."
As for Clint, he simply loves his job and can't turn down a project that intrigues him. He told The Mirror, "I probably would have retired years ago if I hadn't found interesting things to do."