Clint Eastwood is a quintessential American actor, film director, and producer. He rose to fame when he played the "Man with No Name" in Spaghetti Westerns during the mid-1960s. Fans are wondering, is he married? And if so, who is Clint Eastwood married to now?
Clint Eastwood is not married. He has been married twice before, first with Maggie Johnson in 1953 and then to Dina Ruiz in 1996.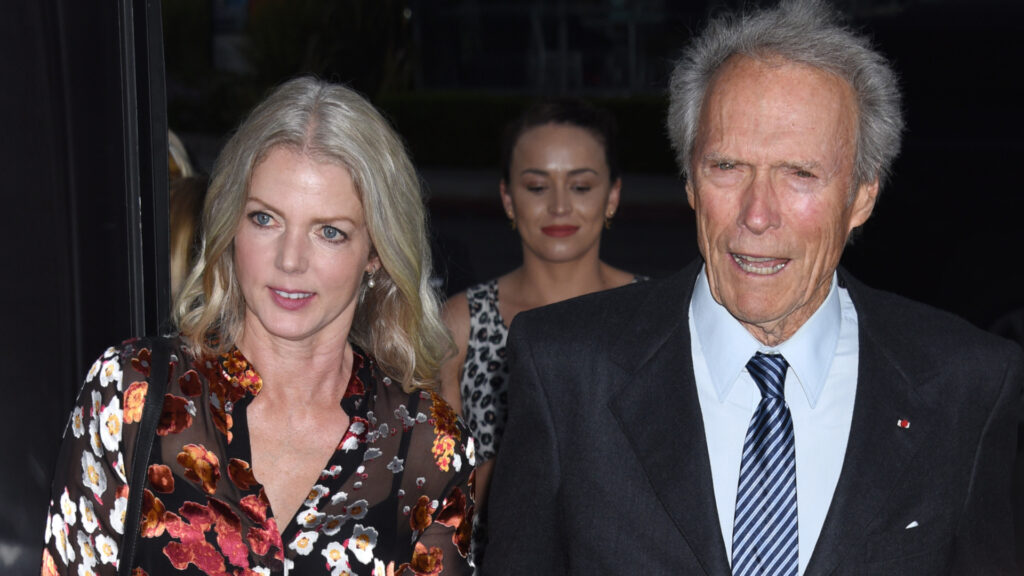 Often called  "a cultural icon of masculinity", Clint Eastwood is known to be a legendary ladies' man. There's no question why many women fell for the man's charisma. If he's not currently married, does Clint Eastwood have a new girlfriend? Scroll through to find out! 
First Marriage and Love Child
But before we get to revealing who Clint Eastwood's girlfriend is (as of 2022), let's take a brief trip down the director's long relationship life first.
Eastwood was in a relationship with auto parts secretary, Margaret Neville "Maggie" Johnson, whom he met in 1953 on a blind date somewhere in San Francisco. During that time, he joined a small theater group and met an unnamed lady, and got her pregnant.
Eastwood eventually married his fiance, Maggie, in Pasadena in December, but considered the marriage full of troubles. In 1959, Eastwood had an affair with a dancer and stuntwoman, Roxanne Tunis. The affair lasted for almost 14 years and gave Eastwood his earliest legal child, Kimber Eastwood.
All this time, he was still very much married to Maggie, who hasn't confirmed whether or not she was aware of the affair and her husband's love child.
In one interview, Clint revealed that he and Maggie had an open marriage. Eventually, they had a trial separation but decided to reconcile and start a family. With this reconciliation, Kyle was born in May of 1968, and Alison on May 1972.
First Love
Eastwood continued his philandering ways and extramarital involvements with women. Then in 1972, Eastwood met Sondra Locke and lived with her during the production of The Outlaw Josey Wales where they both starred in.
It's like he finally met his match in Locke, who also had a string of affairs while continuously being married to her gay sculptor husband, Gordon Anderson.
In her autobiography, Locke writes "Clint seemed astonished at his need for me, even admitting that he'd never been faithful to one woman — because he'd 'never been in love before.'"  The two were devoted to each other from 1976-1980 at the very least. Clint even composed a song that says 'She made me monogamous.'
Finally, Clint Eastwood's wife filed for legal separation in 1978, however, divorce papers would not be signed until later in 1984. In the divorce settlement, Johnson received a cash payment of $25-$30 million.
Second Marriage
If serial dating was a thing back then, Clint Eastwood would have been its poster child. Clint Eastwood's girlfriend at the time, Jacelyn Fisher, hasn't even vacated his home, but he had found another woman to be with.
He met television news anchor, Dina Ruiz, who is 35 years his junior when she interviewed him in 1993. They made a public announcement of their engagement in 1996.
According to Clint, "I'm proud to make this lady my wife. She's the one I've been waiting for." Ruiz answers back by saying, "The fact that I'm only the second woman he has married really touches me."
The twosome welcomed a child, a daughter named Morgan. Their marriage eventually ended, and their divorce was finalized on December 2014.
Who is Clint Eastwood's current partner?
The saying age "ain't nothing but a number" rings most true for Clint Eastwood for sure. At age 84, he met the lady who would be his girlfriend into his nineties, Christina Sandera.
Who is Christina Sandera?
Not much is known about Christina Sandera before getting attached to Eastwood as she lived a very private life. The couple met in 2014 while Sandera was working as a hostess in Mission Ranch Hotel, one of Eastwood's properties. The couple made their public debut in 2015.
Sometime in the early 2000s Christina Sandera was married to Paul Wainscott, who had her arrested twice for domestic violence. Sandera denied these allegations in their divorce, but agreed to undergo anger management classes.
How old is Christina Sandera?
News reports in 2020 revealed Christina Sandera's age to be 56 (to Clint Eastwood's 90). The couple has an age difference of approximately 34 years. In 2022, Christina turned 58 and Clint, 92.
Is Clint Eastwood married to Christina Sandera?
While the couple seems very happy with each other, they have not tied the knot and some sources say that there are no wedding plans ahead. According to the same source, all eight of Clint Eastwood's children love Christina, and that's about enough for the man.