Adam Sandler, the comedian known for his lovable goofball characters in films like 'Hubie Halloween' and 'Billy Madison,' has built quite a career for himself. We wonder if he was the same class clown that he is now, or if Adam Sandler grew into his larger-than-life personality.
Adam Sandler grew up in Manchester, New Hampshire. He was the youngest of four children and was indeed just as much of a comedic personality growing up as he is today.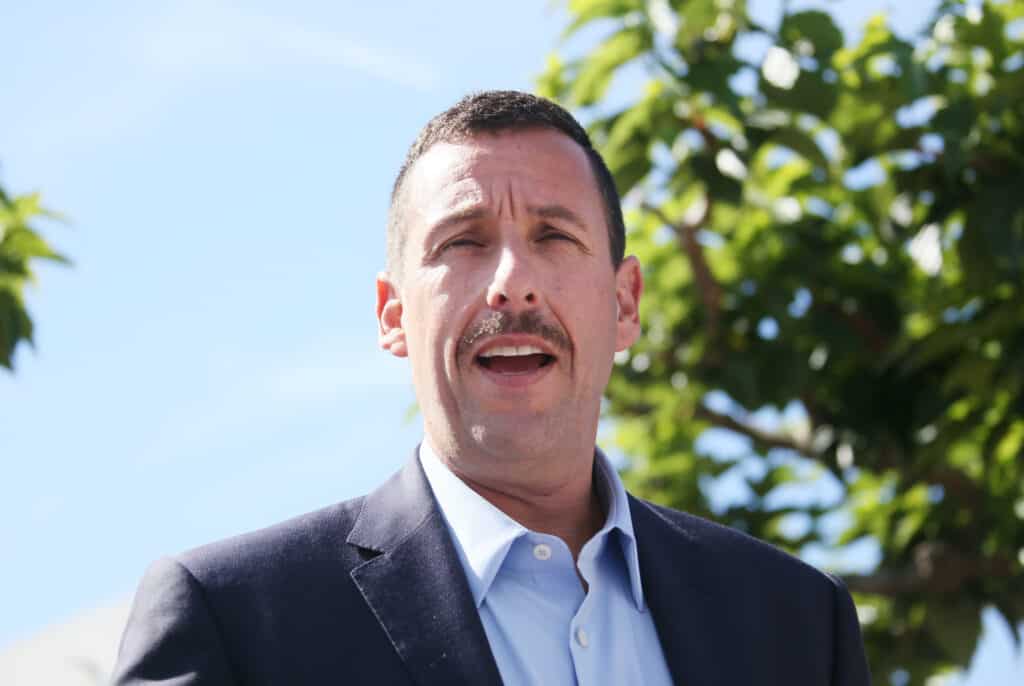 Thankfully, his funny antics weren't discouraged too much when he was younger, or we might not have been able to experience them on the silver screen.
Early Career
Adam Sandler attended Manchester Central High School and was not very interested in school. Instead, he preferred to make jokes, hinting at his future career in comedy – although his teachers usually didn't see things that way.
His brother convinced him to perform his first stand-up comedy routine when Adam Sandler was just seventeen. Sandler's interest in performing arts was cemented, and after high school, Sandler earned a bachelor's degree in acting from the Tisch School of the Arts at New York University.
Adam Sandler's first time appearing on television was on 'The Cosby Show' in 1987. However, his big break was on Saturday Night Live (SNL).
Adam Sandler was hired first as a writer for SNL in 1990 and as a performer one year later. He was able to showcase his musical parody ability on SNL, performing now-iconic songs such as his 'Sweatshirt Song,' a Valentines Day ode to his favorite red hooded sweatshirt.
If you want to listen to a young Adam Sandler croon about a hoodie and sing the iconic punchline, "Oh what is it about you that makes me so jolly? / Is it your fifty cotton or your fifty poly?" enjoy the video below;
Audiences responded to his earnest and lighthearted comedy. He starred in several films, including 'Billy Madison,' 'Happy Gilmore,' and 'The Waterboy,' which were huge commercial successes.
Adam Sandler is known for his lovably juvenile comedy that often veers into the crude and slapstick.
Notable Films and Accomplishments
Although many of his most commercially successful films were comedies, his most critically-acclaimed films were more severe and dramatic.
His two top-rated films on the movie review website Rotten Tomatoes are 'Uncut Gems' and 'The Meyerowitz Stories (New and Selected),' which are both more serious undertakings. These demonstrate Adam Sandler's strong ability to act in various genres, even though he often opts for comedy.
The versatile actor has proven that just because he made the switch to the big screen, it doesn't mean that he let his stand-up comedy chops get rusty. Adam Sandler released his stand-up comedy special, 'Adam Sandler: 100% Fresh' in 2018, to overwhelmingly positive critical acclaim.
Film reviewer Christopher Hooton wrote for the Independent, "What ultimately wins the audience over, though, is the very same thing that's behind Sandler's occasionally stunning film performances: his earnestness."
Adam Sandler can balance comedy and drama – he also balances critical acclaim with his three Golden Raspberry Awards, or 'Razzies' for short, which are the parody awards show to complement the Golden Globes. The joke awards, named after 'blowing a raspberry,' are given to the industry's worst films.
Adam Sandler takes everything in stride, as he told Cinema Blend, "I know what they're going to say to every movie — they're going to say they don't like it. We'll be OK. I believe in my stuff. That's important to me and my friends and the people I make the movies for. I like them, that's the good news."
He's also been nominated for and has won some non-parody awards, including the Independent Spirit Awards category Best Male Lead for his role as Howard Ratner in the 2020 Safdie brothers film, 'Uncut Gems.' Adam Sandler's nailbiting role as the gambling addict gemstone dealer also nabbed him The Razzie Redeemer Award.
Notably, Adam Sandler has won eight People's Choice Awards for his acting roles, which probably means a lot to the actor as he's stated that he cares more about what his audiences think about his movies than what the critics have to say.
Adam Sandler is beloved by many for his classic comedic roles and has proved himself to be a versatile performer in everything from stand-up comedy to serious dramatic roles. If critics have anything to say about it, he might just respond with a classic line from his Halloween special, 'Hubie Halloween,' and say, "Hey, you missed. The yolk's on you."