George Harrison first achieved fame as lead guitarist for the seminal rock band the Beatles, along with John Lennon, Paul McCartney, and Ringo Starr. He also collaborated with other music icons like Bob Dylan, Roy Orbison, and Tom Petty.
George Harrison lived in his Friar Park home from 1970 until shortly before his passing in 2001.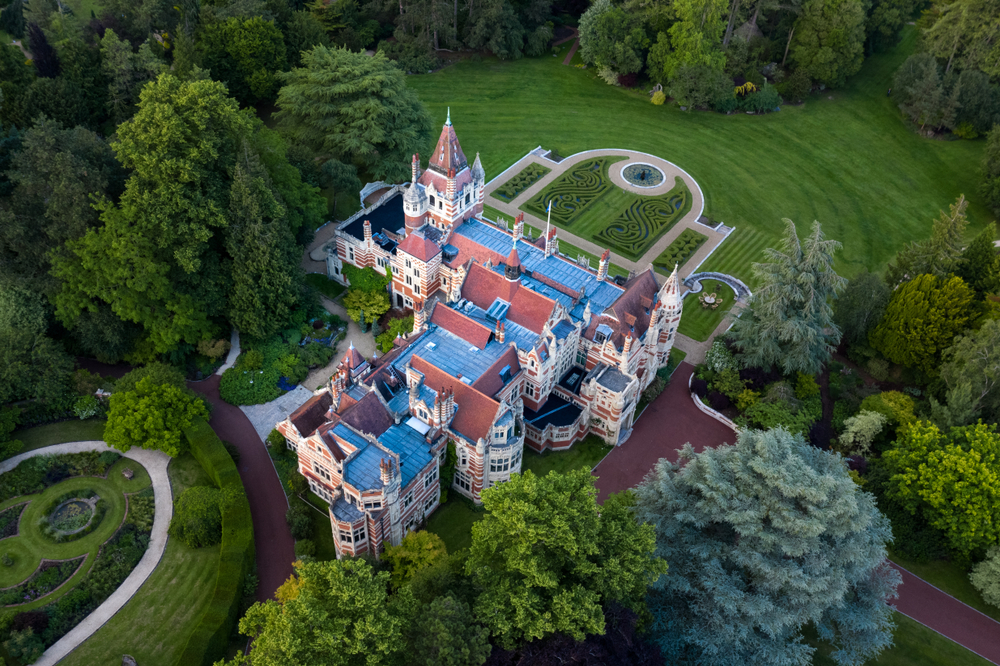 Though a UK native, his creative expression was an amalgamation of various regions and philosophies.
Where was George Harrison born?
He was born in Wavertree, Liverpool, on February 25, 1943, to bus conductor and former ship's steward, Harold Hargreaves Harrison, and a shop assistant, the former Louise French. He has siblings Louise, Harold, and Peter were born before him.
Family values
Harrison's ex-wife Pattie Boyd, whom he married in 1966 and divorced in 1977, credited his mother for his creative growth and genius.
George's mother was a voracious music fan known for a booming singing voice that rattled the windows of the house along Arnold Grove, "All she wanted for her children is that they should be happy, and she recognized that nothing made George quite as happy as making music."
Said genius was debatably nurtured while the quiet Beatle was in the womb, with mother and offspring often listening to Radio India, a weekly radio broadcast awash with the sounds of tablas and sitars, with the hopes of imparting calm and quiet to the unborn George.
Childhood homes
The house at the dead end of 12 Arnold Grove served as George's humble abode until he was four. A coal fire served to warm the entire house, which had an outdoor toilet.
A few years later, the family moved to a council house in Upton Greene, and Harrison went to Liverpool Institute High School for Boys, where the future Beatle bemoaned the stringent musical curriculum and literal lack of guitars.
Inspiration and influences
The earliest musicians to influence Harrison were an eclectic bunch that included Django Reinhardt, Cab Calloway, and Elvis Presley.
He cited Slim Whitman as the first person he saw to play the guitar, which, with the strains of Presley's "Heartbreak Hotel," roused within him a guitar obsession that father, Harold, fed with a flat top acoustic guitar.
Early career
He formed a group called the rebels with his brother, Peter, and a friend. Later on, he met Paul McCartney and joined him and John Lennon in a group called the Quarrymen.
Promoter Allan Williams, in 1960, set up the Beatles at two Hamburg clubs, although their welcome ended prematurely due to Harrison's age.
Manager Brian Epstein came in and helped secure an EMI deal in December 1961, which resulted in "Love Me Do" shooting up the charts, thus heralding the advent of Beatlemania.
George goes solo
After some projects and collaborations with popular musicians such as Ravi Shankar, Leon Russell, and Badfinger in 1972, he went on to craft more solo work.
1973 saw the Hindu-heavy Living in the Material World top the Billboard charts for weeks and hit number two in the UK.
In November 1974, Harrison went around North America via the Dark Horse Tour, once more working with Shankar and band members Tom Scott and Billy Preston.
He released the Dark Horse album in December of the same year, which received a less than stellar welcome in the UK despite reaching the fourth spot in the Billboard charts.
Extra Texture (Read All About It) was released by Apple Records and EMI in 1975, and Thirty Three and 1/3 in 1976 under George's very own Dark Horse Records.
His self-titled album George Harrison (1979) signaled his slow secession from music shortly after his son Dhani's birth and was well regarded as rich and peaceful:
"…the work of a man who had lived the rock and roll dream twice over and was now embracing domestic as well as spiritual bliss."
The Gone Troppo album of 1982 went relatively unnoticed. It was years later, in November 1987, when he released Cloud Nine, an album that hit platinum and bagged two 1988 MTV Awards nominations. The album reached the tenth spot on the UK charts and eighth in the US.
Harrison then got together with Roy Orbison, Jeff Lynne, Bob Dylan, and Tom Petty for the Traveling Wilburys. The band released an LP, Traveling Wilburys Vol. 1, in October of 1988, and Traveling Wilburys Vol. 3, entitling it as such to "confuse the buggers."
Losing one of the greats
For about three decades, he lived in Friar Park, where he was attacked during a break-in. He was treated for a brain tumor in Switzerland, received radiotherapy from Staten Island University Hospital, and then passed on in Beverly Hills surrounded by family and friends.