Born on the 25th of February 1943 in Wavertree, Liverpool, musician George Harrison is best known as the singer-songwriter lead guitarist of iconic British rock band The Beatles.
"The quiet Beatle" was also famous for incorporating Hindu spirituality and instrumentation into his work with the band, as well as with his subsequent solo albums and collaborations.
George Harrison died after multiple bouts with cancer on November 29, 2001. The cause of death, according to his death certificate, was "metastatic non-small cell lung cancer."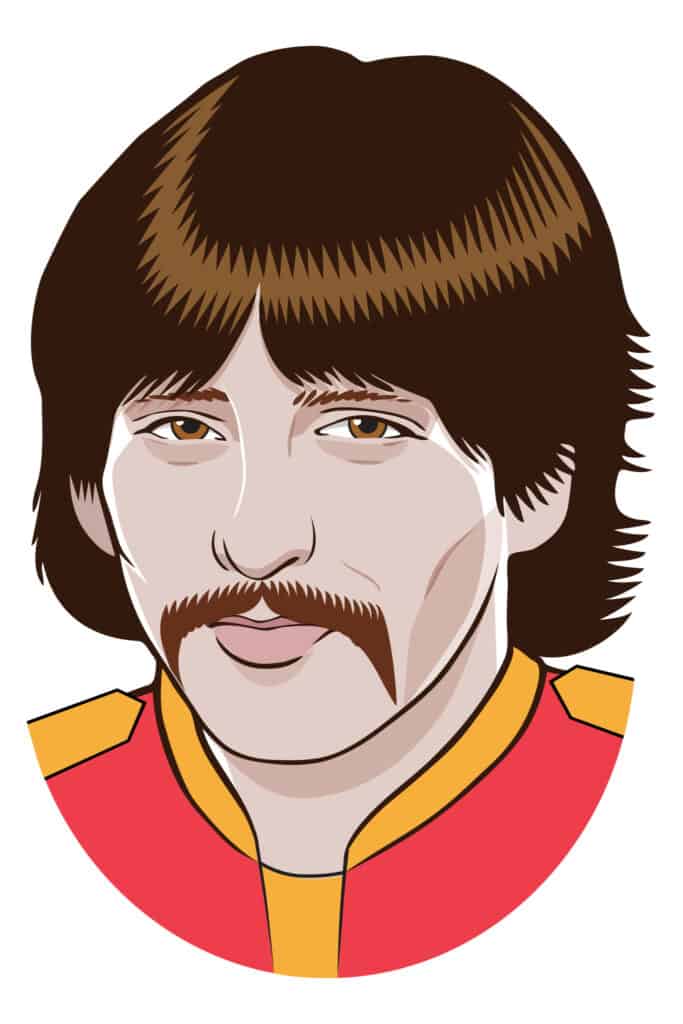 The Beatles and beyond
He began his musical career as a fifteen-year-old in Woolton, Liverpool, where he entered the band the Quarrymen under the auspices of Paul McCartney and John Lennon, where he honed his chops as a rhythm guitarist.
They played with drummer Paul Best beginning in 1960 under the band name The Beatles, shortly afterward becoming the biggest band in history.
He embarked on solo projects shortly before their eventual breakup and was able to rank high in the charts with his singles and collaborative projects.
The guitarist eventually set up a supergroup named The Traveling Wilburys with greats like Tom Petty, Roy Orbison, and Bob Dylan. He also worked multiple times with famed sitarist Ravi Shankar, while also pursuing solo projects. 
He got back together with McCartney and Beatles drummer, Ringo Starr, for The Beatles Anthology.
Attack in Friar Park
Harrison's first cancer diagnosis occurred after his work on Shankar's album, Chants of India. George appeared on a television special taped in May of 1997 to promote it. He was soon diagnosed with cancer of the throat and underwent a bout of radiotherapy.
Come December 30, 1999, in their expansive home in Friar Park in England's Henley-on-Thames, a man reported to suffer from schizophrenia trespassed into Harrison's home, stabbed George which punctured his lung.
Harrison also suffered a head injury before wife Olivia was able to render the assailant incapacitated. He may have portended his quick passing, stating, "I believed I had been fatally stabbed." 
He was treated for upwards of 40 knife wounds, as well as requiring the removal of a portion of the punctured lung at the Royal Berkshire Hospital.
Since the passing of fellow Beatle John in 1980 after being murdered by a fan, George learned to deal with stalkers, threats, and the like by having an extensive alarm and security system at the Friar Park home. Unfortunately, this was not enough to stop the intrusion and attack.
Michael Abram
The arrest of attacker Michael Abram, an obsessed Beatles fan, resulted in a publicized trial centering around the defendant's mental state and an eventual insanity plea. Abrams was later found to be a paranoid schizophrenic, as well as psychotic.
Abram was declared not guilty by the court and spent only nineteen months in treatment, after which he was released in July of 2022.
Getting word of Abram's scheduled release, Olivia Harrison gave a statement, "We can never forget how brutally close Abram came to killing dear George and myself, nor the trauma inflicted on our son and family."
Failing health
Another crisis was hot on Harrison's heels; in May 2001, after his throat cancer diagnosis came news of lung cancer and an operation that removed a cancerous lung growth.
In July, he was reportedly treated for a brain tumor in Switzerland. Sometime in November, he underwent radiotherapy in New York's Staten Island University Hospital, as the lung cancer had spread significantly in his brain.
Goodbye, George
He passed away almost two years after the break-in and assault on November 29, 2001, in Heather Road, Beverly Hills, at the age of 58. He was in the company of his wife Olivia and son Dhani.
Also present were Ravi Shankar, his wife Sukanya, and child Anoushka, as well as Hare Krishna practitioners who read from the Bhagavad Gita.
The Beatles member left a message in a statement from his family: "Everything else can wait, but the search for God cannot wait, and love one another."
George was cremated in Hollywood, and a funeral was held in Pacific Palisades, California.
In private rites in the Ganges River in Varanasi, India, his ashes were scattered.
On his first death anniversary, the Royal Albert Hall held the Concert for George, organized by Eric Clapton and included Starr, McCartney, and comedy luminaries Monty Python.
Harrison was given posthumous entry into the Rock and Roll Hall of Fame in 2004 and given a Hollywood Walk of Fame star in 2009.