James Dean was an American actor whose life and career ended far too soon. Most people know that the actor, who had a blossoming passion for auto racing, passed away in a car crash but few know where this crash happened.
At 5:45 PM on 30 September 1955, James Dean died after sustaining injuries in a car crash at the junction of California State Road 46 and California State Route 41, which was a well-known shortcut to Salinas Road Races nicknamed 'the racer's road'. Today, a memorial can be found at the crash site.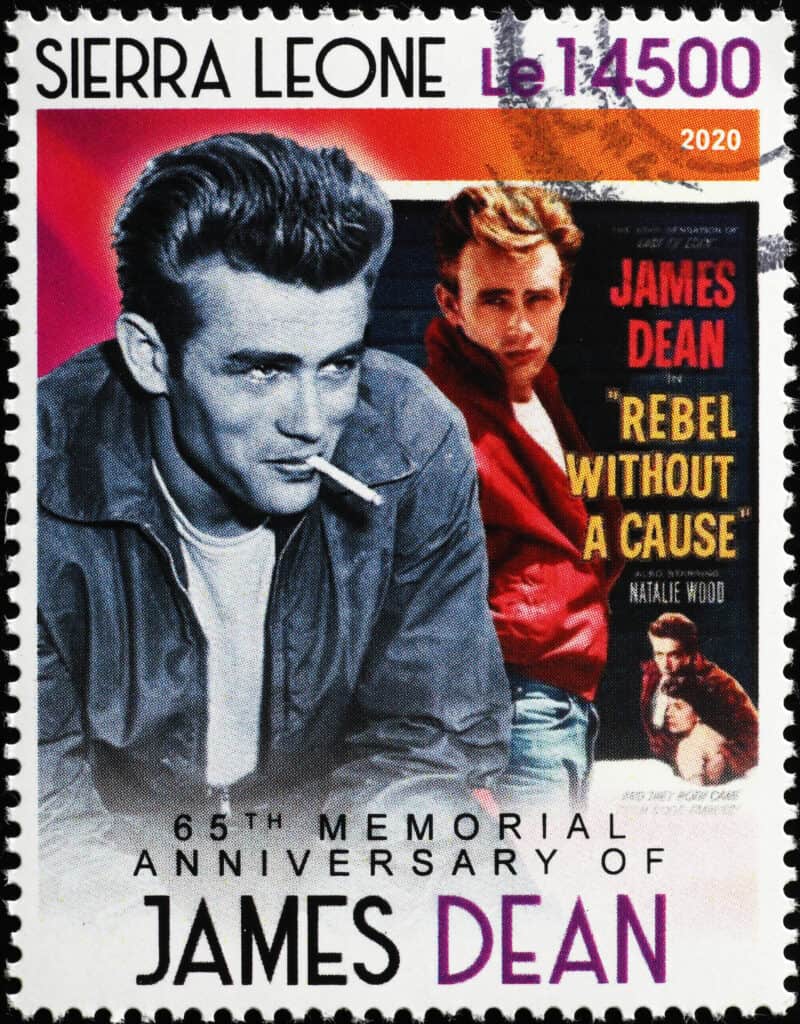 James Dean's death devastated his fans, family, and friends and the anniversary of his passing is still celebrated to this day. Let's take a look under the hood and discover how and where James Dean died as well as the controversy surrounding his death.
How Did James Dean Die?
On 30 September 1955, James was on his way to participate in an exciting weekend of racing at Salinas Road Races but never made it as he was involved in a tragic collision with another vehicle.
The other car, a white 1950 Ford Tudor, was being driven by a 23-year-old Cal Poly student named Donald Turnupseed. Poor Donald simply did not see the Sypder coming because of the condition presented by the narrow road and setting sun.
On his death certificate, the cause of death is listed as internal injuries, multiple fractures to the upper and lower jaw, two broken arms, and a broken neck. It's reported that he died in the arms of Bill Hickman.
When James's death was announced, the showbiz industry was plunged into a state of mourning. His funeral was held on 8 October 1955 and 600 mourners attended the service while an estimated 2,400 fans gathered outside the Fairmount Friends Church to show their respect.
The Location of James Dean's Death
The collision took place at the junction of California State Road 46 and California State Route 41. Witnesses recall seeing the car flipping several times before landing "in a gully beside the shoulder of the road, northwest of the junction."
Many people who were driving by at the time of the accident pulled their cars over in an attempt to help. One such person was a woman with nursing experience.
This woman, who remains unnamed to this day, went straight to James and tried to help him. Although she apparently detected a very faint pulse in his neck, she was quoted saying "death appeared to have been instantaneous."
James was extricated from the wreckage and it was discovered that his left foot had been crushed between the brake and clutch pedals.
The young actor was officially declared dead at 6:20 PM at the nearby Paso Robles War Memorial Hospital with his medical report reading "dead on arrival."
In 2005, the junction was officially declared the 'James Dean Memorial Junction', and memorials in his honor are found at the crash site, along the road, and in the nearby area of Cholame.
What is The Controversy Surrounding James Dean's Death?
Just three days after his death, an inquest into the accident occurred as the speed at which James had been driving was contested.
Despite his bad-boy persona, when James started racing he was a stickler for the rules of regular driving and encouraged others to do the same, which made many doubt that the claims he was speeding were true. Shortly before his death, he made a PSA for the National Safety Council.
In the video below, James discusses speeding on a highway is far more dangerous than racing on a track and hauntingly ends the PSA with "Take it easy. Drive. The life you save might be mine."
In addition to the controversy over his alleged speeding, rumors that James's car was cursed began circulating. The main cause of the rumor was simple: James knew how to drive.
After the crash, the wrecked car was taken to a salvage yard where it was purchased by another racer, William Eschrich, for parts who sold the remnants to George Barris.
The engine was placed in a Lotus IX, which was in an accident that killed its owner, its tires were placed on a different car and two of them burst simultaneously, the car in which its drivetrain was installed crashed into a tree, and the garage it was being stored in caught on fire for no apparent reason.
Sealing the air of mystery, and adding to the controversy, is the fact that the car supposedly vanished from a sealed boxcar in 1960 despite a massive USD $1 million reward for the remains being on offer