Kylie Minogue is a Grammy Award-winning Australian singer, songwriter, and actress who is known all over the world as the Princess of Pop. As a child, Kylie moved around a lot and so as an adult, she made sure she settled down and found a place to call 'home' for good.
Kylie Minogue lives in London, in the most expensive apartment building in the world. While the star has been largely London-based for a few decades now she also owns a staggering 15 properties in Melbourne so she likely splits her time between her many properties.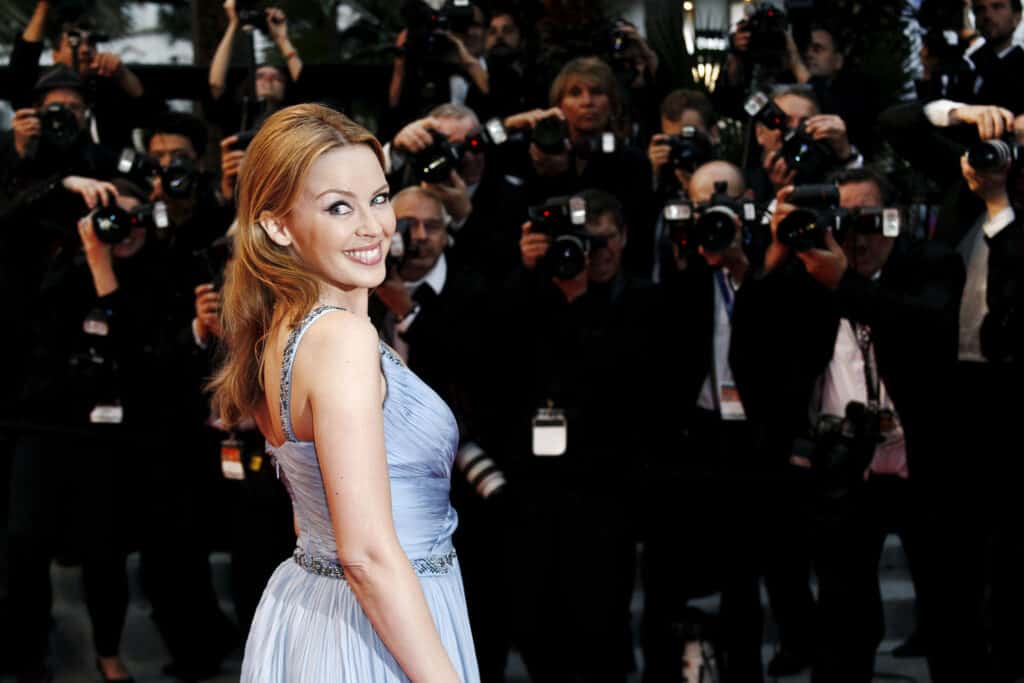 With a reported net worth of USD $100 million, Kylie could choose to settle anywhere in the world. Let's take a closer look at why she chose London, where she spent her childhood, and where she chooses to go on vacation to get away from the hustle and bustle of city living.
Where Did Kylie Minogue Grow Up?
On 28 May 1968, in Melbourne's Bethlehem Hospital, Kylie Minogue was born. She was the first of three children that Carol and Ron Minogue would have.
Though Kylie spent her entire childhood in Melbourne, she and her family moved from suburb to suburb in order to keep financially afloat. Naturally, Kylie felt unsettled by the constant moving.
Kylie first went to Studfield Primary School and then moved to Camberwell Primary School and at the age of 12, while a student there, she began acting.
When it was time for Kylie to attend high school, the family finally settled down in a place called Surrey Hills and she enrolled at Camberwell High School.
By the time she turned 18, she made her first appearance on 'Neighbours' — 17 April 1986 — Kylie already had several on-screen appearances under her acting belt. The show was filmed in a Melbourne suburb called Vermount South and so Kylie stuck around the area.
Where Does Kylie Minogue Live Now?
Kylie has come a long way from her Melbourne days — 10,497 miles to be precise. While traveling all over the globe during her incredibly successful career, Kylie decided to settle down in the United Kingdom early on.
The superstar has been living in London since the 1990s and she has bounced from apartment to apartment. Today, her home is located in the most expensive apartment building in the world, One Hyde Park, and is worth a whopping USD $25 million.
Her One Hyde Park home boasts a personal recording studio, a stainless steel ozone pool, an entertainment suite, a marble bathroom, and three bedrooms. Kylie's neighbors aren't celebrities or influencers, but sheiks, oligarchs, and real estate tycoons.
On top of her lavish penthouse apartment, Kylie has a large and valuable property portfolio. She owns a two-bedroom home on Cambridge Street in Armadale and a whopping 15 properties in Melbourne.
Kylie's impressive collection of Melbourne mansions and terraced houses Down Under comes as no surprise. The pop star has been considering moving back to Australia since her grandmother passed away and she wasn't there to comfort her family during the immensely difficult time.
In 2014 she told TV Week, "My life has been based at the other end of the world for a long time now. I am hoping this is one positive step in being able to spend more time in Australia and being closer to them."
Where Does Kylie Minogue Vacation?
Kylie spends most of her time bouncing between Melbourne and London where she lives and operates her business, Kylie's Wines. But in her downtime, Kylie enjoys traveling the world.
The Princess of Pop loves Italy and has visited the country many times. Her favorite Italian spots are Lake Como — where Mick Jagger, George Clooney, and Madonna vacation — and Portofino.
Kylie has also been spotted vacationing in Ibiza, Japan, and many Australian holiday spots. She has spoken about her favorite Australian destinations and listed Philips Island, Queensland, and the Kimberley's as her top Oz spots.
Some people like tropical beach holidays while others prefer quiet country getaways, but not Kylie. The iconic Aussie prefers her holidays to be of the superyacht variety.
Though she does not own a yacht of her own as far as the public is aware, Kylie has been spotted spending time on superyachts on nine of her vacations.
Kylie's favorite superyacht vacation spots include Sydney, the French Riviera, Dubai, Ibiza, Portofino, and Cannes.