Controversial YouTube personality and former Vine star Logan Paul has made waves in the industry for his often shocking stunts. Where does the YouTuber call home?
Logan Paul lives in a mansion in the Encino neighborhood of Los Angeles and owns a desert ranch near the San Jacinto Mountains in California. Before his move, he lived at the infamous content creation building, 1600 Vine, and grew up in Ohio.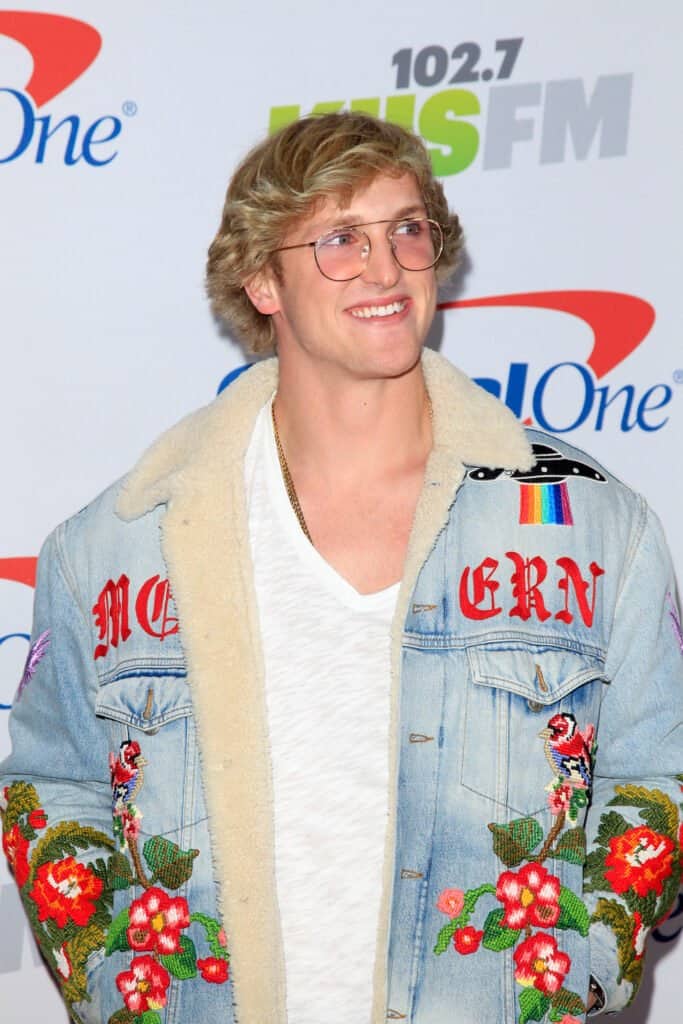 Logan Paul lived at 1600 Vine from 2014 to 2017, but when the content app Vine was shut down, Logan Paul transitioned to a YouTube career and moved out to California.
Mansion in Encino, Los Angeles
Logan Paul purchased a massive mansion in the Encino neighborhood of Los Angeles in 2017, as reported by Curbed Los Angeles. He bought the home for $6.55 million, and it is a large property spanning around 9,000 square feet.
However, fans of Logan Paul will not get the chance to see the home, as it is gated and protected by security teams; however, Logan Paul gave fans a glimpse into his new place when he uploaded a 30-minute YouTube video showing them a sneak peek into the luxurious estate.
The five-bedroom house is designed in the farmhouse style, originally built in the 1970s. It has seven bathrooms and also features tons of luxury amenities for the former Vine star to enjoy, including a wine cellar, a media room, and a polished kitchen that boasts a massive kitchen island.
In his YouTube video, Logan Paul tells fans that the real "magic" of the place is the lush backyard space. The backyard features a swimming pool, an outdoor kitchen for entertaining, and a guesthouse.
Logan Paul's Encino mansion was originally designed by architect Robert Byrd and then later renovated extensively by developer Maxim Cherniavsky, who modernized the home's interior spaces.
The Los Angeles Times reports that the property has many Hollywood ties through former owners, which include comic and actor Ryan Stiles.
Desert Ranch Living
Although his Encino home is completely gorgeous, Logan Paul also splashed out on another property in California — a property with a notorious past. In 2020, Logan Paul paid $1.1 million for a home in the San Jacinto mountains in California.
The home is most commonly known for being the former abode of Timothy Leary in the 1960s, which might have been the appeal for Logan Paul.
Timothy Leary was the main member of the "Brotherhood of Eternal Love," an LSD-focused drug community; Timothy Leary was known to manufacture massive amounts of LSD on-site.
The Sun reports that the property itself is stunning and incredibly isolated, perfect for Logan Paul to host parties. The property is spread out over 80 acres of land, featuring the main ranch house and a guesthouse and bunkhouses for visitors.
The main house has two bedrooms and rustic features such as a freestanding fireplace and exposed wood beams. The property also has solar panels for additional power, a barn, and a two-car garage.
Net Worth and Other Ventures
Logan Paul was able to buy these gorgeous properties due to his net worth, which the website Celebrity Net Worth estimates at approximately $19 million.
Although Logan Paul made his career through social media platforms such as the now-defunct Vine and the video-sharing website YouTube, he has branched out into a surprising arena — boxing.
Notably, Logan Paul squared off against his YouTube rival, a British YouTube personality who goes by the moniker KSI. The amateur boxing match was promoted as being "the biggest internet event in history," according to reports from The Independent.
The outcome of the fight was disputed, with some claiming it to be a draw while others are claiming that KSI won by a narrow margin.
Even more interesting is the potential for a fight between Logan Paul and celebrated boxer Floyd Mayweather. The Sun reports that the two have been planning a boxing match, although it is unclear how it will turn out, as Floyd Mayweather has a completely unblemished record of wins while Logan Paul has just one amateur fight under his belt.
Although the match was confirmed, it was delayed due to concerns over COVID-19, and it is unclear when it will be rescheduled. Many people who are not fans of Logan Paul's controversial stunts, such as filming and posting a video of a dead body, are hoping to tune in to the fight when it finally happens.