Rachel Maddow is an American political commentator and television news host. She hosts the nightly MSNBC show, "The Rachel Maddow Show" and is the network's special event co-anchor. Maddow is a liberal commentator and attended Standford University for her Bachelor's in public policy, as well as Oxford University for her doctorate in political science.
Rachel Maddow travels quite frequently between her Massachusetts home and her Manhattan apartment. She purchased her farm-house style residence in Massachusetts for around $605,000 in 2013 and her apartment in the West Village in Manhattan, New York for $1.25 million back in 2010.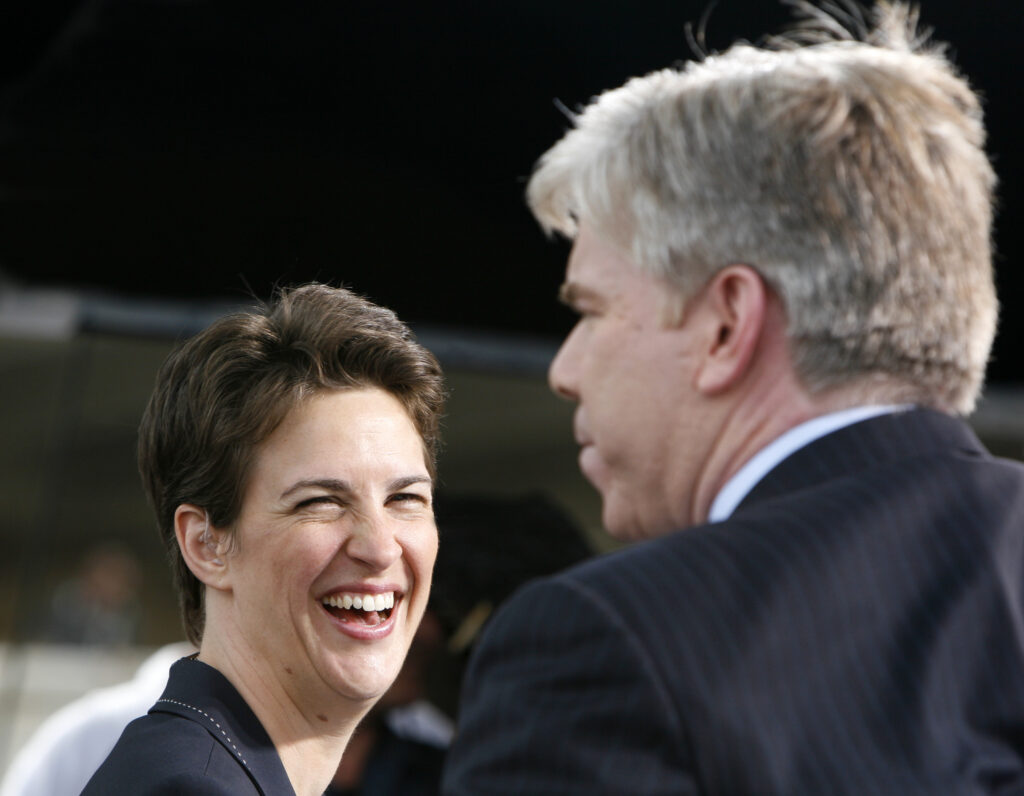 The bulk of the television host's net worth comes from her personal night show, "The Rachel Maddow Show", and she is estimated to be worth around $20 million. She is also an author, activist and has made some appearances on television including "The Ides of March", "Ugly Betty", "House of Cards" and "30 Rock".
Rachel Maddow's Career As a Television Host
Rachel Maddow is originally from Castro Valley, California, and showed an interest in journalism and reading news articles at a young age. She enjoyed dissecting newspapers and asking questions at only seven years old.
During her teenage years, Rachel Maddow was an athlete, competing in swimming, volleyball, and basketball. Unfortunately, she had a shoulder injury which caused her to have to leave sports, but she used her newly established free time to volunteer at a local AIDS clinic.
It was during her time volunteering that she learned about her sexuality and realized that she was gay. Her parents were very conservative, so she refused to tell them for a few years afterward.
Maddow received her Bachelor's degree in public policy in 1994 from Standford University and after graduation, she moved to San Fransico to become an activist for an AIDS organization called ACT UP. Rachel Maddow received a scholarship for her work, and with this scholarship, she was able to pursue a doctorate in political science at Oxford University.
She started her radio career in 1999, after landing a job as a co-host for WRNX's "The Dave in the Morning Show". Maddow also worked for WRSI's morning show, "Big Breakfast" for two years, as well as Air America, a liberal radio network, but the show was canceled after one year.
It ended up working out for Rachel Maddow, and her show cancellation led her to have her own show on Air America called "The Rachel Maddow Show". This was her chance to shine and although the show was ultimately pulled off the network, it gave her a chance to establish herself as a political commentator.
In 2006, Rachel started her television career as being a regular on "The Situation with Tucker Carlson" on MSNBC, as well as CNN's "Paula Zahn Now" for the 2006 midterm elections.
In 2008, she signed a contract to be MSNBC's political analyst, and her show, "The Rachel Maddow Show" was soon on air yet again. It ended up being the most successful show debut to date on the network, and she was an icon for liberal news.
Since then, Rachel Maddow continues to be a liberal news reporter, activist, and author.
Maddow's Massachusetts and Manhattan Residences
Rachel Maddow has two homes- a gorgeous Massachusetts getaway, and a Manhattan apartment. Her homes are modest, yet elegant and both serve a purpose for her lifestyle.
Her Massachusetts pre-civil war farmhouse is located near West Cummington and she bought the home in 2013 for $605,000. The residence sits on 11.83 acres of land, features two bedrooms, one bathroom, and was built in 1869.
Since buying the home, Rachel Maddow has made a few modifications to the property, including building a bathhouse at the back of the property for a hot tub and extra bathroom. She has mentioned how she does not want to change the overall structure of the home, because of its history.
In addition to her residence in Massachusetts, Rachel Maddow also owns an apartment in the West Village of Manhattan. She bought the loft for $1.25 million in 2010.
The loft also has a lot of history in its structure, as it was formally a pre-war paper warehouse. It is now a two-bedroom, one-bathroom apartment with views of the Hudson River, original hardwood flooring, fireplace, high ceilings, and a large living room.
As of January 2021, the apartment is listed on the market for $2.349 million.