Olympic gold-medalist snowboarder, Shaun White, is one of the best in the industry. His prowess would cause any fan to wonder where he trains, and how he got to be the famous athlete he is today.
Shaun White trains at a number of locations, notably at a halfpipe in Silverton, Colorado that Red Bull built for the American professional athlete, New Zealand, and the Perisher Ski Resort in Australia, as Men's Journal reported. As an Olympic athlete, it makes sense that he would take his training international.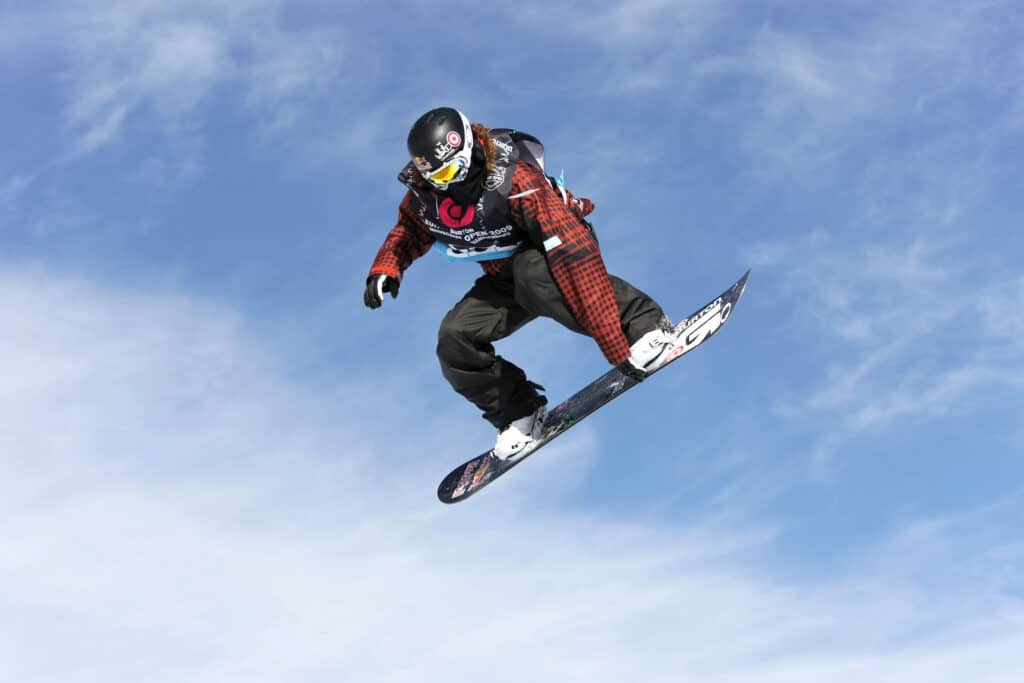 The snowboarder has built an illustrious career out of carving up slopes, but it isn't without its downfalls. Snowboarding is a dangerous profession and not without the chance for injury – still, Shaun White seems to bounce back from danger with a newfound dedication to his craft.
Training Locations, Olympic Wins, and Injury
Shaun White made a name for himself as the daring "Flying Tomato" for his shocking red hair and stellar snowboarding moves at the 2006 Turin Olympics, where he earned a gold medal in the men's halfpipe with a stunning 46.8 points out of a possible 50.
The world saw him as a prodigy, as Shaun White won his first Olympic gold at 19 years old.
Still, that didn't cause him to rest on his laurels. Instead, Shaun White went on to win gold again at the 2010 Winter Olympics in Vancouver, where he did so well on his first run that he cinched the medal – but went on to perform a tricky manouver, the Double McTwist 1260 which he dubbed "The Tomahawk," on his second run, just to push himself further.
He was 23 at the time.
Shaun White was excelling in his chosen field, but he wasn't alone in getting there.
Shaun White trained in secret on a half-pipe built for him by Red Bull in the mountains of Silverton, Colorado to train for the X Games and to practice his groundbreaking new trick. You can watch Shaun White discuss how useful this training space was in his Red Bull Project X video:
Shaun White eventually parted ways with his Red Bull sponsor in 2011, after four years in partnership with the energy drink company. The contract was worth over $1 million annually.
To prepare for the 2014 Sochi Winter Olympics, Shaun White trained at a half-pipe in Austraila which reportedly cost a combination of his other various sponsors around $250,000 to build. However, the accomplished snowboarder actually only placed fourth in the men's half-pipe that year – still quite the accomplishment.
Shaun White didn't give up there.
Instead, he continued to train in New Zealand for the 2018 Winter Olympics in Pyeongchang, South Korea. However, his efforts hit a wall – literally – when he had a nasty wipeout while training on the half-pipe.
Shaun White needed over 60 stitches to sew his face back together, but that didn't keep him from the slopes for long. He reassessed his training regimen and went on to Pyeongchang where he won his third Olympic gold medal.
X Games and Other Ventures
In addition to his three Olympic gold medals, Shaun White can boast fifteen X Games gold medal wins, and was, according to Team USA, "the only athlete to score a perfect 100 in superpipe at the 2012 X Games in Aspen."
However, relations between the famous snowboarder and the X Games organizers did not always go smoothly, as an interview Shaun White gave with Forbes proves. Shaun White chose to focus on his own business ventures, namely a snowboarding, art, and music festival called Air & Style, during the interview and critiqued ESPN's business plans for the X Games.
Although it is tenuous if this is the reason he was not invited back to the 2016 X Games, an ESPN spokesperson denied the link but did confirm that Shaun White had not been invited that year.
Shaun White still kept himself busy with other ventures such as Air & Style and his musical career.
Shaun White's band, called Bad Things, played the huge music festival Lollapalooza in 2013. The electronic rock band released their debut self-titled album in 2014, although the band eventually disbanded and so far has no plans to release more music.
As for Air & Style, the Los Angeles Times described the 2018 festival as "an entry-level festival for those who were either too lazy or laid-back to go full throttle."
Shaun White's festival may be chill, but he definitely isn't – at least when it comes to winning snowboarding competitions.