When it comes to someone as famous as Bob Dylan, you already know that he's going to be friends with some of the biggest stars in the world. No one comes close to being as influential as he is, so who did he ride or die with along the way? Who found themselves in Bob Dylan's inner circle?
Louie Kemp is hailed as being Bob Dylan's closest friend for over 50 years, having known him as a teenager and even attending summer camp together as kids. Some of his other friends include Jack Elliot and plenty of other professional relationships over the years.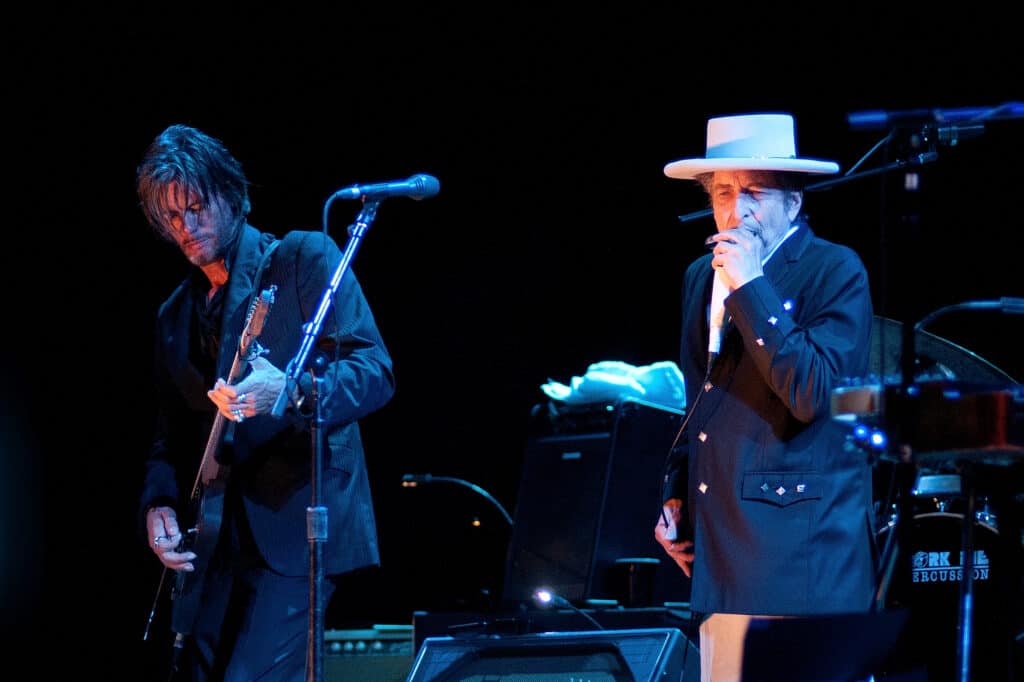 Today, we're going to dive into Bob Dylan's relationships, both personal and professional, to see who he has shared his life with, who inspired such an icon, and who is still around today.
Best Friends for Life
The closest friend Bob Dylan ever had was Louie Kemp. The pair met all the way back in 1953 and the Hertzl Summer Camp and have been friends ever since. Kemp even worked with film crews during the recorded concerts Dylan performed at and directed the camera crews when to film and when not to!
Fast forward to 2021, Kemp released a new book under the title 'Dylan & Me; 50 Years of Adventures'. Even though Bob Dylan's story of where he came from and his adventures from over the years have been told time and time again, there's no doubt this is one of the most personal recollections of his amazing life.
The dynamic duo toured together, worked together, and lived in each other's lives for so many decades. There's a fantastic story from back in 1973 where Dylan invited Kemp to come on tour with him at the last minute. Kemp agreed, but they didn't tell Dylan's tour manager and promoter, Bill Graham.
As detailed in Kemp's book, Graham was not happy, but he soon realized that there was nothing he could about it, and Kemp was coming along for the ride, which meant organizing plane tickets to 40 cities across the US.
However, what really makes this story was the fact that Graham gifted Kemp something special. This was actually an old wooden rocking chair that was set up on stage at every concert. When Bob performed with his band, Kemp would be chilling in the rocking chair next to him.
Talk about having the best seat in the house.
Bob Dylan and the Beatles
It's impossible to write about Bob Dylan's friend list and not talk about his relationship with The Beatles. And it's a strange one they had.
There are sources all over the internet and throughout books that talk about how Bob adored The Beatles and called them 'revolutionary.' Paul McCartney has publicly announced many times that Dylan was one of the greatest songwriters he ever worked with and that Bob is far beyond what Paul is capable of doing since he had a 'don't give s***' kind-of attitude.
It's even public knowledge that Dylan was the one who introduced The Beatles to smoking marijuana, which they tried together for the first time in the Delmonico Hotel in New York City. Funnily enough, Ringo Star was the one who ignored traditional smoking etiquette and kept a joint all to himself, rather than sharing.
Members of The Beatles have spoken time and time again about how this moment changed everything for them. The way they approached music, both the creative and the recording process and just their general attitudes for life changed at that moment.
However, while there's a lot of talk about who inspired who and how members like John Lennon and Paul McCartney were inspired by or inspired Dylan himself, it's tough to say whether they were friends or not.
Outside of the public eye and in the events mentioned above, it doesn't seem as though they were close friends. The groups were rarely seen together in public, and although Dylan wrote a song about Lennon, he reportedly did this to make fun of him, although it was aimed to be more of a heart-warming tribute.
While Dylan and members of The Beatles may not have been friends in the most traditional sense, it's clear that they definitely had a relationship with one another, perhaps in a way that we'll never understand. The only thing we can say for certain is that the world wouldn't be the same if they hadn't met.
Bob Dylan and his Romantic Friends
Some people agree that your partner in life can also be your best friend. If this is true, then Dylan has had a number of close friends over the years.
His first serious relationship can be placed back to when he met Suze Rotolo, in which he said;
"She was the most erotic thing I'd ever seen… The air was suddenly filled with banana leaves. We started talking, and my head started to spin."
He then went on to date Joan Baez in 1961, which ended in 1965 as the magic started to fizzle out. From here, Dylan had his first marriage to Sara Dylan in 1965, and they had their first child together a year later, but unfortunately divorced in 1977.
Dylan's last marriage was to one of his backup singers, Carolyn Dennis, in 1986. They divorced in 1992, and as of 2021, Dylan has remained single ever since.
While the relationships haven't lasted the test of time, they still talk every now and then. While Bob likes to try and keep his private life private, he does have a 'World's Best Grandpa' sticker on his car, so we like to assume all is well.
What a life Bob Dylan has had, and it's incredible to think of all the amazing people he has met along the way. We think we speak for everyone when we wish him all the best with whatever plans he has for the future, as well as saying thank you for the gifts he bought to us all.