Brantley Gilbert always sings about his small-town country life whether it be now or when he was growing up. Family plays a big role in the country stars life and music.
Brantley Gilbert's parents are Becky and Keith Gilbert. His parents met at the Johnson Bible College that is near Knoxville, Tennessee. His father was a preacher turned entrepreneur. His mother ran a preschool program at the local Baptist Church. He has a brother named Kolby. Gilbert also has started his own family with his wife Amber.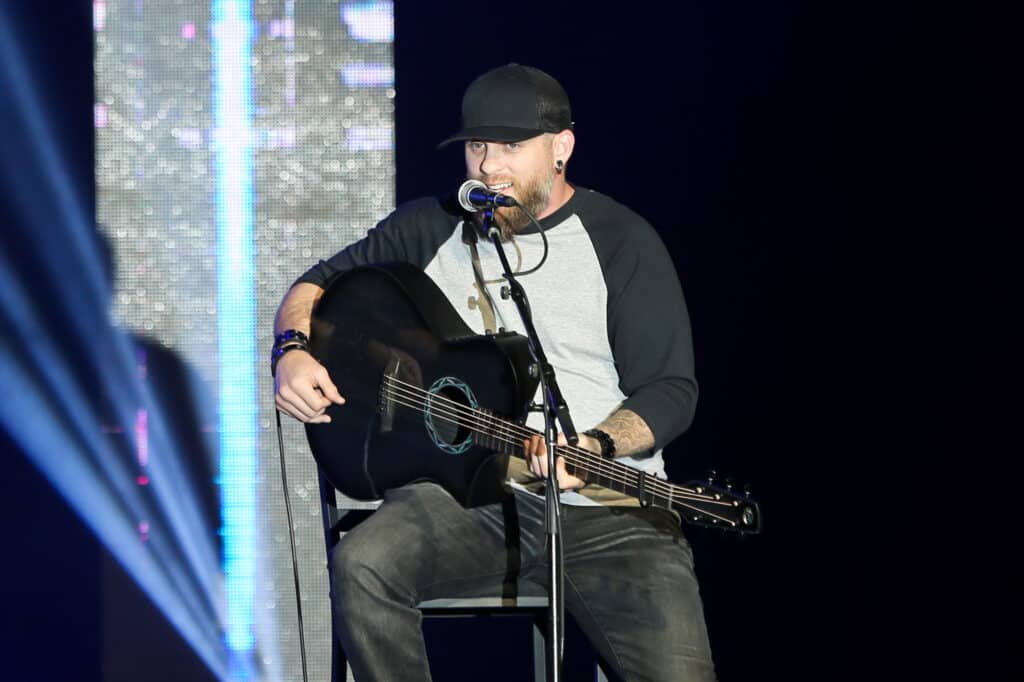 You can read more below about Brantley Gilbert's parents, his childhood in Jefferson, Georgia, and his family with Amber.
Who Are Becky and Keith Gilbert?
Brantley Gilbert's dad is Keith Gilbert who was a pastor in Jefferson, Georgia. His mom is Becky Gilbert who ran the preschool program at Jefferson's Southern Baptist Church.
It was back when they were both attending the Johnson Bible College, a private Christian university in Kimberlin Heights, Tennessee, that the two met. Kimberlin Heights is a suburb of Memphis, Tennessee and today the college is called Jonhson University.
The two were married and on January 20, 1985, Becky gave birth to Brantley Keith Gilbert. It was after Brantley's birth that his father retired from the church and started his own business.
The business was as an insulation supplier. When Brantley was in junior high school, he would wake up to help his father at 5 a.m.
His parents also gave birth to another son named Kolby Gilbert who was born on September 14. Becky Gilbert has commented about Kolby in interviews, stating that he is just as talented of a singer as his brother but very shy.
Brantly Gilbert Growing Up in Jefferson
Brantley has said that his time spent growing up in Jefferson, Georgia is foggy in his memory. This could be partially due to years of drug abuse having an effect on his memory.
However, his family is there to remind him about what it was like. Brantley Gilbert wanted to be a country star from a young age according to his mother, Becky.
In a 2016 interview with Knoxville News, he said "My mom said when I was a kid I had a little plastic guitar and I would stand on my chest of drawers, look in the mirror and play for an audience of one."
In that interview, he goes on to say that as soon as he learned three chords on his guitar he was writing pretty much anything that came to mind. However, he first started playing seriously at church in the praise and worship band.
From there he started to play at bars, which his parents weren't impressed with. On top of that, Brantley Gilbert had gotten a reputation in Jefferson and the neighboring towns as a hot-headed bad boy.
You can watch the music video for Brantley Gilbert's song 'Bad Boy' in the below video.
In an interview with the Tennessean, Brantley recalled that he would sneak alcohol as a kid and began to drink openly when he was in high school. He said that he was a smaller kid and he became mesmerized by the world of biker gangs.
He also played on the football and baseball teams in high school. He was the wide receiver on the football team and outfield in baseball.
Brantley was constantly getting into fights though and one incident led to him having to do community service in Jefferson's rival town of Commerce, Georgia. It was while doing his community service at the local church that he met his future wife, Amber Cochran.
Brantley Becomes a Dad
Amber Cochran's mom, Lisa, wasn't a fan of Brantley when the two began dating. He was an alcoholic, a drug user, and he hung out with the local biker gang.
She didn't want her daughter to have anything to do with him. However, the two took a 5-year break during which Brantley got sober and cleaned up his act.
After that, Lisa approved of the relationship.
It was in June 2015, that Amber and Brantley tied the knot and decided to start a family together. However, it took the two almost two years to conceive a baby due to fertility issues.
In May of 2017, the two announced that they would soon be the parents of a baby boy! Barrett Hardy-Clay was born on November 11, 2017. On September 9, 2019, they welcomed their daughter Braylen Hendrix.
Although he's had his days as a bad boy, Brantley Gilbert is now all about the dad-life.