Princess Diana's wedding dress has been dubbed one of the most iconic pieces in fashion history with its 25-foot train and lace from one of Queen Mary's dresses.
Princess Diana's dress was designed by David and Elizabeth Emanuel. The Emanuel's were a husband and wife designer duo who Lady Di selected herself. The two had a vault installed in their studio to keep the dress a secret until it was worn by the Princess on her wedding day. To date, it is considered one of the most heavily guarded fashion secrets.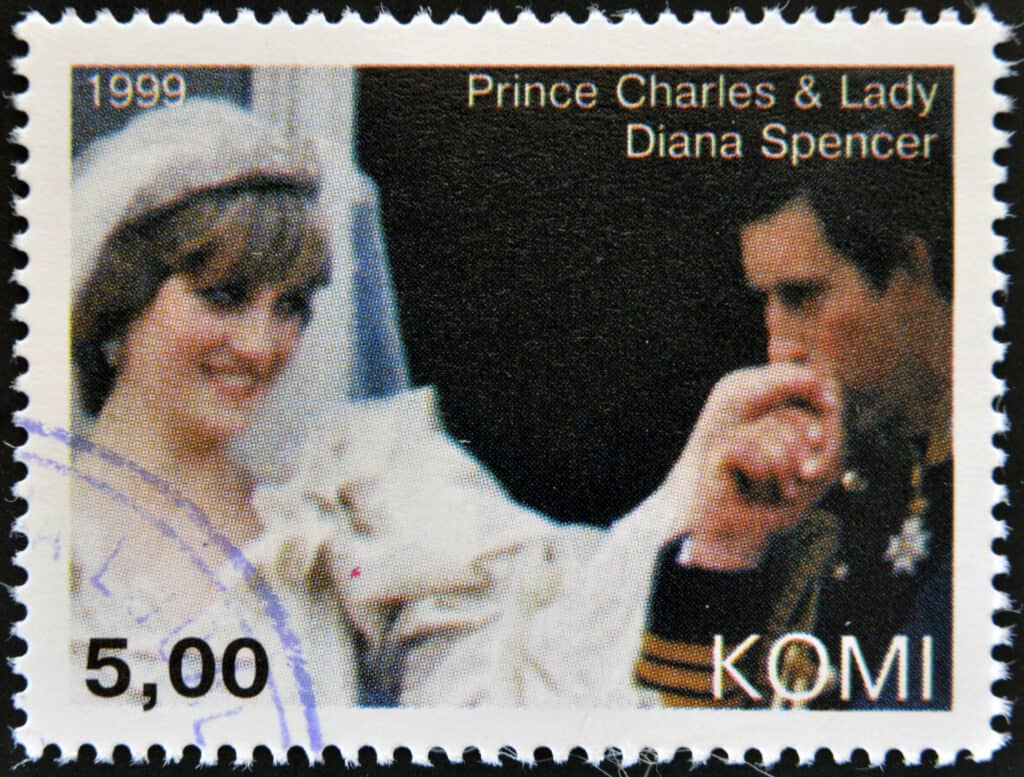 Scroll down to read more about the design of her wedding dress, what the components were, and the accessories she wore with it.
Designing Princess Diana's Wedding Dress
When David and Elizabeth Manuel were selected to design the wedding dress for the soon to be Princess of Wales, they knew the design would need to be something extraordinary. Not only was the dress to be worn by the world's soon-to-be most famous Princess, but she had also made a name for herself as a fashion icon.
That role as a fashionista was in part assisted by her decision to wear some of the evening gowns that Manuel had designed prior to her wedding. Lady Diana Spencer's fashion debut seemed to be when she got out of a limo in one of Emanuel's dresses for her first royal engagement as the fiancee of Prince Charles.
In an interview with Woman's Own, designer David Emanuel recalled "Then suddenly out of the blue, this phone call came into the studio and asked if we would do the honor of making her wedding dress, then it all happened very quickly."
Due to concerns that the dress's designs and fabric would be leaked to the press, the Emanuel's had a safe installed in their studio. On top of that, they even created a back up dress just in case the original design was leaked.
The backup dress was never fitted on Diana, nor was it ever seen by anyone else. The Emanuel's have said that this dress went missing from their studio and was never recovered.
In creating the dress, the Emanuels decided that it needed to be something that would go down in history, but would make a dramatic impression. It also had to be a dress that Diana liked.
They did manage to do just that. The iconic dress was born from this vision.
You can watch the moment that Princess Diana of Wales's wedding gown was revealed to the cheering crowds of Londoners on the day of her wedding in the below video.
Details of the Wedding Gown
Lady Diana Spencer wore her wedding gown on July 16, 1981. It was so iconic that within hours dress designers had copies available for other brides to be.
The wedding dress was made from ivory colored woven silk taffeta. The silk was woven by Steven Walters of Suffolk who had a silk farm in Britain.
It was embroidered with patterns made out of 10,000 pearls and was valued at $115,000 in 1981. That makes it worth over $325,000 today.
Other features of the gown were its train that was 25-feet and extended far behind her as she famously ascended the stairs into St. Paul's Cathedral. It also featured a square of Carrickmacross lace from one of Queen Mary's dresses.
Princess Diana had a small blue bow sewn into the waistband of the dress as her something blue. An 18-carat gold horseshoe was also sewn into the gown for good luck.
Princess Diana's Wedding Accessories
While Princess Diana's wedding gown was the main feature of her wedding day, she also had some very extravagant accessories to accompany it. One would have to be her veil.
The Princess of Wales had a veil that was made from tulle and extended a total of 153-yards. It was one of the longest in history, but what made it truly special was the tiara it was fastened to.
Diana wore the Spencer tiara on her head for the ceremony. The tiara was a family heirloom from the eighteenth century.
Another accessory that was worn by Princess Diana was the silk shoes made by designer Clive Shilton. The shoes had 542 sequins and 132 pearls and they weren't even seen by anyone other than Diana and her design team.
In 2014, Prince Harry and Prince William inherited their mother's iconic wedding dress and it has been on display in several showcases.