Well-known for creating infectiously catchy pop-tracks that effortlessly incorporate a funky R&B sound, soulful and energetic singer Bruno Mars has been writing music since the mid-2000s, infusing each track with his own experiences and emotions. What or who led to the writing of his first single "Just the Way You Are"?
According to Bruno Mars, the song "Just the Way You Are" isn't about anyone in particular, and is just a general story about falling in love. On the topic of songwriting, Mars has expressed his appreciation of similarly 'straight to the point' songs.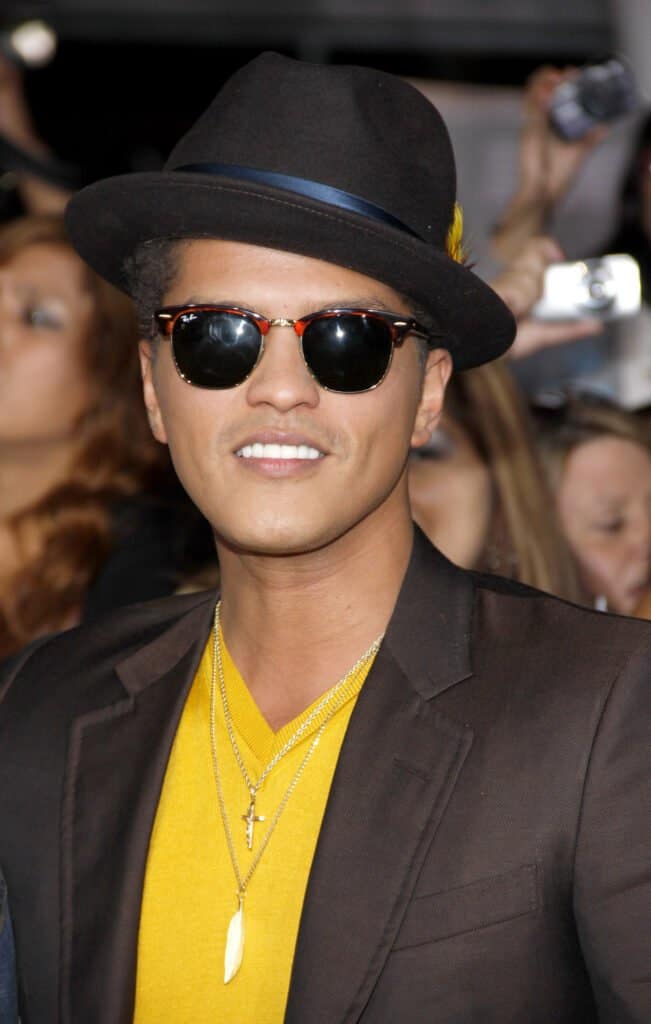 With a song that speaks so directly from the heart, it's hard to imagine that Mars didn't have a special someone in mind when he wrote it. On the other hand, considering his fiery and passionate attitude, being able to represent those kinds of feelings through his music is just second nature to him.
Just the Way You Are
While everything about the lyrics makes them appear laser pointed and focused on one individual, with a lot of direct language like "your," and "her," the song isn't as much of a sonnet dedicated to one person as it is a love letter to women in general.
Mars himself verifies that idea when speaking about the song's lyricism during an interview. He does a deep dive into the root of the lyrics, how they come "directly from the heart," and have no delusions of weaving a complex narrative.
To Mars, his songwriting on "Just the Way You Are" only had one purpose, and that purpose was to tell a story about love and appreciation, a story that he imagines any woman wanting to hear.
Reading through the lyrics, that sentiment of unconditional admiration is perfectly conveyed, with lines like "There's not a thing that I would change," and "'Cause, girl, you're amazing just the way you are."
A Potential Muse
Even with his comments on the matter, those feelings surely weren't conjured out of thin air, surely Mars must have had a muse in his life, someone that could help him draw out those kinds of feelings.
Mars tends to keep his relationships hush-hush, but what do we know about his dating life around the writing and release of his first hit single? "Just the Way You Are" was released on July 20th of 2010, and took around three months to write, around which time he was supposedly dating Chanel Malvar.
Due to the fact that Mars has never expressly stated that it was about her, it's just speculation, and perhaps the lyrics in the song were simply a reflection of the fact that he was in a good place in his relationship at that time.
One song that definitely had a subject in mind, however, was his 2013 single "When I Was Your Man," an emotional and sorrowful ballad that was a departure from the usual feel-good affair.
When I Was Your Man
Much of Mars' body of work has involved themes of love, romance, or intimacy, but most of it was packaged for an uplifting or positivity-infused delivery. This is an idea in line with Mars' desire to keep the music simple and without unnecessary twists.
"When I Was Your Man," was the complete opposite of that mentality, straying deep into the darker territory of his usual themes, dealing with the emotional strain of a breakup caused by his own inability to provide the care and attention that a relationship required.
The song's intended target was apparently a woman, but the song itself never explicitly points to whom that may be. Although it hits a somber note, the overarching theme is that he hopes that wherever she is, whoever she is with, that she is happy.
What exactly prompted him to write it was a relationship that he was in at the time, with Jessica Caban. Just like the song, Mars was worried that the relationship was slipping away from him.
It was an uncharacteristic song for the Hawaiin to sing, a fact that Mars himself has commented on, noting that the song was one of the hardest for him to write and perform, not just because of the foreign style, but because of the weight of the meaning.